Sheridan Blue Streak: Part -3
by Tom Gaylord
Writing as B.B. Pelletier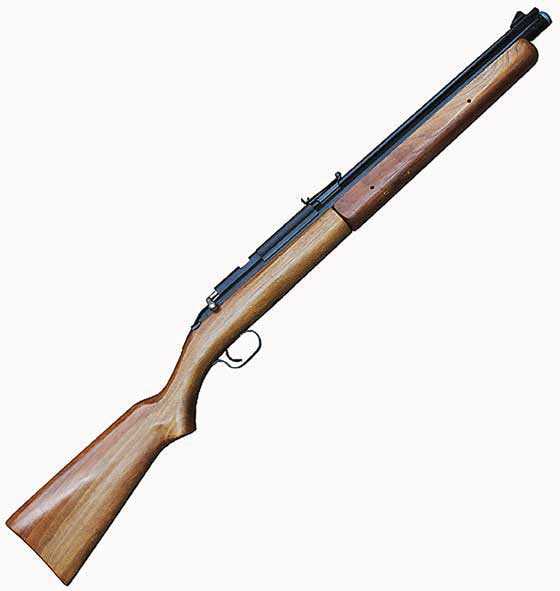 My Sheridan Blue Streak was purchased new in 1978.
This report covers:
Where are we?
A local repair
Test 1
Test 2
Test 3
Break-in required?
Test 4
Pump effort
Time to move on
Where are we?
This test was halted after Part 2, when it became obvious that my Blue Streak was in need of a rebuild. So I prepared to send it off after the Texas Airgun Show. But, while meeting with the people at the Arlington Sportsman Club where the show was held, Jeff Cloud told me he was repairing multi pumps and asked me if I wanted him to have a go at mine.
A local repair
I was going to ship it to Rick Willnecker in Pennsylvania, but Jeff seemed confident and I told him all I wanted was to bring it back to spec — no hot-rodding. I gave him the rifle at the show on August 27 and got it back when I returned from the Pyramyd Air Cup.
Test 1
Today will therefore be the actual velocity test of the rifle. I will start with Crosman Premiers that I used as my standard pellet before the powerplant was rebuilt. Let's look at what the rifle will do from 3 pumps to 9.
Pumps……………….Velocity (f.p.s.)
3…………………………373
4…………………………447
5…………………………482
6…………………………527
7…………………………570
8…………………………582
9…………………………609 (air left over)
This is a lot faster than the rifle was before the rebuild. It maxed out at 480 f.p.s. on 7 pumps. Jeff said the seals looked hard and old, but he noted the rifle had never been taken apart. So this boost in velocity is more than 100 f.p.s. with the new seals. But there is more.
Test 2
For the second test I pumped the rifle 5 times and fired a string of 5 shots. Let's look at those velocities.
Shot………………….Velocity (f.p.s.)
1…………………………468
2…………………………502
3…………………………515
4…………………………541
5…………………………533
The gun is gaining power as it is shot. I think what's happening is the new pump seal is warming up as I shoot, and it's sealing the compression chamber better and better. The average for this string was 512 f.p.s., but if I continued to shoot, all shots on 5 pumps would be faster than that.
Test 3
This made me curious about the average, now that the gun was warm. So I fired a second string of 5 shots, again with 5 pumps per shot. Here is what that looked like.
Shot………………….Velocity (f.p.s.)
1…………………………530
2…………………………543
3…………………………546
4…………………………549
5…………………………546
This time the average was 543 f.p.s. for the 5 shots. I think the gun is warmed up as far as it will go, so I want to bear this in mind when I shoot for accuracy. Better that I warm up the powerplant and get stable so all the shots are as close as they can be.
Break in required?
I don't have much experience with refurbished Blue Streaks, so I'm unable to ansswer whether a break-in period is needed. I'm going to assume the gun will continue to perform as it has here.
Test 4
I'm not going to shoot all the vintage pellets I shot in Part 2, because I know the velocity will be higher for them than it was before the rebuild. But I will test the Sheridan cylindrical pellet, just like I tested the Premier pellets in the beginning.
Pumps……………….Velocity (f.p.s.)
3…………………………451
4…………………………506
5…………………………552
6…………………………568
7…………………………610
8…………………………614
Pump effort
I am recording the effort required to operate the pump arm for each pump from 3 through 8. I do this by placing the end of the pump arm on a bathroom scale and pressing down until the arm closes.
Pumps……………….Effort (lbs.)
3…………………………30
4…………………………32
5…………………………35
6…………………………35
7…………………………37
8…………………………37
This is the new baseline for my Blue Streak. In the future these are the numbers I will compare to.
Time to move on
I must thank Jeff Cloud for doing a wonderful job on my rifle. It looks just like it always did and now it shoots like it did when it was new. Now that the rifle is shooting like it's supposed to, I can move on to the accuracy test.
Tom Gaylord is known as The Godfather of Airguns™ and has been an airgunner for over a half-century, but it was the 
Beeman
 company in the 1970s that awoke a serious interest in airguns. Until then, all he knew were the inexpensive American airguns. Through the pages of the Beeman catalog, he learned about adult airguns for the first time. In 1994, Tom started
The Airgun Letter
 with his wife, Edith. This monthly newsletter was designed to bring serious reports about airguns to the American public. The newsletter and
Airgun Revue
, a sister magazine about collectible airguns, was published from 1994 until 2002, when Tom started
Airgun Illustrated
-- the first American newsstand magazine about airguns. Tom worked for three years as technical director at
AirForce Airguns
, the makers of the 
Talon, Condor, and Escape
 precharged air rifles. Today, he writes about airguns and firearms for various publications and websites. He also makes videos, and you'll find short clips embedded in some of his artices on Pyramyd Air's website. Tom is a consultant to Pyramyd Air and writes under the name of B.B. Pelletier.