by Tom Gaylord
Writing as B.B. Pelletier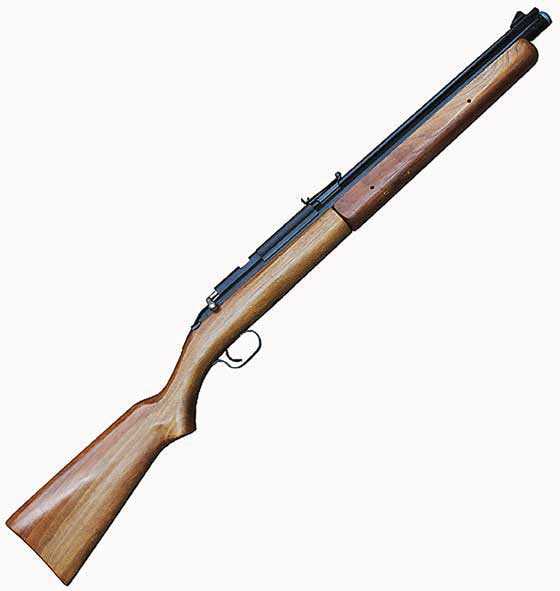 My Sheridan Blue Streak was purchased new in 1978.
This report covers:
What about a Steroid?
Today's test
Test 1
Test 2
Test 3
Trigger pull
Evaluation
Today we will look at the power of my vintage Sheridan Blue Streak. I bought this multi pump pneumatic new in 1978 and it has never had any maintenance. All I have done is faithfully oil the pump piston head with Crosman Pellgunoil when it needed it (at least every 6 months if you shoot it regularly, but every time if you only shoot it occasionally like me) and I always stored the gun with a pump of air in it. In the past 6-8 years I've upped that to 2 pumps of air.
What about a Steroid?
Always when I talk about a Sheridan, the topic of the Steroid Streak comes up. Why haven't I had my rifle upgraded by Tim McMurray? Well, the readers of The Airgun Letter know that I did own a Steroid Streak. It was a Silver Streak I bought new and sent to Tim to convert. Yes, it was more powerful, but I decided after testing it that I didn't need the extra power. What my old Blue Streak could do on its factory trim is good enough for me.
I even went beyond a Steroid Streak. Greg Fuller sent me his conversion of a Blue Streak to test. It got up to 25 foot pounds, as I recall. I also recall a final pump stroke (number 15 or 18, as I recall) took100 pounds! Yes, that's right — 100 pounds. Greg built his rifle just to see what was possible on the Blue Streak platform. He never meant it to be a practical air rifle, and it certainly wasn't. It was a study of the extreme potential.
My point is — if you think you want a Steroid Streak conversion, get one. Tim strengthens the pump mechanism to take the additional strain, so I don't think it will shorten the life of your gun. But also recognize that many shooters are perfectly content with the Blue or Silver Streak just the way they are.
Today's test
I'm going to do a couple things as I test this rifle for you. I will select the .20 caliber Crosman Premier pellet as my standard pellet. Although Crosman no longer makes their 14.3-grain Premier in .20 caliber, I have a couple boxes set aside just for special things like this. However Crosman does offer the 14.3-grain Benjamin Cylindrical pellet, which is a cross between the vintage Sheridan Cyindrical and a true diabolo.


Benjamin's Cylindrical pellet is a cross between the old Sheridan Cylindrical and a diabolo.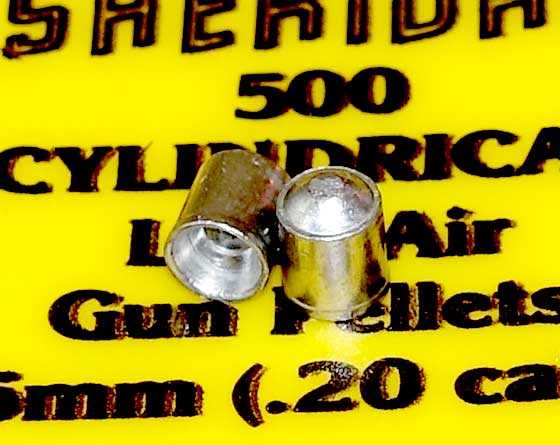 The vintage Sheridan Cylindrical pellet is not a diabolo in any way. It is a reincarnation of the pellets sold in the late 1800s.
Test 1
In this test I will record the velocity achieved with 3 through 8 pumps. Then, just so you know, I will pump the rifle more than 8 times, until the valve starts locking up and the velocity starts to drop. Older Sheridans will often allow more than 8 pumps when their pump piston head gets worn and hard.
Pump Velocity
3………………400
4………………422
5………………444
6………………455
7………………486
8………………462 (this is where the manual says to stop)
9………………456
10…………….476
This test was surprising and confusing. I expected to end at around 600+ f.p.s. with this pellet, but obviously that didn't happen. Also, the highest velocity came on pump 7 rather than pump 8. Even though pump 9 went slower than pump 8, there was no air left in the gun after the shot — as confirmed by firing a second shot. And then pump number 10 increased in velocity, when I expected it to go slower than pump 9. Again, no air remained in the gun.
That caused me to run several shots over, just to see what they would be a second time.
Pump Velocity
7………………480
8………………473
9………………459
10…………….454
I wish I could say that clears things up, but it really doesn't. Shot number 10 was the real puzzler.
Test 2
Now I will test the consistency of the rifle at the same number of pumps. I'll still shoot Premiers and pump the gun 5 times for every shot.
Shot Velocity
1………………393
2………………402
3………………425
4………………429
5………………432
I stopped after 5 shots and oiled the pump head, thinking the gun needed it. Then I resumed shooting.
Shot Velocity
6………………404
7………………432
8………………428
9………………426
10…………….414
Obviously, oiling was not the answer. The average for this string was 419 f.p.s., but I don't know what that tells us. My rifle seems sick and in need of a rebuild.
Test 3
This time I will look at other pellets. Now I'm not exactly overrun with choices of .20 caliber pellets, because it's not a caliber I commonly shoot. But I do have a number of vintage pellets that will be used in the accuracy test, So I'll include them in this test. The gun will be pumped 5 times for each pellet.
Pellet Weight Velocity
Sheridan Cylindrical……….unk…..………366
Beeman Ram Jet………….11.7………….447
Beeman Silver Sting………10.5………….436
Beeman Silver Arrow……..15.5………….364
Beeman Silver Jet………….unk…………..376 (on the second try!)
I tried to weigh all the pellets, but my electronic powder scale picked today to fail. I gave my Ohaus 1010 mechanical scale to my friend Mac years ago, thinking I would never need it again. Now I know why that wasn't correct!
The Beeman Silver Jets loaded hard and did not come out of the barrel on the first try. I pumped the gun again and got the velocity you see. Yes, they were .20 caliber pellets. Beeman used to color-code their pellet tins and boxes and yellow or gold was the .20 caliber color. The .22s were in green tins/boxes.
Trigger pull
The Sheridan Blue Streak trigger has the same pull regardless of the number of pump strokes you make. It's single stage and breaks at a reasonably crisp 3 lbs. 14 oz.
Evaluation
I have a rifle in need of a rebuild. This performance is way below what I expect from this gun. Fortunately I have been tracking the rifle for the past 22 years with a chronograph and I know what it should be able to do. It's not doing that, or even close to that. So it needs a rebuild. I am contacting the right place to do the job, and I will tell you about it when I get the gun back. Until then, we wait.