by Tom Gaylord
Writing as B.B. Pelletier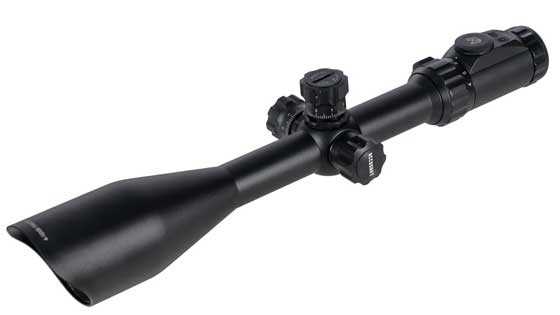 UTG 4-16X56 Bubble Leveler scope.
This report covers:
What is a bubble level scope?
Bubble levels in scopes are not new
Many years in the works
See the bubble
What do you have to do?
Great optics
So far
The test
Today I start reviewing my dream come true — The UTG 4-16X65 Bubble Leveler scope. It isn't in stock yet, but the first shipment is in transit and Pyramyd Air is expecting them soon. Guys — this scope will rock the airgun world!
What is a bubble level scope?
A level on the gun allows you to put the barrel and action in the same orientation for every shot. When you do that, the sights that sit above the barrel are also in the same place every time. With scopes that sit far above the bore, this is very important, because tilting the reticle by just a few degrees (called canting) will throw the shot wide. At 50 yards I have moved a pellet as much as 6 inches, based on the orientation of the rifle. Read the report titled Why do you need a scope level? to find out more.
There are levels that attach to the outside of the gun. To use them you have to divide your vision between the sight picture and the bubble level. It takes two eyes to use one. Then there are levels that are built right into the scope, itself. With these you can see the bubble without taking your eyes off the target. For absolute accuracy, this is one of the best sighting tools to come along.
Bubble levels in scopes are not new
This scope is not the first scope with an internal bubble level to hit the market. I remember seeing one in the '90s in field target matches. That was a Hakko brand scope, modified by a gentleman in Florida.
Several years ago Sun Optics came out with their own scope with an internal bubble level. I saw it at the SHOT Show, but have never actually tested one. At least one of our readers owns one, and perhaps he will give us his impressions.
Many years in the works
I talked to Leapers owner, David Ding for many years about producing a scope with an internal bubble level. About 5 years ago he told me they were starting the project. Veteran readers have read about this several times over the years.
David brought prototypes to several SHOT Shows, but he was never satisfied with the quality of the image or the visibility of the bubble. Then, at the 2016 show, he told me he had one he was finally proud of. For some reason I didn't include that information in my SHOT Show report. It might have been because I have been telling you about it every year and I didn't want to disappoint you if it didn't come out.
But at the Pyramyd Air Cup last month Leapers brought it and I got to look through it! So did several readers of this blog who also attended. We all agreed — the optics are superb! And the bubble is quite easy to see when sighting.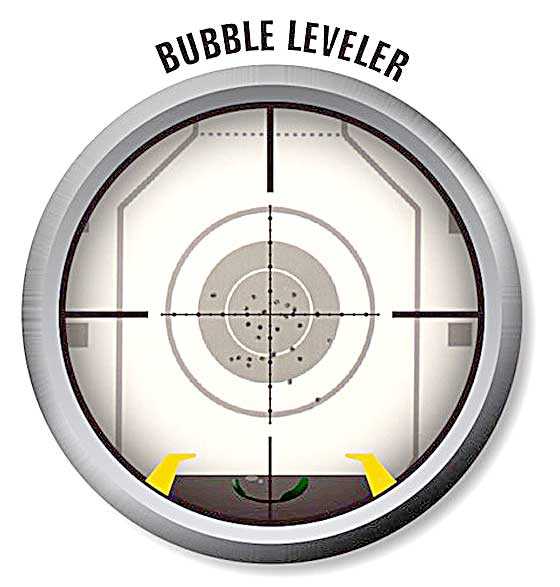 This is what the shooter sees when looking through this scope.
See the bubble
The reason to have the bubble built into the scope is to be able to see it when you are aiming at the target. With an external level you have to switch between eyes to see if the bubble is level. Theoretically, a bubble that's in your sight picture should be easier to see and also to watch while you aim the rifle. I say "theoretically" with good reason.
Scopes with internal bubble levels have not been that clear or bright in the past. They have been dark and muddy and the bubble is only visible when the target is brightly lit. This new scope and bubble is very bright and visible! That's what makes it stand apart from the rest of the crowd and that's why I am so excited.
What do you have to do?
How does a scope with a built-in bubble level work? What does the shooter have to do? Well, relax. There is almost nothing to do except tilt the rifle until the bubble is bisected by the vertical reticle. Do that for every shot and you know the rifle is always firing in the same orientation.
Great optics
The scope we are looking at is a UTG (Under The Gun) scope from Leapers. That tells you the quality is already there. Besides the bubble it offers an illuminated etched-glass mil dot reticle with their EZ-TAP switches, a parallax sidewheel adjustment from 10 yards to infinity, emerald-coated lenses for superior light transmission and flip-up lens covers. The scope tube is 30mm, so the optics are large — again for optimum transmission of light.
So far
Up to this point I have not mounted the scope on a rifle. I've only held it in my hands. The bubble moves pretty quickly when you just hand-hold the scope. But, when there is a rifle underneath it I am thinking (and hoping) the bubble becomes more stable. That will be in my report, because this is the first time I have actually tried shooting with an internal scope bubble level. I did have a bubble level on my Ballard, though, and I found it relatively stable.
The test
I just had my second-generation .25 caliber Benjamin Marauder tuned for maximum shot count, and I'm planning to test it for you. I have decided to mount this scope on the rifle for this test. We already have a good accuracy baseline for that rifle, and this test will possibly show us if there is any improvement. The tune is not contributing to accuracy — it just gives many more shots per fill.