Narrowing Down the List to My Personal Best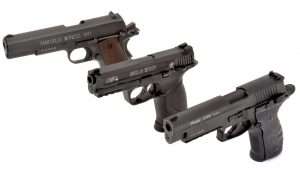 With 15 years of testing air pistols under my belt (that's a lot of 12 gram CO2 cartridges!), my favorite guns keep changing from year to year with improvements in design, construction, and most of all authentic operation. Test guns come and go with regularity, some interesting, some intriguing, a few disappointing, but every so often one comes into your life that you put a hold on, and end up purchasing. This is the same for testing cartridge guns. Over the last couple of decades I've tested hundreds of handguns and rifles of all types from Colt single action revolvers to state-of-the-art tactical weapons, for half a dozen different publications, and once in a while a gun comes along that after testing it, you know it's not going back. This is something you cannot do often otherwise you have to wear a T-shirt that reads "Will work for Guns". Being a gun collector and testing guns for a living is like having a Cold Stone Creamery next door to a GNC.
Each year I try to pick one airgun that has so impressed me that it becomes a must have. If you have been reading Airgun Experience this past year you know I have several obvious candidates for 2016, but let me tell you about some of the older choices. It goes to motive.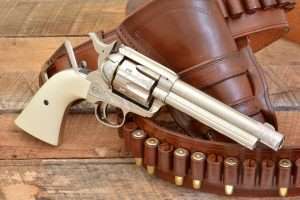 I love the Old West. I have written about it for more than a decade, but Western airguns, like the Umarex Colt Peacemaker, are pretty new to the game, so you know what I picked in 2015 without too much thought. I have the very first hand engraved 5-1/2 inch Umarex Colt Peacemaker model built. You might call it the prototype.
About 15 years ago I purchased my first semi-auto air pistol, an Umarex Walther CP99. I still have it and it is still one of the best 4.5mm multi-shot pellet guns you can own. Do I like it better than the more expensive CP88? In all honesty, yes. My CP99 models, some almost 15 years old, are still working and still more fun than almost any other semi-auto pellet pistol ever built. The popularity of the CP99, 4.5mm, 8-shot semi-auto has kept it in production for 16 years.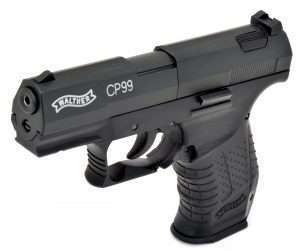 Aside from the Umarex Beretta Model 92 FS, I didn't fall for much else for a long time, mainly because not much changed for a long time in the world of 12 gram CO2 powered BB and pellet firing semi-auto pistols. The blowback action Umarex Colt Commander 1911A1 upped the game a couple of years ago helping bring a real sense of authenticity to the CO2 powered semi-auto air pistol market, and it opened a door for a lot of others that have heightened that sense of authenticity even more. And this brings me to my next must have, the Tanfoglio Gold Custom. I have praised the CZ-75 based semi-auto enough in the past that nothing more need be said. So what really set me off for 2016?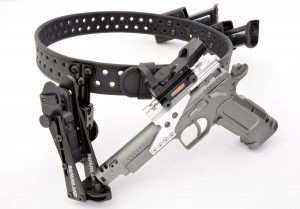 First, it's the gun that may well launch a new era in the use of CO2-powered, blowback action semi-autos for serious law enforcement training, the Umarex S&W M&P40. You absolutely have to go back and reread what I have said about this gun. Its future will be changing in 2017 as it becomes the first blowback action CO2 air pistol to be officially adopted as part of a law enforcement training program. Much more about this in January.
Secondly, another outstanding blowback action CO2 model, the Sig Sauer P-226 X-Five. When you can drop the airgun into the same Level II duty holsters as the cartridge gun, and put the self-contained CO2 and BB magazines into the mag pouches, you have it pretty much dialed in.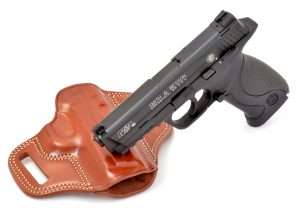 Along with the S&W M&P40, the Sig is as close to the real deal as semi-auto airguns can get without recoil and report. But these are still not my personal pick for 2016. I do hope some of these are yours.