by Tom Gaylord
Writing as B.B. Pelletier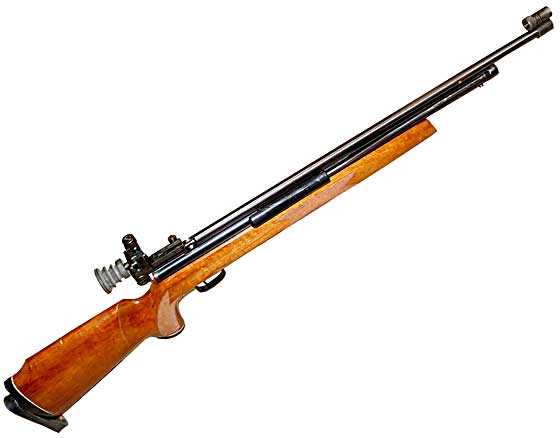 Sharp Ace Pan Target is a sidelever multi-pump 10 meter target rifle.
This report covers:
First test
Problem
Test 2
Test 3
Test 4 trigger pull
Test 5 trigger pull consistency
Test 6 power
Summary
Photo gallery
This is my last chance to wish you a Merry Christmas, but I decided to give you an early gift. Today I will test the Sharp Ace Pan Target velocity, and you can talk about it all weekend!
First test
For the first test I chose RWS Hobby pellets. This is the velocity test and Hobbys are one of the lightest lead pellets around, so they are ideal. Obviously you wouldn't compete with Hobbys, though their accuracy could surprise us.
In this test I will pump the gun a specified number of strokes and record the velocity. I thought I would start with 3 pumps, but when I saw the velocity produced from just 3, I knew I could start with less. I tried a single pump but the pellet remained in the barrel, so 2 strokes turns out to be the minimum.
Stroke…Velocity (f.p.s.)
2…………..532
3…………..635
4…………..706
5…………..750
6…………..818
7…………..859
8…………..894
9…………..919
10…………929
11…………941
12…………Did not finish
Wow! Now we know this rifle is a full-power Ace that gives nothing away. And we know that it has more than enough power to shoot targets on just 3 pumps.
Problem
Why didn't I finish? Because the plastic hand grip on the pump handle cracked and I didn't want to damage it further. I removed it from the pump rod, but the thin rod is painful when the effort gets high.
I was upset about this until, on examination, I noticed that the crack wasn't new. An attempt to repair it has been made before. The crack goes around three sides of the handle. I may have enlarged it in this test, but it was already there.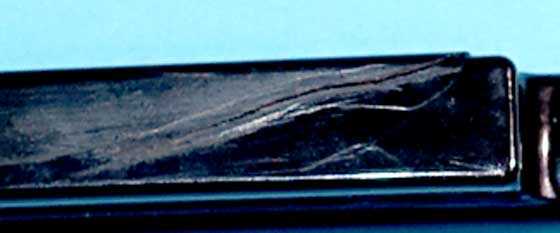 I stopped pumping when I noticed this crack in the pump handle grip. It goes around three of the four side of the grip.
I will look for a way to repair this. I'm looking at options now. One way or another the grip will be repaired and I won't use the original plastic grip handle, as it is too brittle and weak.
What I learned from the first test is the rifle doesn't need more than three pump strokes to function as a 10meter rifle. Now that the grip handle is off the pumping will be harder because the pump handle is shorter, but three strokes should present no problem.
Test 2
In this test I want to see how consistent the gun is. I will pump each of 10 shots three times and see how they register. Hobby pellets again.
The shots with Hobbys on 3 pumps averaged 633 f.p.s.. The string is below.
Shot……Velocity (f.p.s.)
1…………..595
2…………..620
3…………..649
4…………..626
5…………..636
6…………..631
7…………..634
8…………..649
9…………..640
10…………652
That is a 57 f.p.s. velocity spread, which is way out of profile for both a target rifle as well as for a multi-pump pneumatic of any kind. Granted the distance to the target is only 10 meters, but we still want more consistency than this. At the average velocity this pellet generates 6.23 foot-pounds! On just three pumps! The velocity at 11 pumps generated 13.77 foot-pounds with this light pellet. With a heavy pellet this rifle is probably capable of 16-17 foot-pounds.
Test 3
This test engendered a second test at just 2 pumps per shot. Would the rifle now be more consistent?
Shot……Velocity (f.p.s.)
1…………..484
2…………..532
3…………..538
4…………..545
5…………..541
6…………..540
7…………..553
8…………..550
9…………..546
10…………542
This test opened my eyes. After the first shot the next 9 stayed within 21 f.p.s. And the gun seems to pick up speed as it shoots, so perhaps a warm-up is called for. I might also try the 10-meter test both ways (two pumps and three).
Test 4 trigger pull
I said I would measure the trigger pull for you on varying pump strokes. That's this test.
Pumps……trigger pull (oz.)
2…………..3.7
3…………..6.3
4…………..6.4
5…………..7.6
6…………..8.1
7…………..8.3
8…………..9.9
So, the trigger pull does increase with the number of pumps. There is wizardry involved, but the laws of physics still hold sway. This raised another question in my mind. How consistent is the trigger with the same number of pump strokes? Like in a match — would the trigger remain consistant?
Test 5 trigger pull consistency
This test I will pump the gun twice and test the trigger pull. I'll do that 5 times, and then the same thing on three pumps.
Two pumps
Shot……trigger pull (oz.)
1……………5.2
2……………4.9
3……………5.3
4……………4.9
5……………5.5
Three pumps
Shot……trigger pull (oz.)
1……………5.9
2……………6.2
3……………6.6
4……………6.1
5……………6.2
The trigger is close to the same on 2 pumps and 3, except on 3 it is slightly heavier. On 2 pumps the trigger varied by 0.6 ounces from the lightest to the heaviest pull. On 3 pumps it varied by 0.7 oz. It was about one ounce heavier on 3 pumps than on 2. Five ounces equals 141.75 grams, for those on the metric system. So the Sharp Ace Pan Target trigger is slightly heavier than a world-class 10-meter rifle trigger that might break at 50 grams.
Test 6 power
I know some of you are thinking of this as a powerful hunting multi-pump. So now I will test it for extreme power. That means shooting heavier pellets. I'm not trying to set any records, for there are none to set. But we all want a fair idea of what the rifle will do.
Given the strain on the pump linkage, I will pump 10 times, only. I don't want to ruin this collectible air rifle just to see what it will do.
Pellet……………….Velocity……………Energy in foot pounds
JSB Exact 10.3…………815………………………15.2
Premier heavy…….……812……………………….15.38
Baracuda Match……..…815……………………….15.64
Sniper Magnum………..703………………………..16.46
The 10th pump registered 52 lbs. of effort on my bathroom scale. While that isn't the most I ever recorded, it certainly is a lot of work. The record for pump effort that I have seen was a Sheridan Blue Streak that Greg Fuller boosted to over 25 foot-pounds on 18 pumps. The final pump for that rifle was 100 lbs. And pumps 4 and 5 of the Daystate Sportsman Mark II were 54 and 77 lbs., respectively.
Summary
That is the most complete velocity test I have ever seen for any Sharp Ace — to say nothing of the Ace Pan Target. Let's hope some collectors will come out of the closet and share their results.
Photo gallery
Reader RidgeRunner asked for some detail photos in this report, so here they are.

The bolt handle sticks straight down when the bolt is closed. It's hard to grasp with the peep sight eyeshade in the way.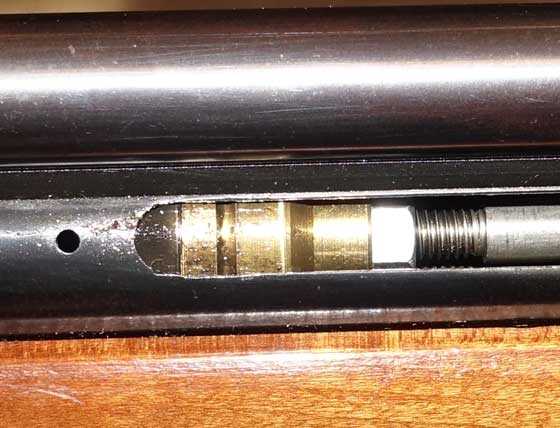 The pump head is adjustable for length to maintain maximum power throughout the life of the rifle. Notice the brass fitting that is self-lubricating.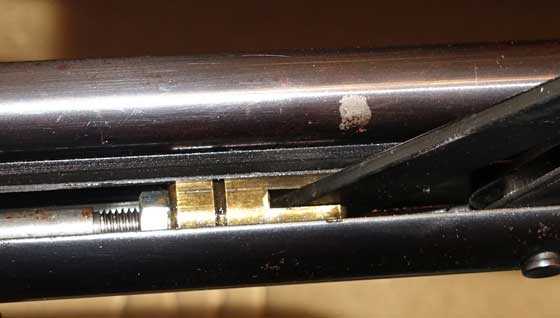 The pump rod even adjusts at the pump linkage! And there's another brass fitting.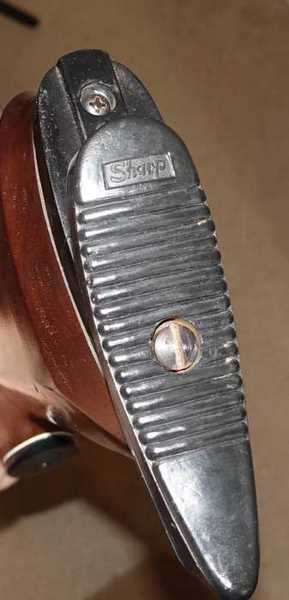 The adjustable butt plate.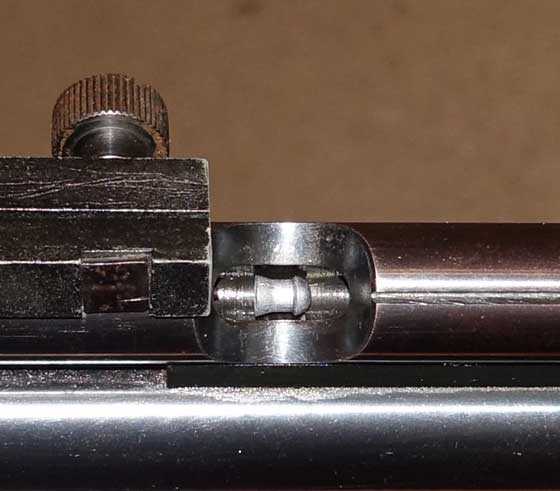 The loading trough has easy access.
That's it. Merry Christmas!