by Tom Gaylord
Writing as B.B. Pelletier


Throttle rifle from Umarex brings a lot of value to the table.
This report covers:
General information
Weaver bases
Differences
Description
Affordable rifle
Easy to cock!
Pivot bolt
Sights
General
Trigger
Fly on the wall
General information
Before I start today's report I have a number of things I want to cover. First, I realize I am behind on a number of reports from the 50-yard line. I've been unable to get to the range for many weeks for various reasons, and when I did get to go before that, the wind was too high for airgun testing. I want to test the pellet shapes at 50 yards, the .25 caliber Marauder I had tuned, a new AirForce .357 Texan (I have a lot of things to do with that one), and now guns like the Galahad will soon be stacked up.
I have received the adaptors for shooting pellets in my AR-15 and that's another one I think will have to be done outside because of the noise, though they say the report is quiet. I also got an adaptor to shoot .32 pistol rounds in my Mosin Nagant rifle, which I thought would be a nice addition to that report on adaptors.
Then there's a question that keeps coming up, no matter how many times I answer it. People don't understand the difference between Weaver bases and the military standard 1913 Picatinney rail. So here goes.
Weaver bases
Weaver bases are older than the Picatinney rail. They have the same width (0.617-inches) across the dovetail as the Picatinney rail. If there is any difference in dimensions it is so small as to not matter. And yes — despite what some people say, Weaver bases ARE dovetail bases, so calling 11mm airgun bases dovetails, is confusing
Differences
Weaver bases have cross slots that hold a bar on the bottom of a scope ring, to keep it from moving during recoil. I have always believed that these cross slots are 3.5mm wide, but while researching this report I found a Wiki page that claims they are 4.7mm wide. Picatinney rails also have cross slots, but they are 5.23mm wide. Fortunately, a firearm moves in one direction when recoiling, so once the bar hits one side of the cross slot, it will not be able to move farther.
Weaver cross slots have no specification for the location of the slots. Picatinney rail slots are evenly spaced every 0.394-inches, center to center. Let's look.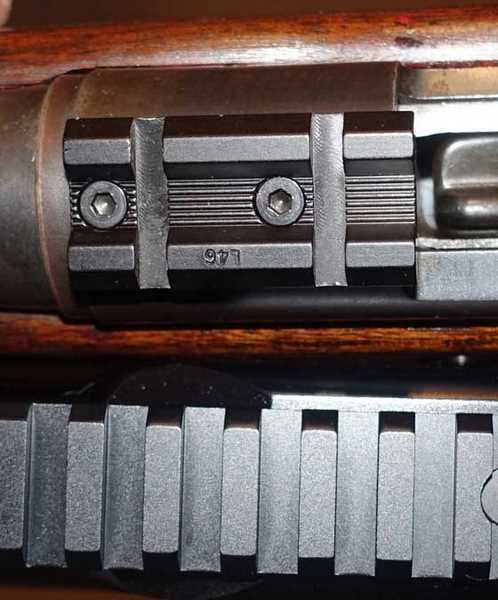 The Weaver cross slot at the top is narrower than the Picatinney cross slot, and is not evenly spaced. Weaver bases are simply installed wherever they will fit on a gun.
So, Weaver rings will fit and work in a Picatinney base, but rings made for Picatinney bases may not fit in Weaver bases. I say "may not" because, if the rings were made with crossbars small enough, they would work.
Okay, enough general info. Let's look at the Umarex Throttle air rifle.
Description
The Umarex Throttle air rifle is a breakbarrel rifle with a gas piston. The spring and piston are built together in a single unit that Umarex calls the ReaXis gas piston. They have turned the piston around so the weight of the part of the unit that moves when the gun fires is kept as low as possible. Weight that doesn't move is weight that doesn't have to be damped, which reduces the potential vibration. And, with the Throttle Umarex has done one additional thing. They have installed the first STOPSHOX anti-recoil system that I reported on in Part 2 of the 2016 SHOT Show report. I have been waiting for this product to come to market all year so I could test it and report it for you.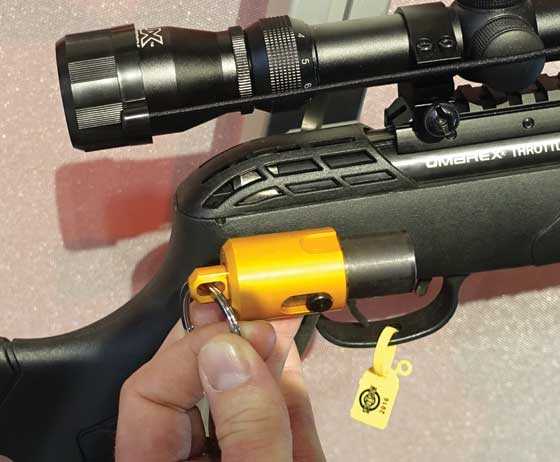 The STOPSHOX device was seen at this year's SHOT Show, but the Throttle is the first air rifle to have it.
Affordable rifle
I had no idea of what the Throttle would be or cost until now. Justin Biddle, the marketing manager for Umarex USA told me it would be powerful, but he didn't tell me much more. I think that was because even he did not know all the Throttle would be until the German engineers finished developing it.
What we have is a $200 air rifle that is supposed to send .177 caliber pellets out the spout at 1,200 f.p.s. and .22 caliber pellets will go as fast as 1,000 f.p.s. I have the .22 to test and I'm hoping to find a heavier pellet that's accurate but limits the velocity to somewhere in the 800s. Not because velocity harm accuracy — we know from testing that it doesn't. But I don't need 1,000 f.p.s. from a breakbarrel .22. Of course, the Throttle is a brand new air rifle that might change my thinking.
Easy to cock!
Given the potential power I expected the Throttle to be the bow of Hercules, but it's not. My calibrated left arm estimates the cocking effort is around 33-36 lbs. I will test that in Part 2.
Pivot bolt
The Throttle has a pivot bolt instead of a plain pin. That means you can adjust the pivot joint to as tight as required to get rid of all slop. Accuracy will only improve with this, and it's a major concession that Umarex has made to the saavy airgun market.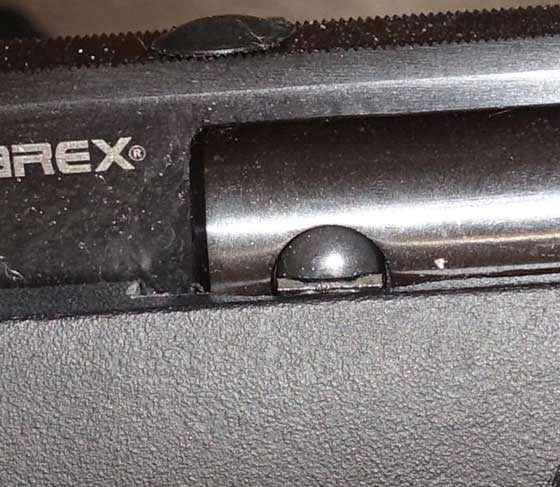 A pivot bolt means you can control how tight the barrel joint is.
Sights
The Throttle comes without open sights and there is no easy way to mount them. But it does come with a 3-9X32 scope that has an adjustable objective. Normally scopes that come bundled with inexpensive air rifles are good for tent pegs and little else, but this one appears different. I looked through it with both eyes and, though it is not marked closer than 20 yards I would say this scope adjusts down to about 8 yards. The image is clear, and I think this might be a fine scope. As in, but the Throttle and all you need are pellets! If so, this will be the first time I've seen that happen. It's almost as though someone at Umarex is reading this blog and knows what airgunners want! But how they do all this at $200 is beyond me!
Yes, the Throttle is made in China. I know that will be plastered all over the forums, if it isn't already. This time, though, it seems that someone from Germany may have been inspecting what the Chinese produce and have made sure it's good. We shall see!
Also, the Throttle comes with a Picatinney rail mounted on the rear of the spring tube. So mounting a scope that has Weaver rings will be quick and easy.


A Picatinney scope rail on top of the spring tube makes scope mounting quick and easy.
General
The rifle sits in a black synthetic ambidextrous stock that is shaped well and ribbed for better holding. The pistol grip is both thin, which I like, and also very vertical, which I also like. The pull is 14.5 inches and the rifle weighs 7.5 pounds without the scope mounted. Pyramyd Air shows the weight at 8.3 lbs. which I assume is with the scope mounted.
There are other plastic parts like the end cap that has windows cut in it to show the end of the STOPSHOX anti-recoil device. The triggerguard is cast into the stock, so of course it's made from the same material, but both the trigger blade and the safety are metal. The buttpad is soft grippy rubber than will hold onto your shoulder well. The only other synthetic part is the large SilenceAir muzzle brake/silencer. Yes, it has baffles. The barreled action metal parts are finished to a semigloss sheen that's a grade above matte.
Trigger
The Throttle trigger is two-stage and the length of stage one is adjustable. The weight of the trigger pull cannot be adjusted. I did adjust the first stage length already and it works as advertised.
The safety is automatic and does need to be pulled to the rear to release it. I think both of those decisions are mistakes, but pulling the safety off by pulling it toward the trigger is a safety concern.
Fly on the wall
I would love to have been a fly on the wall when Umarex designed the Throttle! This is so much more than an exercise in how cheaply a Chinese factory can manufacture a spring-piston air rifle. Real though has gone into designing and building this rifle. I wonder that it doesn't carry the Walther name, though I suppose its origins mitigate against that.
I didn't know what to expect when I opened the box and so far I am impressed. If the Throttler is accurate, Walther may just have given Diana a run for their money!