Tom Gaylord
Writing as B.B. Pelletier
Part Two: The Hatsan Sortie PCP pistol
Part Three: The Hatsan Sortie PCP pistol
Part Four: The Hatsan Sortie PCP pistol
This report covers:
What is it?
Power
Presentation is important
Semiautomatic!
Description
Sights
The action
Silencer?
Evaluation so far
Today I will do the impossible. It's not perpetual motion and it's not levitation. Today I will scoop myself! Today I will start a report on something I was hoping to surprise you with in Part 3 of the Texas Airgun Show next week.
I haven't reported on all the dealers who were at the show yet, and Hatsan is one I planned to cover next time. Well, I figured you needed to see an airgun after all these other reports, so I opened a large box Hatsan sent me recently and, lo and behold, inside there is an airgun I hadn't heard of before seeing one at the airgun show — the Hatsan Sortie.
What is it?
The Sortie is a precharged pneumatic repeating air pistol, and besides that you can learn as much as I know right now  from looking at the picture. Pyramyd AIR has them in both .177 and .22 calibers. It's a repeater that gets 14 shots in .177 and 12 in .22. Is there a .25? Not that I know of, but if the Sortie is received well I would think they would have it in the works.
The air reservoir is 62cc, which is on the small side. Rather than being bad, that's actually a good thing because this pistol will be easier to fill from a hand pump. I will test that for you. The gun operates on a 200 bar fill (2,900 psi).
Power
The Sortie is not a super-powerful air pistol. It's a nice shooter that they say develops about 12 foot-pounds in .177. If that's true I expect it to be over 13 foot pounds in .22, but that's why we test these guns. The velocity claim is 750 f.p.s. in .177 caliber, but Hatsan has always tested their guns with real-world lead pellets. That's one of their trademark operational concepts. I say that because an 8-grain pellet needs to exit the muzzle at about 822 f.p.s. to produce 12 foot pounds. So, they must have tested it with a heavier pellet.that weighs around 9.5 grains
As American airgunners become more familiar with all the technology and limitations of pellet guns, 12 foot-pounds is becoming a very useful hunting power level. The Brits have known that for decades, because that is the limit of their airguns before the Firearm Certificate is required.
Presentation is important
I have to show you this, because it is most impressive. I took the Sortie cardboard box out of the bigger box it came in and open it to find a hard case inside. Hatsan does that with a lot of their airguns, and I like it. It gives you somewhere convenient to store the gun when you aren't using it. That's a big deal in my world!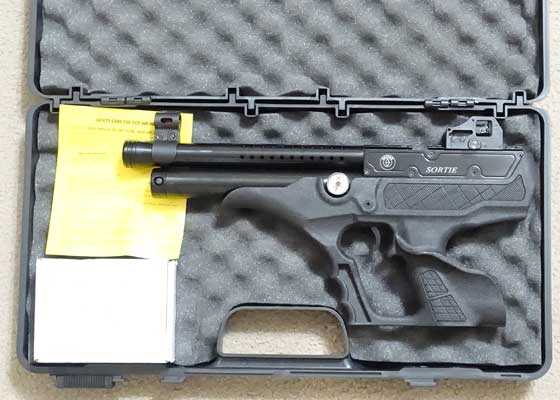 The Sortie comes in a convenient hard case.
Semiautomatic!
Perhaps the biggest thing the Sortie offers is semiautomatic operation. Every time you squeeze the trigger it fires a pellet, until they are exhausted. I am most interested in this. Is it a true semiauto that cocks itself after each shot, or are they calling a double action revolver a semiauto, thinking most people won't know the difference? Knowing Hatsan's dedication to honesty in their claims, I'm thinking this one is the real deal. Of course I will report on that in Part 2.
Description
In the picture the Sortie looks big and that's no illusion. The pistol is 16.5 inches long and weighs 4-3/4 pounds, so you know you're holding something. Look at the first photo and you will see a second place for a hand to grip, forward of the trigger. I think they made this one for hunters and I can already hear the rumbling in the bushes — does it have a shoulder stock? I have to say not yet, because I know in my heart airgunners will not leave this detail alone.
The pistol is all black with a synthetic stock/pistol grip. The grip is sculpted for a right-handed shooter and I have to say a lefty will not be at all comfortable with this grip. I don't see a left grip option at this time, but if the Sortie takes off I'm sure Hatsan will offer one down the road. The grip fits my medium-sized hand quite well.
Sights
The Sortie comes with open sights that are adjustable in both directions. They are fiberoptics, which makes sense on a hunting gun. I plan to test it with open sights first.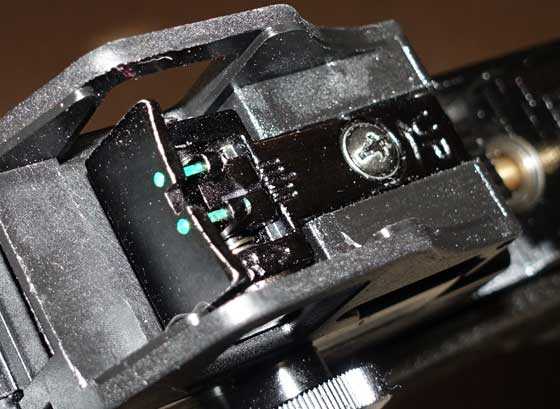 The Sortie rear sight is adjustable.
There is a scope rail on top of the receiver and it's Hatsan's rail that accepts both 11mm and Weaver type scope ring bases. When I scope the pistol I'll have more to say about it.
The website mentions mounting a dot sight. I normally would mount a scope, but at the Texas airgun show the Sortie they had was sporting a holographic dot sight. I am going to have to get one of those because more and more airgunners want to put dot sights on their air pistols and the shorter holographic sight seems to be the best way to go. All my dot sights have long tube that do better on rifles. So, while I did say I was going to "scope" this pistol, I may very well mount a dot sight instead.
The action
I want to save my discussion of the action for part 2, but know that the pistol has a bolt that gets pulled back to remove and install the magazine. There was no owners manual with the pistol I received (this is a brand new release), but I think the action is close enough to the Barrage semiautomatic rifle action, that the operation will be the same. There is a manual on the Pyramyd website for that one, and I verified that is is the same.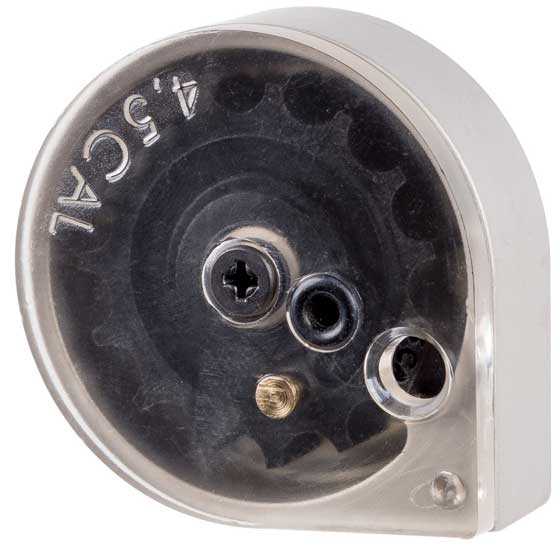 The Sortie magazine will seem similar to many PCP owners.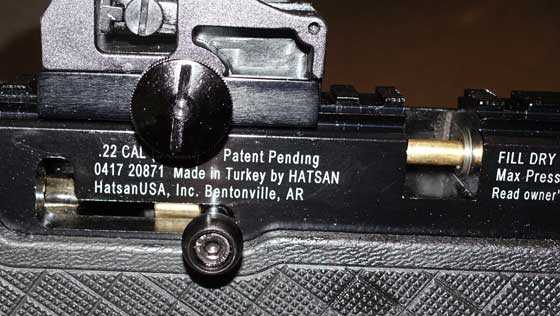 The Sortie action has a bolt that is pulled back and locked to permit installing and removing the magazine.
Silencer?
Like many PCPs today, the Sortie has a coiled steel mainspring inside its barrel shroud. The coils break up the exhaust gasses and make them diffuse before they exit the muzzle. The hole at the muzzle is quite large, so it remains to be heard how loud this pistol is.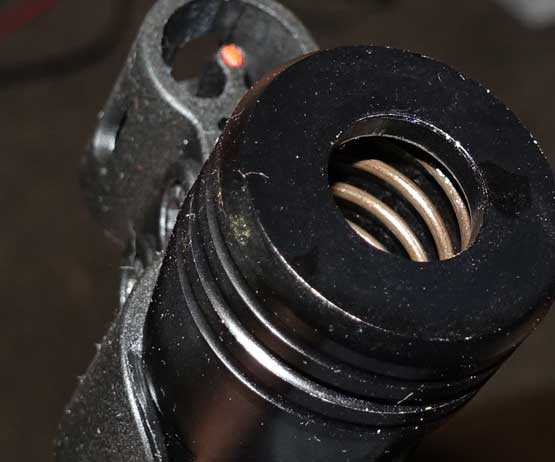 A coiled steel mainspring inside the shroud at the muzzle breaks up the exhaust gasses.
Evaluation so far
So far it looks like there is a lot to evaluate on the Sortie. I think this will be an interesting report. I just hope you can live with the power. If it's accurate, I sure can!