by Tom Gaylord
Writing as B.B. Pelletier
This report covers:
Back to the show
C1
What did BB buy?
One more thing
Compressed air
Sun Optics
AirForce
iraqveteran8888
All American Targets
More to come
Back to the show
I stopped yesterday while talking about some of the dealers. Do you know that I forgot to show you the Gauntlet that was on the Umarex range. It wasn't being shot when I was there, so I didn't get a picture, but I was told they expect to start shipping in September. Now let's go back inside the show hall and see some of the other things
C1
I know you are interested in vintage airguns, so how about a Beeman C1? I have written about the C1 over the years. You can read my report here. If you read it you will see that I didn't have good luck with the one I reported in the blog. But the first one I owned was a different story. That was the airgun that taught me the artillery hold.
Well, I didn't see one on a table, but one of our readers walked up and showed me the C1 he had just bought. This one had no sights, but I felt the pivot pin and it felt tight, so the rifle will probably be very accurate. Just remember to break it in with 3,000 to 4,000 shots. The trigger gets smoother and the cocking gets easier. Also — remember to use the artillery hold!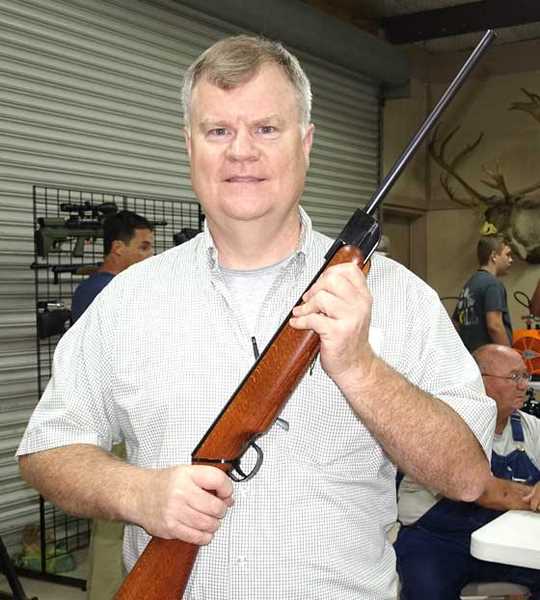 A reader walked up and showed me this Beeman C1.
What did BB buy?
I went to the show knowing that reader David Enoch was bringing a Beeman R10 that his brother, Bryan, had tuned. I shot that rifle at the airgun show in Malvern, Arkansas several years ago and was so impressed with the performance that when I came home I arranged for Bryan to tune my Beeman R1.
Before the show David contacted me and asked if I was interested in that gun. He called it an R10, but it's actually a Weihrauch HW 85, which is the rifle the R10 was designed from. I bought it at the show, but I don't want to say any more about it now because it will become a long historical series, I hope!
As I was packing up a guy came by and asked whether I was open to trading. Of course I am and I did, so I will also be testing a Beeman P1 pistol for you at some time. I have tested the P1 in the past, but the one I own has a modified trigger. This one is stock. And it is supposed to smoke when fired at present, which I hope to fix and show you how it's done.
And then there is that Crosman 102 repeating multi-pump thyat I showed yesterday. I have arranged to buy it, so it will be in an upcoming test, as well.
One more thing
I didn't buy this next item, though I offered to. Mac and Prowler (see www.macandprowler.com) were in the AirForce tent when I encountered them and I was shown a coyote call made by Randy "Mac" McMillan from a deer antler button. Things like that always catch my attention, because I love handmade stuff, but I have a particular application for a coyote call. When it was demonstrated I could tell that it will be much easier to modulate in the field than an electronic game call. I like game calls for things like crows, but for coyotes that need to be coaxed and enticed, I like to be in control of the call.
I gushed over the call so much that Randy gave me not one by two different coyote calls that he makes. One is the call in a deer antler and the other is the same call in a .223 cartridge case. They have different sounds and in my dreams I am already calling "dogs" with them!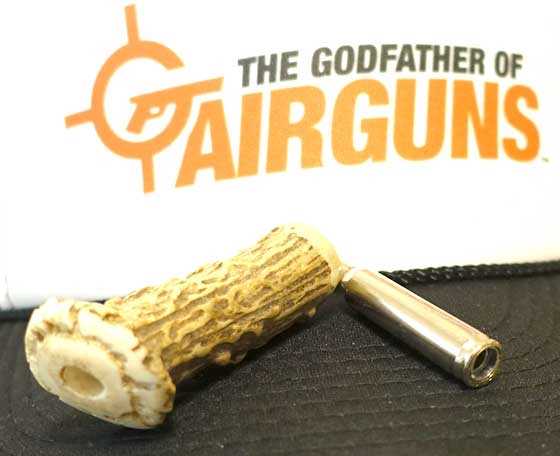 Coyote calls from Mac McMillan.
Compressed air
High Tide Scuba from Mansfield, Texas was there all day, providing compressed air, and answering questions for those curious about the dark side. They had tables in the show and also brought large bulk tanks to support the PCP guns on the range. With the great number of big bores that were shooting all day, they were a blessing!
Sun Optics
Speaking of compressed air, Sun Optics brought the latest version of their 4,500 psi compressor. It runs on 110V AC and 12V DC — just flip a switch. They had it set up and running all throughout the show. Nobody knew it, of course because the thing is so darned quiet, but they were filling AirForce guns all through the show.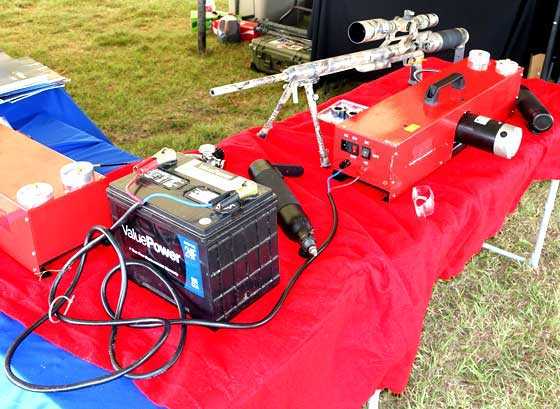 The Sun Optics air compressor (red box) ran all show long, filling AirForce tanks. It was so quiet I had to put my hand on the case to feel it run! That tractor battery powered it all day.
It's not a large compressor, but it is reliable and quiet. And it is stand-alone, needing no separate compressor to do its job. When they hit the market I will test one for you.
AirForce
That brings us to the AirForce booth — or should I say tent? AirForce Airguns has been a staunch supporter of the Texas airgun show since it began in 2014. Each year they donate a huge door prize that can be won by anyone purchasing a ticket to the show. This year the prize was a scoped .308 Texan!
AirForce has always sold products at the show. Many manufacturers do not have products to sell, but AirForce sells like crazy. And they bring all their blemished airguns to offer as show specials for those who want the best bargain.
This year they asked to be outside the hall to allow more room for their products. A large tent was erected outside the hall for both AirForce and Sun Optics, but there is more room for others out on "Manufacturers Row."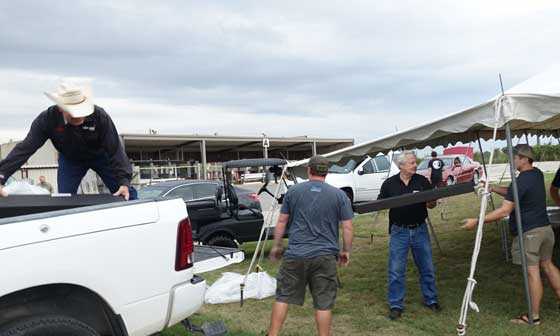 It took a bucket brigade to unload the AirForce trucks.
Once the gates opened to the public there was a steady stream of customers at the AirForce sales tables. Guns were piled high, but I watched as the stacks dwindled toward the end of the show. Of course they had all their other products there to sell as well, but the stacks of guns were the most impressive.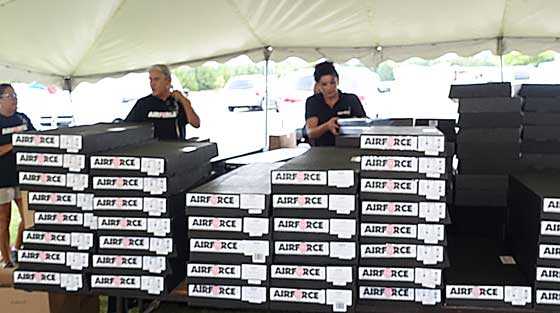 AirForce guns were stacked up like cordwood at the start of the show.
They also had their Texan rifles on the big bore range all day, and anybody could shoot them. The line was pretty steady all day.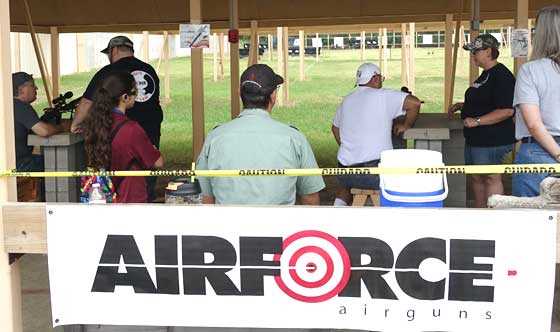 AirForce allowed the public to shoot their big bore rifles all day. The targets were steel Cowboy Action targets that didn't have to be reset.
iraqveteran8888
Besides supporting the show directly, AirForce also helped to promote it. This year they invited iraqveteran8888 to come film the show for his You Tube channel. He has 1.4 million subscribers, so we are getting the broadest possible exposure throughout the shooting world.
There is more to say about both AirForce and iraqveteran8888, but that can wait for Part 3 next week. I have one more exciting thing to tell you about this show today.
All American Targets
While I was at the Crosman booth, I met Tim of All American Target Concepts, who was helping Mark DeBoard run the Crosman range. Tim had his latest invention set up on the range and I was impressed. No, strike that — I was blown away! It is a moving target or action target that is adaptable to powerful smallbore airguns, or big bore airguns or handguns up to .380 ACP caliber.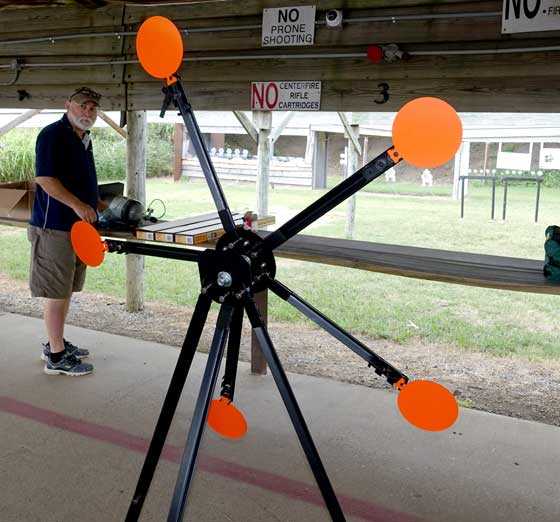 All American Target stands 6 feet high, yet assembled quickly without tools. It comes with parts to scale it from smallbore airgun to powerful big bore of .380 ACP. Knock off one paddle and the whole target starts spinning.
This target is so well constructed that I watched it spin for minutes following a gentle push. every angle is designed to deflect pellets and bullets away from the shooter.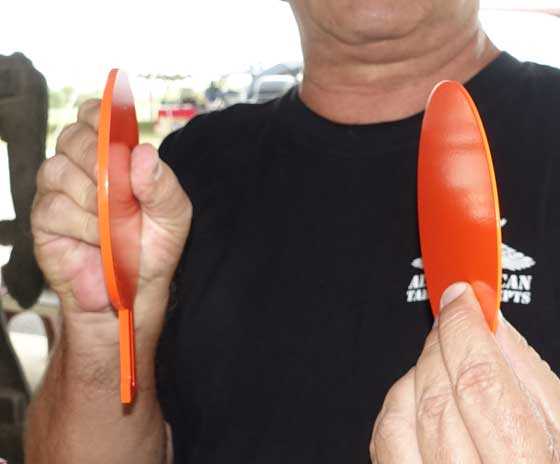 Swap a thin paddle (right) for a thick one and the target goes from being a smallbore target to a big bore action target in seconds.
I was so impressed with this target system that I plan to test it for this blog and also for a feature article in Firearms News. This is the kind of stuff I live for!
More to come
There is a lot more to see at the show. We haven't tasted the dessert yet — in the form of all the prizes they had! If you regret not attending from reading these first two reports, number three will have you crying your eyes out! Stay tuned.