by Tom Gaylord
Writing as B.B. Pelletier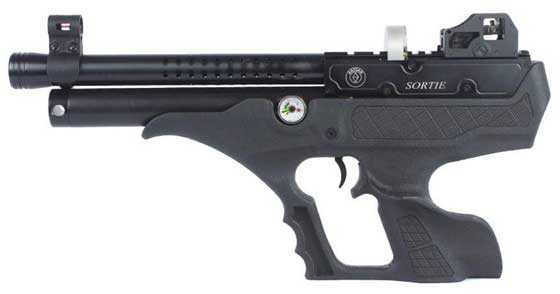 Hatsan Sortie semiautomatic pistol.
This report covers:
An announcement
Today
Familiarization
Still learning the magazine
The trigger
The test
The sights
RWS Superdome — sight in
JSB Exact RS
H&N Baracuda with 5.50mm head
H&N Field Target Trophy with 5.53mm head
Summary
An announcement
This morning I shaved with a straight razor in a completely different way, after reading a book about shaving that was written in 1905. While very different from anything I had been doing, it all sounded very good and authoritative until I tried it. Then I needed a pint of blood after finishing! The author of this book says many things that run contrary to conventional wisdom and what is being taught today.
As a result of this experience, I have decided that there is more to sharpening a straight razor than I thought. There will be another report coming in which I examine some of the facts and some old wive's tales about sharpening straight razors. I will try to show you the results more graphically. I don't want to wreck the surprises that I hope are coming, so that is all I will say at this time. Let's now turn our attention to today's report.
Today
I will shoot some groups with the Hatsan Sortie today, but I don't think I will consider this accuracy day. I'll explain that in a moment.
Familiarization
I wanted to get familiar with the Sortie's semiautomatic action. So, instead of my normal 10-shot groups, I only shot 5 of each pellet. I wanted to concentrate on learning how the Sortie action works, rather than to split hairs on target. That turned out to be the right decision.
Still learning the magazine
The Sortie magazine is still a challenge for me. I think if this was my only PCP I would get it straight much faster, but I shuffle between so many repeaters that, unless the mag is intuitive, it forces me to stop and think. And the Sortie mag is not intuitive — at least not to me. That said, I have shot the pistol about 90-100 times so far and the mag has never malfunctioned once. None of the three have. There is a lot to be said for that!
The trigger
I find the Sortie trigger easy to use. It pulls through a long travel like a single stage trigger, and there is no definite pause before the shot, but there is also no creep. This is a very comfortable trigger to use.
The test
I decided to test the pistol at 10 meters, just because I didn't know it that well. That was a good decision because I wasn't able to elevate the rear sight high enough to center every pellet tested in the bull.
I shot with the pistol resting directly on a sandbag. Because the Sortie is a PCP, there is no recoil to be concerned with and the vibration is negligeble.
The sights
This is why I am considering today familiarization day instead of accuracy day. The Sortie's fiberoptic sights are pretty large for a good test of accuracy. Now I understand why Hatsan mounted a dot sight on the pistol when they brought it to the Texas airgun show! Also, my eyes could not focus on the front sight, which is a problem with me — not with the pistol. I have to admit it, the miles are starting to show!
I haven't decided yet whether to mount a dot sight or a scope for the next test at 25 yards. The magazine sticks up 3/4-inch above the top of the scope rail, so whatever I mount will have to clear it.
RWS Superdome — sight in
The first pellet to be tested was the RWS Superdome . The first shot landed too low and off the target paper. I then adjusted the rear sight as high as it would go and shot number 2 was at the bottom of the bull when I used a 6 o'clock hold. That would have to do!
I reloaded and then shot a 5-shot group. It measures 0.593-inches between centers, which is too big for this pistol at 10 meters, but look how narrow and tall it is. The tall  is me not being able to focus on the front sight. You will see that in 3 of the 4 groups I shot. I think the narrow-ness of the group tells us the Superdome is probably very good in the Sortie.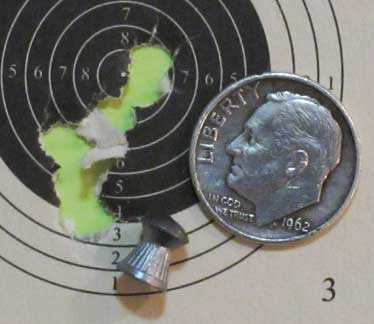 This 0.593-inch group of 5 RWS Superdomes at 10 meters is better than it appears. The vertical stringing is due to my inability to see the front sight clearly.
JSB Exact RS
The second pellet I tested was the JSB Exact RS dome. Given the Sortie's power level, I felt this one might be ideal. Five RS pellets went into 0.644-inches at 10 meters. This group is also vertical, with one shot straying to the right. Those other 4 holes are so tight (0.438-inches) that even though they are strung vertically, they hint at superior accuracy.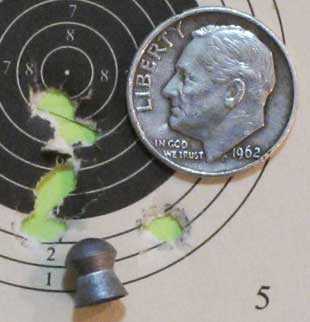 This group of 5 JSB Exact RS pellets is larger 0.644-inches between centers) than the first group, but the 4 that are together are 0.438-inches between centers. I think this shows promise!
H&N Baracuda with 5.50mm head
Hatsan sent some pellets with the Sortie, so I tried a couple. First was an H&N Baracuda with a 5.50mm head. These really surprised me by putting 4 into 0.31-inches at 10 meters. Shot number 5 opened the group to 0.575-inches, making this the best pellet of the test. I will have to try this pellet again!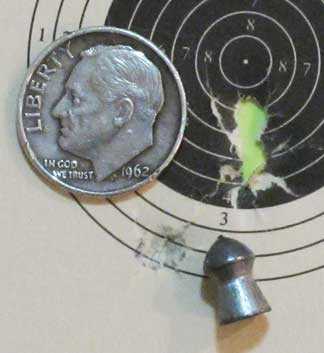 Five Baracudas went into 0.575-inches at 10 meters, but 4 are in 0.31-inches.
H&N Field Target Trophy with 5.53mm head
The last pellet I tested was the H&N Field Target Trophy with 5.53mm head. Hatsan also sent this one. Five went into 0.796-inches at 10 meters. As you can see, this one hit the target higher and also spread to the left and right rather than up and down. Given the performance of the first 3 pellets, I don't think I will try this one again.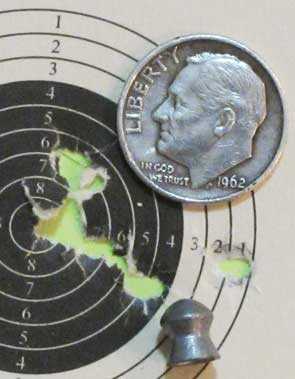 Five Field Target Trophy pellets went into 0.796-inches at 10 meters. This one is a little too open for my taste.
Summary
I learned quite a lot today, so I'm happy to have had this chance to get familiar with the Sortie. I especially know what I have to look for in a scope or dot sight to clear that high magazine.
I think the Sortie has a lot to offer and we will see it in the next test.