by Tom Gaylord
Writing as B.B. Pelletier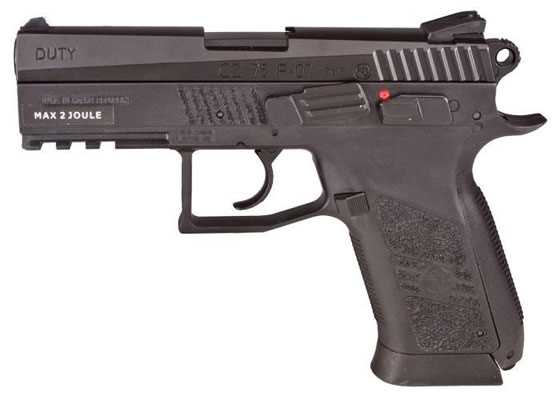 ASG CZ 75 P-07 Duty BB pistol with blowback.
This report covers:
Stick magazine
The quirk
ASG Blaster BBs
Daisy Premium Grade BBs
Dust Devils
Shot count
Trigger pull
Blowback/recoil
Summary
Today we look at the velocity of the ASG CZ-75-P-07-Duty-BB-pistol. As I said in Part 1, this is a compact pistol, but a duty size that's larger than a pocket pistol.
Stick magazine
The stick magazine is separate in the front of the grip. It holds 20 BBs that are loaded through the top. The follower is smooth and light and has a lockout notch at the bottom of the mag, so it's out of the way for loading. I found the mag pretty quick to load, but it did have one quirk.
The quirk
Sometimes, when a BB doesn't register through the chronograph during a shot string, I have to load a single BB after the magazine has been emptied to complete the 10 shots. This mag doesn't work well that way, because the top BB doesn't stay in place. It falls out of both the front and back of the mag, but when there is another  BB beneath it to push it up, it remains in place. I guess when you get to the last BB in the gun, the gun must hold it in place because there were no jams or failures to feed throughout this test. You just can't load a single BB into the mag and have it stay in place. Other than me, I doubt anyone would want to do that. read more