by Tom Gaylord
Writing as B.B. Pelletier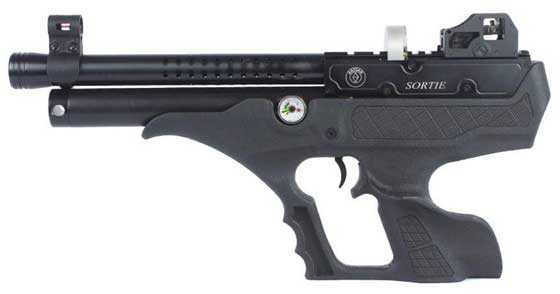 Hatsan Sortie precharged pistol.
This report covers:
Three magazines
Filling
RWS Superdome
Loading
H&N Field Target Trophy (5.55mm)
Hand pump
JSB Exact RS
Discharge sound
Is this a semiautomatic?
Trigger
Evaluation so far
Today we look at the power of the new Hatsan Sortie semiautomatic air pistol. I told you in Part 1 that it is a 12 foot-pound gun, so the discharge sound shouldn't be too great, but we will find out today.
Three magazines
I didn't show you the stuff that comes with the gun in Part 1, so let's look at it now. First and foremost, there are three magazines in the box with the pistol. That's very generous of Hatsan, and the two extras save you about 50 dollars! You also get a fill probe and a set of o-rings and a seal for the gun.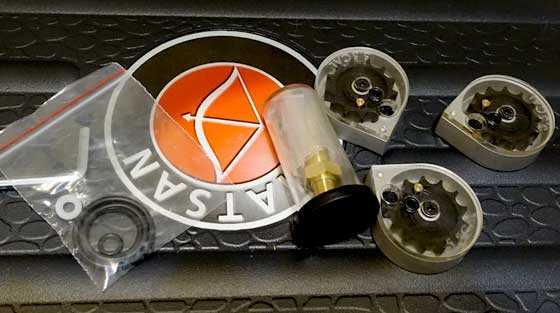 The Sortie comes with 3 magazines, a probe and a set of seals.
There is also a Hatsan probe to fill the gun, but if you are already into PCPs I recommend you consider getting an adaptor from Pyramyd Air into which your probe is screwed. That saves you lots of time. It also fits the probes from other airguns and saves you from having to change adaptors to fill certain airguns.


Pyramyd AIR sells the black Foster adaptor that your probe screws into. Then you don't have to waste time changing adaptors on your hose.
Filling
The reservoir volume is 62 cc, so the air charge is small. That makes this pistol a perfect candidate for a hand pump. The Sortie takes a fill to 200 bar, which is 2,900 psi, so I will fill it with an Air Venturi G6 pump and let you know how it goes.
Hatsan put a plug in the port for the fill probe to keep the gun clean between fills. Remember to put it back after you fill.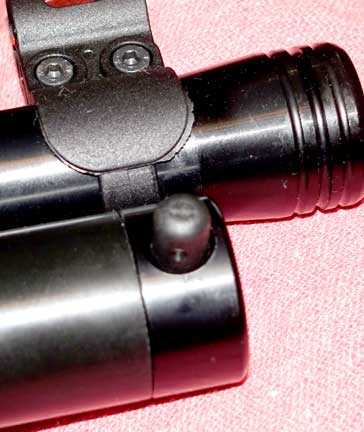 A plug in the fill port keeps dirt out between fillings.
The Sortie arrived with a partial fill to keep the valves shut. I filled it from a tank for the first set of shooting. I filled to 3,000 psi, because some pressure is lost in the line bleed and more goes from the heat of compression.
RWS Superdome
The first pellet I tried was the venerable RWS Superdome . Ten of them averaged 681 f.p.s. That's 14.94 foot pounds at the muzzle, so this Sortie is hotter than advertised. They ranged from 674 to 687 f.p.s., so a spread of 13 f.p.s.
Loading
I should mention that the magazine loads from the back. Each pellet is inserted into the magazine tail-first, which feels odd and does slow the loading a little. Once I got used to it, it was okay, but it isn't my favorite feature.
H&N Field Target Trophy (5.55mm)
Next I loaded 10 H&N Field Target Trophy pellets. These have a 5.55mm head, so they are big! They averaged 658 f.p.s., but the Sortie came off the power band after the 5th shot in this second string, which was the 15th shot following the fill. Let me show you all the velocities, so you can see what I saw.
Shot…….. Velocity
1…………….671
2…………….672
3…………….661
4…………….665
5…………….666
6…………….654 — off the power curve
7…………….652
8…………….646
9…………….643
10……………646
At the average velocity the FTT generated 14.1 foot-pounds. The spread went from 643 to 672 f.p.s., so 29 f.p.s.
All the velocities in this string are good enough for accuracy, so I will say the Sortie has a shot count of at least 20 per fill. Given the small reservoir, that's very good.
At the end of this string I saw that the onboard pressure gauge was at the bottom of the green. That indicates it's time for a refill.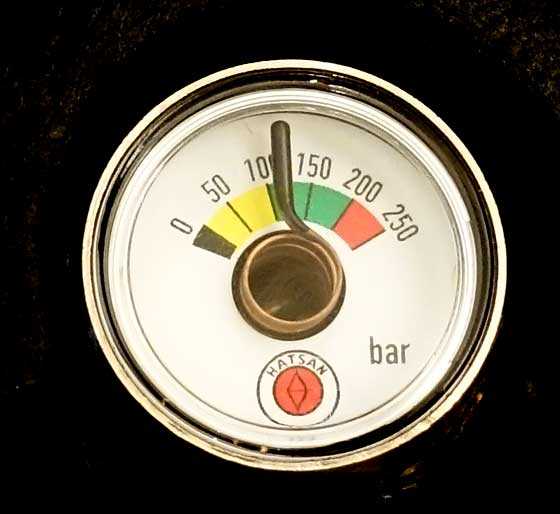 When the second string was finished, the gauge read like this.
Hand pump
I refilled the pistol using an Air Venturi G6 hand pump. It took a few strokes to fill to the pressure that was in the reservoir. The pump gauge said that was 1800 psi. Then 60 more strokes to fill to 3,000. I'm 70 years old and it's easy for me, so judge for yourself if you want to fill with a hand pump.
JSB Exact RS
The final pellet I tested was the JSB Exact RS dome. Given the power of the Sortie, this was the first pellet I thought of using. Ten averaged 690 f.p.s. with a 17 f.p.s. spread from 680 to 697 f.p.s. At the average velocity the RS pellet generated 14.2 foot pounds at the muzzle.
Discharge sound
No doubt about it — the Sortie is not silenced in any way. It makes a solid 4-level bang on the 5-point Pyramyd AIR noise scale. It won't deafen you, but everyone will know something has happened when you shoot.
Is this a semiautomatic?
One question I had before the test was whether the Sortie is a true semiautomatic pistol, and not just a double action revolver? I'm pleased to tell you that it is really a semiautomatic. You're getting what you're paying for. However, the trigger needs to be understood.
Trigger
The Sortie trigger is two stage. However, stage two has a lot of travel, almost like a single stage trigger. Stage two breaks at 3 lbs. 14 oz., so the pull isn't too heavy. It's something you will get used to.
Evaluation so far
So far, so good, I think. This is a brand new air pistol to me and I am learning to understand it, but I think Hatsan has put a lot of value into this package. Accuracy is next and you will remember that I plan to shoot with open sights first.