by Tom Gaylord
Writing as B.B. Pelletier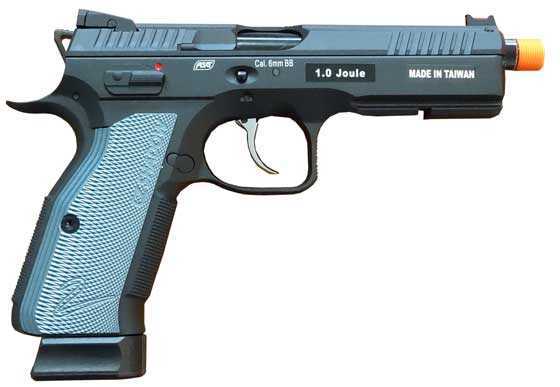 ASG's CZ 75 Shadow 2 airsoft pistol.
This report covers:
Different
Batteries
SHOT Show 2019
Bashed Sig
Bob Li
Not stocked at Pyramyd Air
The airsoft gun
Caliber
CO2 powered
Hop Up
My plans
Summary
Different
Something a little different today. Many newer readers aren't aware that years ago I wrote a lot about airsoft guns. I even rebuilt some guns with tighter barrels, stronger mainsprings and advanced meca boxes (airsoft term for the actions on automatic electric guns — AEG). In 2013 and 2014 I wrote a 3-part airsoft primer to bring interested readers up to speed.
Over the years I have tested various airsoft guns for you. I won't link to them all, but back in 2007 I reviewed the UTG Shadow Ops Type 96 sniper rifle and even tested it for accuracy at 50 yards! If you want to see more of these reviews, type airsoft into the search box at the top right of this page and hit the Go button.
Batteries
I even wrote a two-part article for Pyramyd AIR on the basics of rechargeable batteries for AEG guns. Most shooters go to AEG for the thrill of full auto. See Battery basics for airsoft guns Part 1 and Battery basics for airsoft guns Part 2.
I don't write about airsoft guns often because I really can't go in both directions — airguns (pellet and BB guns) and airsoft (realistic airguns that shoot 6mm and sometimes 8mm plastic balls that the Asian manufacturers call BB bullets or just BBs). But when an airsoft gun of significance comes along, you bet I'm interested! We have one today — the ASG CZ 75 Shadow 2.
SHOT Show 2019
I was shown this pistol in the ASG booth at the 2019 SHOT Show. Before I talk more about the gun I need to get something off my chest. Why is it that there are dozens of scope manufacturers but I only report on Leapers each year? And why, out of more dozens of airsoft manufacturers, do I only ever talk about ASG? Thanks for asking — let me tell you why. I only report on these two companies because, out of all of them, these two are responsive. They answer questions. They know their products, They care about what they are doing! I respond to that. If they care, then I will, too.
I have stood in dozens of scope and airsoft booths are talked to countless drones who could care less about the products on display. They are just watching the clock so they can bug out at the earliest opportunity to get to the bar, the casino or wherever else the real world is for them.
Now, airguns are different. I have to visit their booths regardless of who's there. The only airgun booths I pass by are those from the orient or other countries where they aren't really selling airguns, they are just trolling for commercial buyers.
Bashed Sig
You may not remember this but I bashed Sig pretty hard when they brought out airguns the first year at the 2015 SHOT Show. That's because nobody in the booth knew anything about the guns and I knew the person in charge of their airgun division was going to run them into the ground.
"The next stop was the SIG booth. There was some talk at the show about their new airguns, and I wanted to get a look for you.
Sadly, I could not find anyone in their booth who knew anything about the airguns they had on display. Yes, they have a couple of PCP and CO2 guns that are tactically styled after their firearms, but no one knew anything.
And they aren't just selling airguns, either. I saw a host of action targets and accessories in the booth. It's obvious that someone at SIG is interested in airguns — they just haven't put the word out to the rest of their staff. Plus, there was no literature about their products.
I'll watch for the SIG guns and products to arrive this year and review them for you when they do. Maybe by that time, I'll find that person at SIG who can speak about the airguns."
That was Sig airguns in 2015. So, imagine my surprise, several months later, when I got a phone call from a Sig rep wanting to talk about the airgun business. She cared; I could hear it in her voice! This was a person I could work with! She told me Sig recognized the problems and were taking steps to change — and, boy did they! Their turnaround was so dramatic that I became their head cheerleader. What I do is the media version of, "Fool me once…" Now, back to ASG.
Bob Li
You guys call me the Great Enabler. Well, Bob Li of ASG enables me! He knows all the right buttons to push because he is a real shooter. We speak the same language. So, when he told me this pistol was probably one I wanted to look into, I paid attention! Bob, by the way, is the guy who not only got me to test the ASG CZ75 SP-01 Shadow BB pistol, but also to purchase a CZ 75 SP-01 firearm to evaluate alongside the BB gun. Then Sig brought out the P365 and (hopfuly soon) a P365 BB pistol and a P320 M17 BB gun to go with my 9mm firearm. All of that arose from a single conversation with Bob Li. Stop it, Bob!
Not stocked at Pyramyd Air
You can look for this airsoft gun at Pyramyd AIR but you won't find it. At $180 retail it's hardly something they can sell. And now I have you talking! "One hundred eighty dollars for an airsoft gun!!!??? The thing better answer the phone, make good coffee and pay my mortgage, too!" I guess I even said some of that to Bob at the show. "Pick it up," he challenged. I did and all resistance melted. Two pounds 11.6 ounces, unloaded. All metal on the outside — even the grips!
This one is called the black and blue model by CZ, because the thin grip plates are metal, too. The Shadow 2 was purpose-built for competition in the United States Practical Shooting Association (USPSA) Production Division. What that means to everyone who doesn't compete it this is a fast-firing accurate pistol that's designed to be as smooth as possible.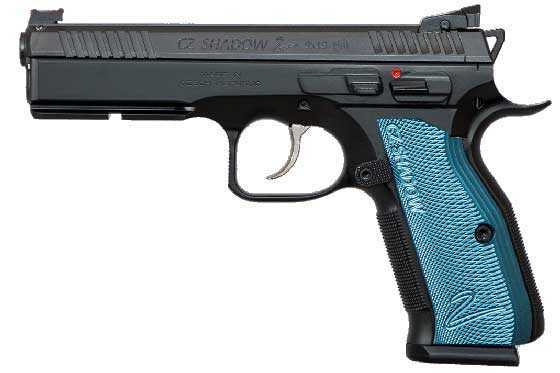 The 9mm Shadow 2 firearm doesn't look much different, does it?
The airsoft gun
It's completely realistic! The safety is ambidextrous and can be operated by the thumb of the shooting hand. The drop-free magazine release is extended and may swap to the other side of the frame. Disassembly is so easy — just align the mark on the slide with the one on the frame and press out the slide dismount (CZ's term for the slide catch) and the slide with barrel and recoil spring comes off the front of the frame.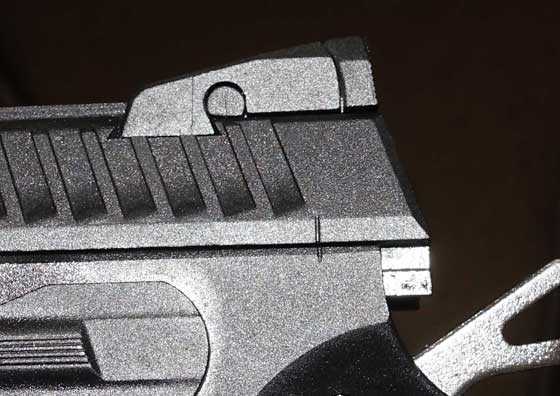 To disassemble line up the marks and push the slide catch out.
This pistol is double action and single action, though the movement of the metal slide in full blowback cocks the hammer, so after the first shot it's all single action. And it's two stage, so it's perfect for target shooting. The single action trigger pull is unbelievably light. Among my handguns only my FWB P44 trigger is lighter.
The rear sight adjusts for both windage and elevation, just like the firearm. It's a low-profile tactical sight that won't grab anything coming out of the holster.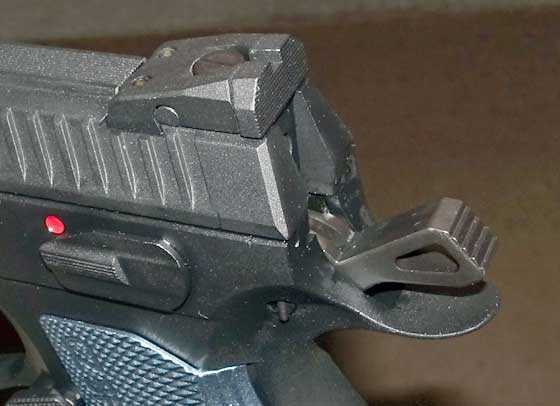 The rear sight adjusts both ways.
The forward underside of the frame has a single cross slot for a Weaver mount. This can be for a light or a laser sighting device.
Yes, there is an orange tip on the gun that many websites do not show. I could have PhotoShopped it out, as well, but it a legal requirement in the U.S. I caution you to never carry this gun in the open because it isn't easy to tell it from a firearm.
See those labels in the first picture that give the power (1 joule) and the country of origin (Made In Taiwan)? Both are stickers that peel off, leaving smooth metal underneath. The ASG imprint and the caliber are both on permanently.
Caliber
This is a 6mm ball shooter. It uses 0.25-gram plastic balls and ASG was kind enough to send a big bottle of biodegradable BBs that I can play with.
CO2 powered
Knowing the weight of the BBs you know it must be powered by CO2. If it was any other kind of gas the BBs it shoots would have to be lighter.
Hop Up
Yes, of course it has adjustable hop up. The pistol must be disassembled to access the adjustment that's located in the barrel group, but with this pistol that isn't so bad. It goes quick and back together for testing. I will have to adjust it I'm sure, so you'll hear all about it.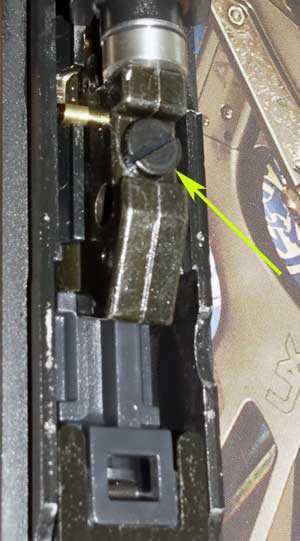 The Hop Up adjustment screw (arrow) is with the barrel group.
My plans
Airsoft guns can be surprisingly accurate. I have seen many that are. This one has the pedigree of a world-class competition pistol, so it's starting at a good place. Let's hope it delivers!
Summary
This test will be a pleasant change for me. It's been almost three years since I tested an airsoft gun and longer since I tested one this advanced. Added to that, I have both the BB gun and the 9mm firearm to compare to. It's gonna be a good one!