by Tom Gaylord
Writing as B.B. Pelletier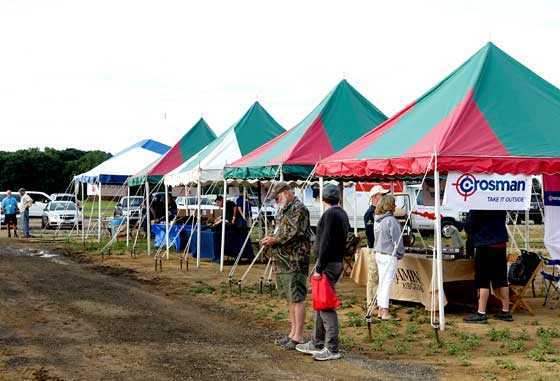 There were more vendors than ever this year! They were arranged on streets under pop-ups.
This report covers:
Big
Downrange
Down to the public ranges
Repeating crossbow pistol
American Airgunner
Air-air-air!
Gee whiz!
Summary
Big
I knew it was going to be good when I first saw it driving up. I saw rows of colorful tents arranged like a country fair. They turned out to be several streets with vendors on each side, and as the morning advanced they were filled with representatives from their companies. We had been told that the Pyramyd Air Cup site was bigger this year and I have to report that it certainly was!
In fact, on day two I was shown the other side of the facility and discovered that what I was on was the small side. The real facility is several times larger than what I had seen on the first day. And that other side includes a clubhouse/event center that has an indoor swimming pool! The banquet Saturday evening was held in that facility.
Camping sites were in the woods on this side of the road and equipped with everything a RV or tent camper could desire. You guys who camped there please correct me if I'm wrong, but I saw hundreds of well-equipped hookups.
The Cup started on a Friday with competitors shooting in both the inaugural benchrest competition and the Gunslynger that has run for many years. There were a large number of competitors on the line when I arrived at 8:30.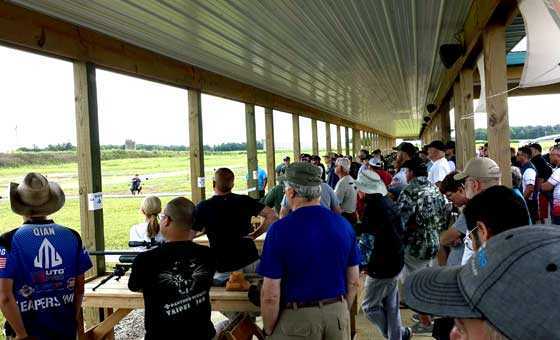 I'm looking at half of the benchrest competitors. The other half is behind me. This is the pre-match safety briefing.
Downrange
The benchrest targets were 100 yards downrange and the wind was blowing 10+ m.p.h. with frequent gusting. Everyone was having their pellets blown to the left — sometimes by several inches.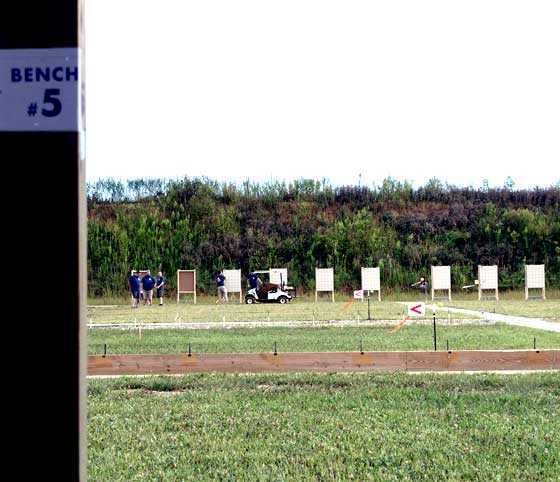 The range flags were blowing right to left at 100 yards!
Leapers
I stopped by the Leapers booth and saw a new 4-16 scope with improved light transmission. It has an etched-glass reticle and the adjustment knobs are calibrated in the same increments as the reticle lines. This makes adjusting the scope easier, as no mental conversion is required. They are sending one to me to test for you, and I can't wait. Did I mention that it is very compact — only a little longer than a Bug Buster.
I also saw a new high-tech bipod that I will soon be reviewing for you. This one is really slick and after my experiment with the Daisy Buck a few weeks back, I'm excited to try it
Down to the public ranges
This venue is huge! I bet the public shooting ranges are a quarter-mile from the competition and Vendors' Row. Pyramyd Air had several range carts to ferry people, so I hopped on one and went down to the public ranges. These are where you can try many different airguns that Pyramyrd Air and some of the other vendors provide. The also had a sales office down there and everything they sell was marked down by 20 percent with free shipping! But I also saw some things that hadn't yet been seen by the public.
Repeating crossbow pistol
The first new thing was a 6-shot repeating crossbow pistol from Europe. It is way cool and so new that it doesn't have a name yet, but it sells in Europe under the name Steambow. I was surprised by how accurate it is and also by the power — 16+ foot-pounds!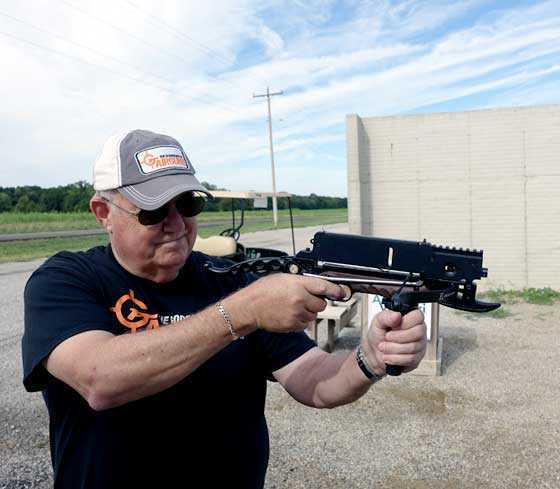 This crossbow pistol is every bit as much fun as it appears in this picture. BB wants to to test one! Heck — he wants to own one!
The real news with the Steambow, however, is not the pistol. There is also a full-sized crossbow that is cocked buy CO2 pressure! I saw it cocked and shot several times, and I even shot it myself a couple times. It is supposed to be highly accurate. I don't know how long we will have to wait to see this reach the market but I can tell you that Pyramyd Air is working on it as fast as possible.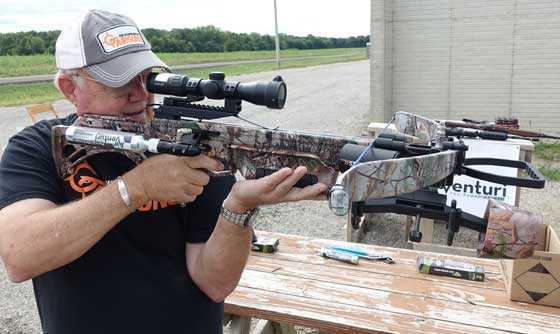 The full-sized bow is cocked via CO2 pressure. This is a bow that will compete with top-quality crossbows like the Sub-1 and the Ravin.
There is more than one version of the full-sized bow coming to market, so there will be more to say as the details are refined.
American Airgunner
The American Airgunner television show was at the Cup and host Rossi Morreale was competing in several events. When he wasn't doing that he was interviewing people all around the event. You'll get to see parts of the Cup online and in next year's show.
Air-air-air!
The guns at the Cup run on air and Pyramyd had several of their compressors going all the time, filling large tanks. Even so, they were hard-pressed to keep up with the demands of so many shooters.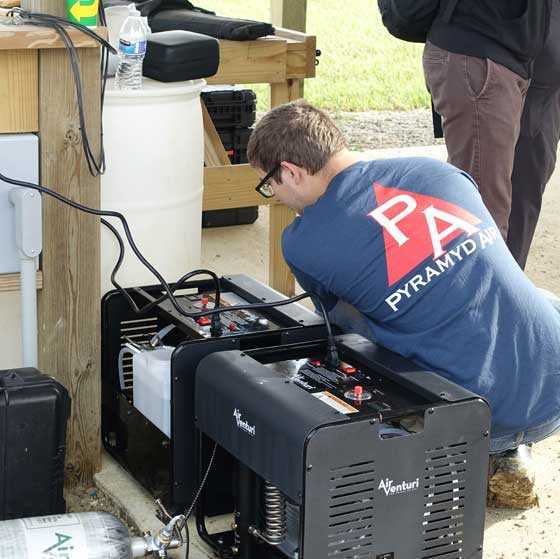 These Air Venturi compressors were going most of the day, filling dozens of large carbon fiber tanks.
Gee whiz!
I was at the Pyramyd Air support tent, talking to Gene Salvino, whom many of you know, when he showed me something wonderful. Gene works in the Tech department fixing airguns, and he tells me his biggest problem is fixing the guns that have pellets stuck in their barrels. He told me tales of 16 and even 32 pellets jammed in the bore of thousand-dollar PCPs!
To get them out he has created an ingenious tool that I want to show you. He took a steel Dewey cleaning rod that was broken and he threaded one end with a 6-32 thread behind a sharp point. He chucks the other end of the rod in an electric drill and goes in usually from the muzzle, drilling into the head of each stuck pellet in turn. The rifle is in a padded vise while he's doing this.
He says you can hear a change in the drill motor when the rod has penetrated the head of a pellet. He then pulls on the drill chuck and that pellet comes right out! Keep it up until the bore is clean.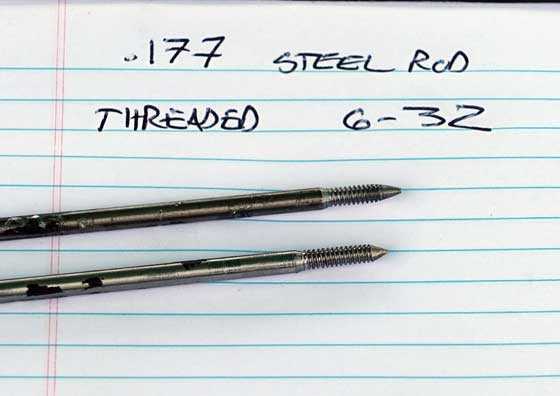 Gene Salvino passes this tool along to you readers with his complements. Make the rod as long as possible, but he also has a shorter one for jobs when the pellets are closer to the muzzle — to keep the rod from flopping around inside the bore.
Summary
This was just the first day of the Cup and I already saw enough for several blogs. On Saturday I taught some classes to the public on how to mount a scope and how to sight one in after it is mounted.
There was more to see, more to do, more contests to enter and more vendors to talk to this year. The new venue is much larger and more accommodating to the needs of the event. The event now has plenty of room to grow. They completely shut down all firearms activity for this weekend and we had the full run of the place.
I will report on the Cup again this week, but I'll give it a couple days.