by Tom Gaylord
Writing as B.B. Pelletier


Air Venturi TR5 Target Pro repeating pellet rifle. This is the one with the target sights.
Part 1
Part 2
Part 3
Part 4
Part 5
Part 6
This report covers:
Today
Target Pro
Remember this
Rear sight
Front sight
Beware!
Accuracy
Summary
It's been many months since we last saw the Air Venturi TR5 Multi-Shot Target Air Rifle. Most of the delay is on me, not Pyramyd Air. As I was getting ready to do Part 7 testing on the original gun they announced that the target version with a real rear peep sight and globe front sight would be out soon. So I held off to test that one for you. Well, it took time to come in and I know they rushed the one I'm testing right to me because it doesn't have the 5-shot accuracy test target they mention in the description. No problem there because they tell you what pellet they shot to get a 3/4-inch group at 10 meters. I can test it just as good as they can, and of course I will.
Today
I'm going to describe the rifle today and then I will test it for you as if I never tested the first one. But the links to the first gun will remain up so people can see where we've been and what it took to get to this place. Today's description will be abbreviated, so go back to Part 1 for more details.
Target Pro
To avoid confusion, there are two different rifles with very nearly the same name. I linked to the one without the target sights in the first paragraph, but that's not what I'm now testing. The rifle I'm testing today is called the Air Venturi TR5 PRO .177 cal Target Air Rifle. The insertion of the word Pro in the title means they have added a target peep rear sight, a globe front sight that accepts interchangeable inserts and that the rifle comes with a 5-shot test target that they shot at 10 meters. The guarantee is five RWS Hobby pellets in 3/4-inches.
Remember this
The rest of the rifle is identical to the one I tested earlier this year. Let me remind you of some things about that first rifle. First, it shot a lot faster than the advertised velocity of 500 f.p.s. With RWS Hobbys it averaged 548 f.p.s. at the muzzle. I will test the velocity of this one, too, in the next report.
The stock adjusts to 5 positions, giving you a range of pull lengths from 12.75-inches to 14.75-inches. The butt pad also adjusts up and down about 3/4-inches, giving you a 1.5-inch range. I wondered why anyone would want to adjust the buttpad up, and no adult probably would, but for a small a kid it allows them to fit the rifle to their smaller faces so they can see through the peep sight.
The trigger on the first rifle was both light and adjustable. That surprised me, as it was better than what you typically see in a rifle at this price. And it did adjust. A lot of "adjustable" triggers just have placebo screws that do little or nothing. Once again, I plan to measure this new rifle's trigger, adjust it and give you a complete report.
The accuracy of the first rifle was not that good, until I tried testing each of the chambers in the two clips individually. I found one chamber in one of the two clips that gave me a 0.71-inch five-shot group at 10 meters. Three-quarters of an inch was the accuracy claim, so they made it with that one chamber. Accuracy is a problem with repeaters, so that's something I have to test with this new rifle.
Rear sight
The rear peep sight comes in an optional box that's marked Air Arms. This sight is metal and seems well made, though to be at this low price I know it has to come from the Orient. Either that or from the replicator on the Starship Enterprise! It adjusts in both directions with crisp and positive detents. There are also clear reference indicies for both adjustments.
The hole through this sight is wee-teeny, which is a technical term target shooters use for very small things. What I'm telling you is this is a real target peep!
You also get the sporting rear sight that comes with the other TR5. I'm pretty sure I can wind down that rear open sight far enough to use the peep without dismounting the other sight, but I'll let you know when we get to that.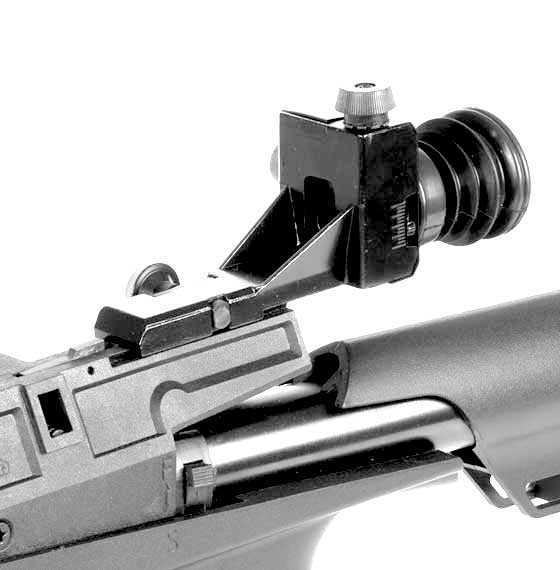 The peep sight is metal and seems well made.
Front sight
The front sight is a target sight, too. It's a globe that accepts inserts with a diameter of 0.672-inches (17.07mm).Both sides have legs that anchor the insert inside the globe.
Reader Kevin sent me a set of clear plastic front sight inserts for my Walther LGV and though they measure only 0.633-inches/15.95mm (Walther says they are 0.626-inches/16mm) in diameter they still work. There is a ledge they rest on inside the sight globe and when the screw-in globe piece holds them tight they are secure. The gun comes with just the one black insert shown in the picture.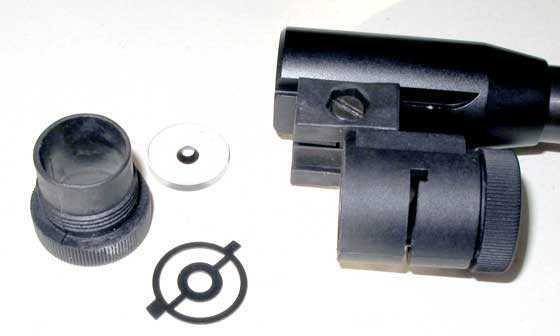 The front globe accepts steel target inserts and the 16mm Walther clear plastic inserts.
Beware!
One thing I need to mention is the legs on the insert are not exactly opposed from each other. In other words they don't bisect the circle in the middle. And the legs are different thicknesses. Therefore, the inserts can only go into the sight globe one way.
Accuracy
The TR5 comes with an accuracy guarantee of 5 RWS Hobbys in 3/4-inch (0.75-inches) at 10 meters. Now a 3/4-inch group sounds good, but not in 10-meter rifle competition. Three-quarters of an inch is enough to keep the outer diameter of all the pellets inside the 6-ring on a 10-meter rifle target, and since American rules are the pellet scores the highest ring it touches, a 3/4-inch group that's centered is good enough to average at least a 70 of 100 on that target. That's not good enough for a target match unless it is informal. It's good enough to keep all the shots inside the black bull of the target, though, which is all that many people want. I tell you this so you know that the TR5 isn't a rifle your kids can compete with. But it is a rifle they can have fun with.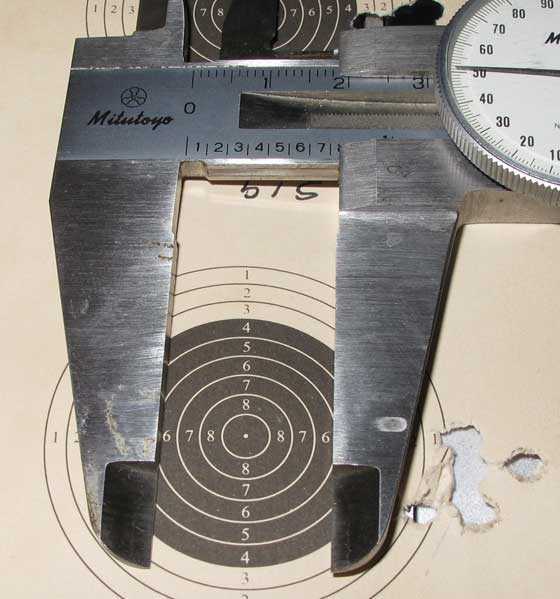 Three-quarters of an inch looks like this on a 10-meter rifle target.
Other accurate youth target rifles are either hard to operate, like Daisy's 753 that needs 20 pounds of effort to pump, or they are expensive like Crosman's $800 Challenger PCP. The TR5 really is the affordable option for parents who don't want to jump all the way in before knowing whether sis and junior really want to be marksmen, or if T-Ball and soccer are more attractive.
Summary
That's our start on the TR5 Target Rifle Pro. Next comes velocity testing, plus cocking effort and trigger pull/adjustment. Then comes the accuracy test that I'm really waiting for!