by Tom Gaylord
Writing as B.B. Pelletier
This report covers:
I can't use open sights — my eyes are bad!
Bad eyes
The point
Fire Direction Center
So what?
Eye dominance
Sight with either eye
What can YOU do?
Exercise
What's the point?
Pistols and scoped rifles — not such a problem
If you really can't see, use a scope
Effect on accuracy?
Summary
Today we look at the subject of eyes and eyesight as it relates to the basics of shooting. This is a tough subject and I'm sure there is a lot more than I will address. I'm not an eye doctor, so everything I say today is based on my experience, or on the little research I've done.
I can't use open sights — my eyes are bad!
Yes there are people who absolutely cannot use open sights. I estimate that of those who make this complaint perhaps 5-10 percent of them are correct. Today I want to talk about the others — the ones who just won't try because they think it's too difficult.
Bad eyes
In 2010 I was in the hospital for 3-1/2 months with acute pancreatitis. I coded once — a code blue with a crash cart and lots of doctors and other people. My blood pressure was 35 over 25 and they said they were loosing me. I said to somebody there (my eyes were closed and I couldn't see anyone) that 35 over 25 was pretty low and he responded, "Hey! You shouldn't be conscious!" Then I was out for three days and when I woke up I hallucinated for the next two weeks. Then they sent me to a different hospital.
At the different hospital I had a young doctor who refused to give me a transfusion when my hemoglobin dipped below 7.0. I told my wife I couldn't see anything, nor could I concentrate on anything. She found out about the low hemoglobin and the doctor holding back (a nurse told her) and demanded I be given a transfusion. I immediately had two units, followed by a unit per day for the next two days. I also got a different doctor. I was in a teaching hospital and saw 6 young doctors every day, but nobody did much of anything for me. I was fed through a tube in my arm. Reader Kevin knew how bad it was but most readers were kept in the dark.
When I was discharged from that hospital I went home with a feeding tube still in my arm. It remained there for another two months.
The point
My point in telling you all of this is, when I went home, I still could not see very well. My eyes had dehydrated and took six to eight months for them to return to normal. How could I continue writing this blog? My friend Mac helped me a lot in those days but I had to get back to shooting again quick.
I used powerful reading glasses to see the front sight. When I did I was able to shoot again. I might not have been at my peak, but I was certainly okay.
Fortunately I knew something that the people who won't use open sights apparently don't believe. You don't have to see the target very well to hit it! All you need to see clearly is the front sight. Please bear with me on this because there is more to explain before I tie it together for you.
I am aware of this sighting situation more than most folks because I was a 4.2-inch (107mm) mortar platoon leader in the Army. My guns shot at targets 3,000-5,000 meters away — targets the guys at at the guns never saw. Our fire was directed by forward observers (FOs) who watched the target through binoculars that had a mil-reticle in them. They were excellent at determining their range to the target and measuring how far left and right of it (in mils) the mortar shells impacted. And, let me tell you — when a 4.2-inch mortar round explodes, there is no problem seeing it!
Fire Direction Center
My Fire Direction Center (FDC) knew where the FOs were. They also knew where the guns (mortar tubes) were, so when the corrections were called in to the FDC from the FOs, they calculated them from the FOs' viewpoint, and then shifted their calculations around to the gun's viewpoint. They then calculated what kind of elevation and windage changes each tube needed to make (each was unique) to hit the target.
Each gun (number one gun through number four gun) would make the traverse and elevation corrections, though only one tube was firing at the time. Once the corrections were made to their gun sights, the gunners looked through their sights and aligned them with their aiming posts that were about 40 feet in front of them. There were lights on the aiming posts for night operations, so they made their vertical crosshair split the light lenses in their centers. Then they leveled their guns until the bubble in the level on the gun's sight was centered again.
When that tube (the one that was firing) got on target, and that happened within three shots at the max, we conducted a fire mission (we fired for effect) with 2 to 4 tubes — depending on the target. A fire mission is a certain number of shots fired from a certain number of guns. Downrange it is called a barrage. If you are in the place where the shells are landing it looks and feels like the world is blowing up.
One time during a fire mission we dropped a shell down the tank commander's hatch (we shot at obsolete but real US tanks on the ranges at Grafenwoehr, Germany) and blew the turret off the tank! The division commander, a two-star general, was watching this with my forward observers and was highly pleased.
So what?
Hey, BB, I'm not a mortar tube! Why tell me how they adjust their sights? I shoot pellet guns.
I told you this because you adjust your sights in exactly the same way and for exactly the same reasons, whether you know it or not. The mortar tube's aiming post is their front sight and it's about 40 feet away from the gun. Their target may be 5 kilometers away and the gunners can't even see it. Yet they can hit it consistently because they don't worry about it. They concentrate on the aiming post. That aiming post is their front sight.
Your eyes are your forward observers and your brain is your fire direction center. It tells your hands how to adjust the front sight (by adjusting the rifle or pistol) to hit the target that SHOULD LOOK BLURRY to you. Nobody can focus on both the front sight and the target. The front sight is where you should focus.
I have taught dozens of people to shoot this way and it ALWAYS works. My best students are women and children who have no prior experience with shooting. That's because they listen to everything I say, then they try to do it the way I tell them from the start. My worst students are 20 to 40-year-old men who come to me already "knowing" how to shoot. They have so much to unlearn!
Eye dominance
Okay, the front sight issue is out of the way. Now, which is your dominant eye? Keeping both eyes open, look at a spot about 10-15 feet from you. A spot on the wall is good for this. Looking at that spot, hold your hand at arm's length and stick up your thumb to cover that spot.
Now, wink one eye closed or cover one eye with paper and watch to see whether the thumb seems to move away from the spot. It doesn't matter which eye you cover. If the spot remains in the same place, uncover that eye and then cover the other eye to see whether your thumb seems to move.
For me the thumb covers the spot when I cover my left eye. But when I cover my right eye the thumb moves to the right. It moves about as far as my eyes are apart. That means my right eye is dominant. If it moves the other way — well, you figure it out.
What if the thumb doesn't move regardless of which eye is covered? That means both eyes are dominant, and I guess that person can sight with either eye. I seldom encounter that situation, though I know it does exist.
Sight with either eye
While I am right-eye dominant, I can sight with my left eye. It doesn't feel comfortable, but I can do it. However, there are people who find that incredibly difficult to do. My wife, Edith was one who couldn't do it. So airgun maker Gary Barnes made a special offset scope mount that allowed her to shoot a Barnes Ranger precharged pneumatic.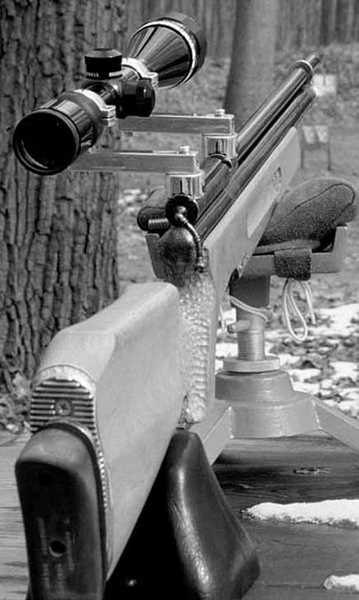 Gary Barnes made this special offset scope mount so Edith could sight with her left eye while shooting right-handed.Those two outriggers adjust independently and the scope rings swivel to align with the scope tube in any orientation.
Besides the trajectory correction she also had to make a correction for the sideways offset of the scope. So, shooting at different ranges was a challenge. But BRV was a bullseye game that was always shot at the same distance, so that's where she competed.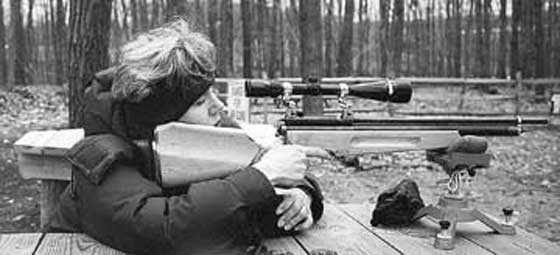 Edith competed in BRV with a .177 Barnes Ranger PCP rifle.
What can YOU do?
You have options if you are what is colloquially known as odd-eyed dominant — a right-handed person with left-eye dominance and vice-versa. First, you might be able to learn to shoot with the other eye. I can do it, though I don't like it. But when my left or non-dominant eye looks at sights I find it best to cover the dominant eye somehow. And I said cover — not close the eye by winking. I have an exercise to show you why winking your non-sighting eye doesn't work.
Exercise
Poke a hole through a piece of stiff paper or card stock. Let's make it around 1/4-inch or 6.35 millimeters in diameter. That's roughly. Don't sweat the measurements! I used the awl on my Swiss Army knife to poke the hole and it's not very round.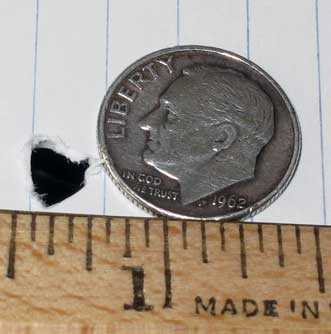 The hole doesn't have to be precise. Even something as rough as this will work.
Now, keep both eyes open and cover your non-sighting eye. Bring the hole in the card up to your other eye about 3/4-inches away and the hole will appear to remain fully open. Then, close your other eye by winking and watch the hole shrink in size. The edges become blurry and you notice them closing in. The more you wink the smaller the hole becomes. That is what happens when you sight with one eye and close the other one by winking! Don't do it because it makes the light through the peephole or through the rear sight notch decrease dramatically. Use an eye patch if you must, but keep both eyes open.
What's the point?
The point is — don't close your other eye when sighting. Train yourself to leave it open, because closing it by winking or squinting just reduces the amount of light that comes through your sighting eye.
Okay, that was option one — use the other eye. Option two is to shoot from the other side, i.e. a right-handed person shooting left-handed. I find it easier to do that with a rifle than a pistol. Some folks have no trouble doing it either way with both rifles and pistols. Those folks have already figured all of this out and they are waiting for the rest of us to catch up.
The last thing I recommend is getting a special gunstock or sights or a trick scope mount like I show above. They are just as difficult to live with as the problem they are designed to correct.
Pistols and scoped rifles — not such a problem
With pistols or when shooting rifles with scopes this is far less of a problem. Close (I say cover up) the eye not being used and just use the other one. Action pistol champion Rob Leatham demonstrates this. However, notice when he switched to sighting with his non-dominant left eye it took him longer to get on target.
Shotguns are a different matter because they are not shot with sights when wingshooting. Fortunately for me this is an airgun blog and I don't have to go there.
If you really can't see, use a scope
I have written this report for the shooters who use poor vision as an excuse for using scopes all the time. But I do recognize there are folks who have to use scopes because they really can't see the sights. For them there are very few options. Fortunately scopes today have reached a high level of refinement while their prices have dropped to reasonable levels.
Effect on accuracy?
This is the second part of today's question. How does eye dominance play into accuracy. The answer is simple. It plays to the extent that the shooter allows it to. In other words, a determined shooter can shoot well with either eye. With practice comes familiarity and with familiarity comes skill. However, if the shooter constantly fights it, the problem will become an exercise in developing excuses for why he can't shoot.
Summary
There — five parts of a report I initially thought would be over in one. Reader Bill, see what you made me do?