by Tom Gaylord
Writing as B.B. Pelletier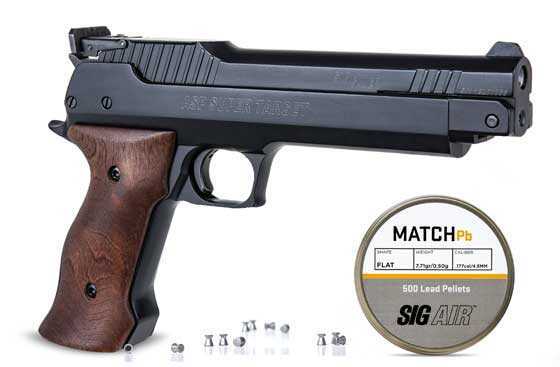 SigAir Super Target (photo provided courtesy Sig Sauer).
This report covers:
Adjusting the trigger — first
Adjusting the trigger — second
Accuracy
The test
RWS Hobby
Let's examine that group
Hobbys again
Sig Match Pb
RWS R10 Match Pistol
H&N Finale Match Light
Discussion
R10 second try
Summary
Here we go, guys. Today we look at the accuracy of the new Sig Super Target single stroke pneumatic (SSP) target pistol. I'll tell you right now that it's accurate. But there is a lot more to cover today, so let's begin.
Adjusting the trigger — first
Two words of advice. First — don't adjust the trigger — at least not until you shoot the pistol a little. Second — if you do try to adjust it — GO SLOW! I know that most adjustable airgun triggers require a lot of adjustment before anything can be felt. This one is different. Please listen to BB.
I tried each of the adjustments for you and wound up removing the pull weight adjustment screw from the pistol. It wasn't easy to put it back in again — it took many tries over several days to get it back. It passes through the trigger return spring that puts tension on the screw as you are trying to start the threads.
I thought I would be the only one to do that until a reader contacted me and said he had done the same thing with his Super Target. When he contacted me I had already replaced the screw, so let me show both you and him what it looks like when it's in the gun correctly.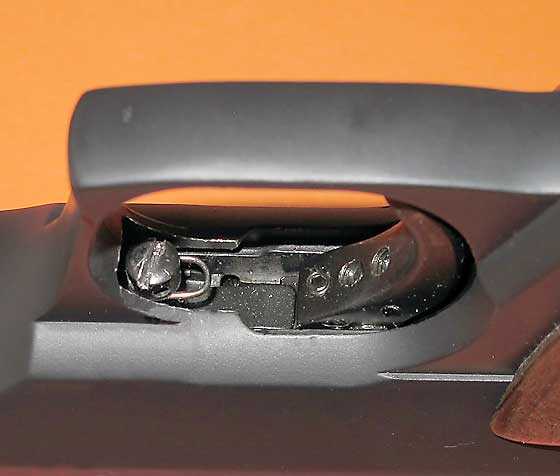 The big slotted screw on the left is the one that adjusts the pull weight. I turned it out too far and it popped out of the trigger. I then spent a lot of time trying to get it back. See the U-shaped wire spring that it passes through? That's where the difficulty lies.
There is no hole through the triggerguard for a screwdriver to get on that screw, so the screwdriver has to come in from the side, yet still turn the screw straight into its hole. I even have short screwdriver bits and a sideways ratchet mechanism, but there isn't enough room in the triggerguard for them.
Adjusting the trigger — second
Once the pull weight screw was back in place I found that all my "adjustments" were so far out of whack (my fault) that the trigger would not engage. So I cried, "Help!" to Sig and Ed Schultz sent me the following graphic.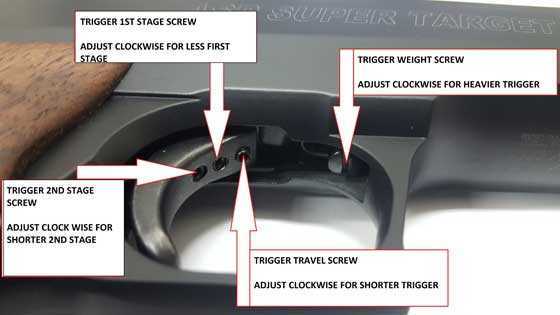 This graphic is very helpful getting the trigger back into adjustment. The manual has a drawing that is clearer, but I like this one better.
The manual says to adjust each screw slowly (in small increments, like a quarter turn) and they mean it! I started out adjusting like an airgunner, which is to say more is better, but this trigger is very sensitive and needs those small movements of each screw. Also, adjusting one screw affects all the others, so check after each small adjustment. I went from a 15-pound pull (estimated) to a 2-pound pull in just five or six quarter-turn increments!
There! I have told you what to do and how slow to do it. If you get in trouble now, it's your fault. I learned the hard way, as did one of our readers. Pay attention and you don't have to.
Accuracy
Today is accuracy day and we are all curious how the Super target shoots. This will tell you whether this is the air pistol for you.
The test
This is a 10-meter target pistol so I shot from 10 meters. I shot off a bench with two different holds that I'll describe as we go. I shot 5-shot groups so I could shoot more targets. And, since an optical sight cannot be mounted on the Super Target, I shot with the adjustable sights that comes on the pistol.
RWS Hobby
First to be tested was the RWS Hobby pellet. I shot this group with the bottom of the pistol grip rested directly on the sandbag. Because the Super Target has open sights I started right at at 10 meters and the first shot landed in the black of the bull. Four shots later and I had a 0.89-inch five-shot group at 10 meters.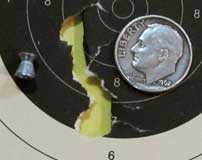 From 10 meters the Sig Super Target pistol put five RWS Hobby pellets into 0.89-inches between centers.
Let's examine that group
That group tells me two things. First — why do pellets string vertically like that? That's right — because the velocity varies from shot to shot.
Next — why do wadcutter pellets tear target paper? Right, again. Because they are traveling slowly. Target paper is designed not to tear.
Now for the important question. The Super Target is an SSP. How do we speed up the pellets from an SSP and also make the velocity more consistent, shot-to-shot? We do it by pumping partially before pumping the gun completely — to flex and warm up the pump cup or other piston seals. I really want to know how this Super target performs so I shot a second string of Hobbys while warming the pump cup this way. I'm still resting the bottom of the pistol grip directly against the sandbag.
Hobbys again
This time I partially pumped the pistol five times. Then I loaded a pellet and gave it another partial pump that was quickly followed by a complete pump. I could hear that the pellet flew faster this time. After five shots I had a 0.57-inch five-shot group that exhibited zero tendency to string vertically. That's a group size shrinkage of more than three-tenths of an inch by just changing how the pistol is pumped.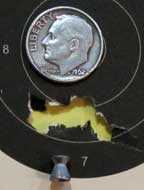 A second group of RWS Hobbys proved everything I said about velocity and consistency. Five shots are in 0.59-inches between centers at 10 meters.
Sig Match Pb
Next I tried 5 Sig Match Pb (lead) pellets. I was still pumping a partial pump before each complete pump, and the pistol grip is still resting on the sandbag. These five pellets strung out horizontally in a group that measures 1.435-inches between centers. I think this is not the pellet for this pistol.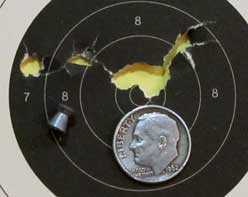 Five Sig Match PB pellets went into 1.435-inches at 10 meters.
I did try a second group with this pellet, using a different hold, but it was larger and more open than this one. This just isn't the right pellet for this Super Target.
Okay, it was time to break out the big guns — premium pellets I know to be accurate in lots of different target guns. And perhaps I would also play with the hold. I adjusted the sights five clicks up at this time. I can't hear the clicks and I think nobody can, but they are large and distinct.
RWS R10 Match Pistol
Next to be tried were five RWS R10 Match Pistol pellets. I was still holding the pistol with the bottom of the pistol grip resting on the sandbag.
The Super Target put five R10s into 0.543-inches at 10 meters. Now, we are talking! And look — my sight adjustment was almost perfect for this pellet!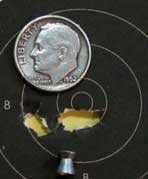 That is a group! Five RWS R10 Match Pistol pellets are in 0.543-inches at 10 meters.
H&N Finale Match Light
Since the R10 did so well I thought the next pellet — an H&N Finale Match Light — might do as well. So I changed the way I held the pistol. This time I held it off the bag with a two-hand hold and my hands were resting on the bag. Five pellets went into 0.432-inches at 10 meters. This is the group that convinced me that the Super Target can hold its own with any target SSP in its category!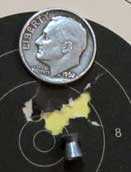 The Super Target put five H&N Finale Match Light pellets in 0.432-inches at 10 meters. This gun can shoot!
That group was so impressive that I decided to give the R10s a second try with the new hold. I was getting tired from all the concentration, but I knew I could hold it together for five more shots.
R10 second try
This time, with the pistol handheld, I put five R10 pellets in 0.682-inches at 10 meters. Four of the five are in 0.376-inches, so I think I'm getting past my expiration date on this day.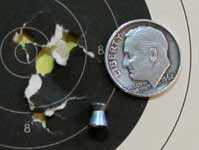 This second group of RWS R10 Match Pistol pellets was shot with the pistol handheld. It measures 0.682-inches between centers, with 4 or the 5 in 0.376-inches.
Discussion
It appears this Super Target pistol likes lighter target pellets over the heavier ones. But my test wasn't very thorough, was it? Sig will just have to wait to get this pistol back, because I want to do more testing.
The trigger is an absolute delight to shoot. However, it is not a conventional target trigger. Stage two does not have a definite stop — at least not the way I have it adjusted. It's a soft stop and stage two does have a very little movement. I can tell where it is at all times and it's wonderful to work with. I know exactly when it gets ready to fire, and I can concentrate on the front sight for the release.
Pumping this pistol is so easy! It's like eating peanuts — Hubs peanuts at that! I just can't stop. It's so much fun to shoot and I think most adults and older kids will be able to pump it.
The sights adjust exactly as they should. And they are crisp to see. I hope to zero them for the best pellet at some point in my testing, but that will be in the future — ha, ha!
Summary
The Super Target is an air pistol I have been waiting two years for. It's everything I hoped it would be and even more. You Sig P210 firearm owners have got to add this to your collection. I am not done testing it yet. Stay tuned!