by Tom Gaylord
Writing as B.B. Pelletier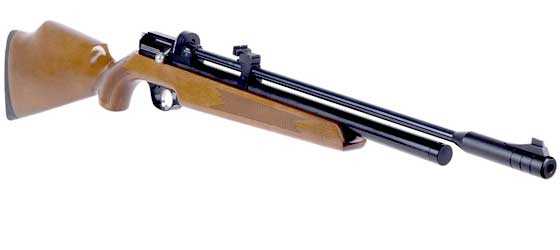 Diana Stormrider precharged pneumatic air rifle.
This report covers:
Wow!
Good enough for the price
Trigger
How loud?
Shots per fill
Crosman Premiers
How powerful?
The discharge?
Tremendous tuning potential!
The trigger
More power?
Powerful lesson
Summary
Wow!
Before I do today's velocity test of this .22-caliber precharged rifle, I will begin by addressing all the issues, questions and concerns you have about the pedigree of the new Diana Stormrider. Right off the bat someone tells us the rifle is Chinese and made by Snow Peak. I knew that last time but decided to leave it out. Guys, it's a global economy today and companies do that. Some don't, and keep everything in house, but more and more often companies either source their parts from the outside, or they buy fabricated parts built to their specifications or they even buy entire products like the Stormrider, and put their names on them. It's a fact of life.