by Tom Gaylord
Writing as B.B. Pelletier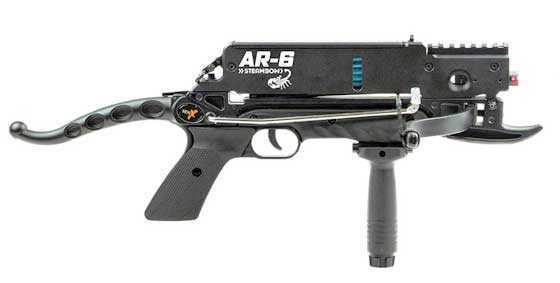 Sen_X AR-6 Tactical Arrow Repeating Crossbow.
This report covers:
Repeater
"Sights"
Built-in laser
Accurate
Robin Hoods!
Discussion
Summary
Today we get to see the AR-6 crossbow in action. I have to say — for a non-airgun this little crossbow is one of the most intriguing shooting platforms to come along in the past 20 years!
Repeater
Besides being essentially a pistol the AR-6 is a repeating crossbow — an oddity in itself. The box that sits on top of the bow holds the arrows and the rest of the mechanism that allows it to be a repeater. And, in about 100 shots thus far, there have been no problems with the bow's reliability.
I did have one problem with the repeating magazine though, and it was my fault. In the beginning when I was first getting used to the bow I didn't watch the spring that pushes down on the arrows and I bent it while closing the magazine cover. So I had to re-bend it to press on the arrows. Now the cover pops open when I shoot with 6 arrows loaded. It doesn't happen with just 5 arrows loaded, so that's all I load. I will say that I loaded six arrows in the video that's coming, but there were really only 5. So, if you get one of these, watch that magazine spring so you don't bend it like I did!
"Sights"
The crossbow really only has a front sight. I use the top of the silver spring latch on the magazine cover for the rear sight. It may sound crude, but it does work.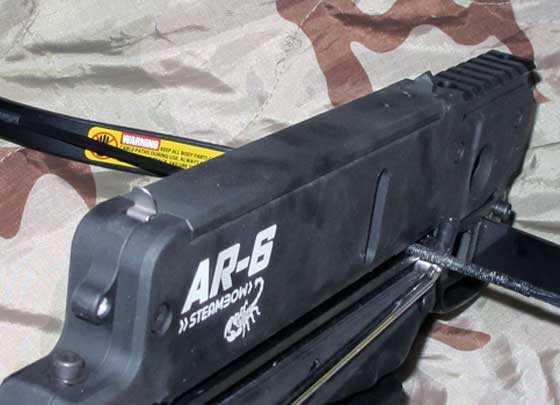 The "sights" are nothing to speak of, yet I find I can align them with precision to accomplish my objective.
Built-in laser
The AR-6 does come with a built-in red laser, but in bright sunlight it is invisible. There is also a short Picatinney rail on the front of the bow just forward of the front sight.  It would hold a dot sight very well. Now — where can I find a good adjustable dot sight?
Accurate
This little crossbow is accurate! This time out I shot at the target bag from 10 meters from the start. In the video I say it's 25 feet but I went out and measured it with a laser rangefinder and its over 10 meters. You'll see where I shot  in the video. And I began to get groups of reasonable proportions. This shooting is all offhand, so shaky old BB is the biggest variable.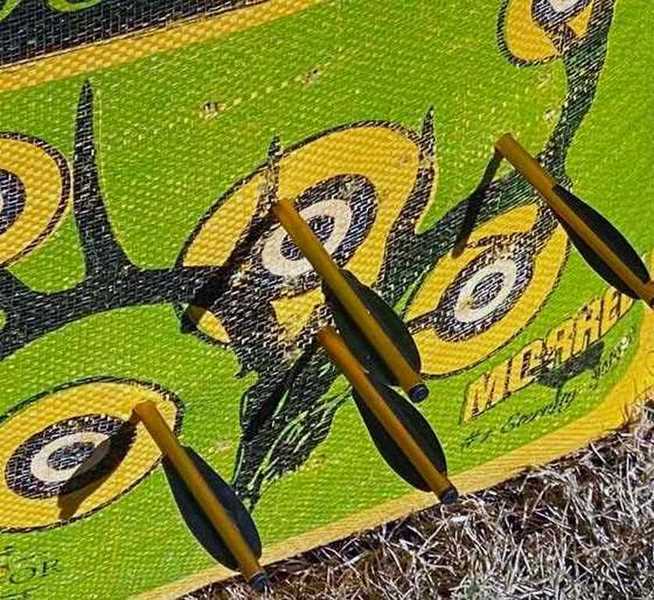 From 10 meters here are 4 arrows in a group that's just a little larger than my hand.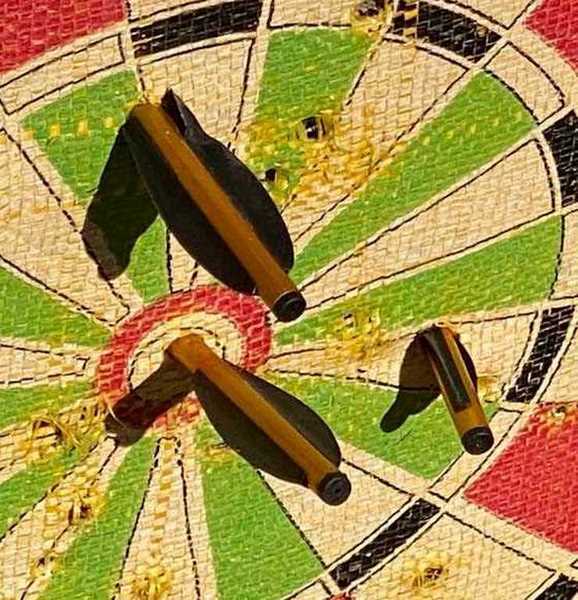 This is my first bullseye. Yes, there is a fourth arrow about 4 inches away that I cropped out.
Robin Hoods!
Until this day I had been outshooting my neighbor, Denny. Then something happened in the middle of our session. Denny got real serious. His facial expression changed to one of concentration that told me my glory days were about to end.
Sometimes success isn't all it's cracked up to be. It's fine to theorize about Robin Hood shots where one arrow hits another at the target. But it quite another thing when it happens. This AR-6 is so darned accurate that it's come very close for me a number of times. When Denny got serious, he started doing it, too. Let me show you.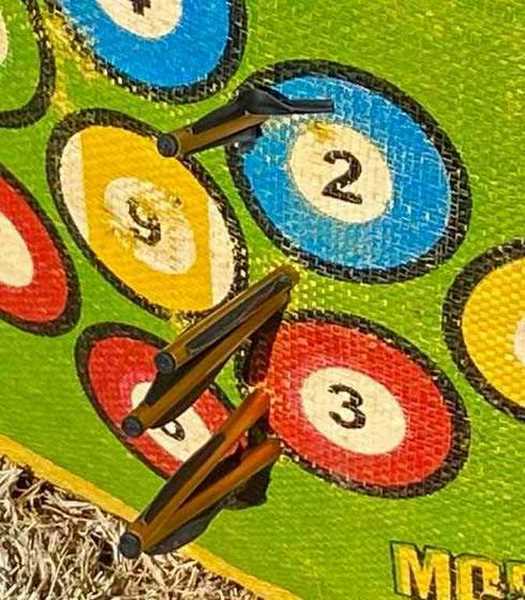 When Denny got serious about his shooting, my arrows were put in jeopardy! Maybe even double jeopardy!
Okay, enough talk. Let's see how this crossbow shoots!
Discussion
This was only the third time I was out with the crossbow, not counting last year at the Pyramyd AIR Cup. As you can see, I'm just getting used to the AR-6, and already I have to think about shooting at different targets. Otherwise I risk damaging arrows.
Summary
Oh, there are lots more reports to come. I just enjoy shooting this quiet little bow, so I'm going to search for reasons to use it. This is like throwing darts, except the distance is greater. If a guy owned a sports bar, this would be a real crowd-pleaser!