by Tom Gaylord
Writing as B.B. Pelletier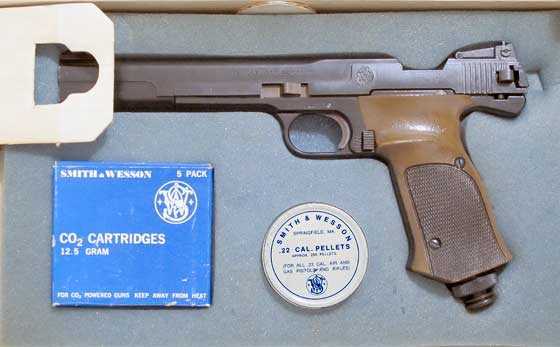 A very early S&W 78G air pistol. Though the picture looks matte because of lighting, this is one with glossy paint. It's like new!
This report covers:
First test — is the frame porous?
The test
Discussion 1
Crosman Premiers
Air Arms domes
Discussion 2 — can this pistol even shoot?
RWS Superdome
Discussion 3
Gamo Match
Back to Superdomes
Trigger
Summary
Today I test the S&W 78G for accuracy. If you tuned in late, this particular pistol was made in the first year of production — 1971 — and is in pristine condition. The links to Parts 1 & 2 are at the top. If today's report interests you, you might want to read the rest of it at some point.
First test — is the frame porous?
In Part 2 I mentioned that the pistol seemed to have leaked down after Part 1, so I conducted a test to see if the frame is porous. Many of the early S&W pistols had frames that were porous, and no amount of sealing would make them gas-tight. They leaked down very slowly, so it was a fault that was not easy to find. Smith & Wesson knew this and replaced the leakers as they came in for service.
I put a brand new CO2 cartridge in the pistol after finishing the Part 2 test. That was exactly a week before I conducted today's test. When I took the pistol out of the box this morning and fired it, a puff of visible gas escaped the muzzle. That puff is condensation from liquid CO2 flowing through the valve and flashing to gas that compresses and condenses the air when it reaches the atmosphere. It happens on the first one or two shots after a new cartridge has been installed. So the cartridge was still full after a full week, meaning this gun does not have a porous frame.
The test
I shot from 10 meters with the gun rested on a sandbag. I used a 6-o'clock hold. There was no sight-in because I was using the open sights that came with the gun. I shot 5-shot groups because I wanted to shoot more pellets. That turned out to be a good decision, as you will see.
RWS Meisterkugeln
The first pellet tested was the .22-caliber RWS Meisterkugeln wadcutter. The first shot hit the white, just below the bull, so I knew the pistol was sighted to hit at the point of aim. Five pellets went into 1.416-inches at 10 meters. The group is horizontal.
Because the group hit below the bull, I adjusted the rear sight up and shot again at the same target. This time the pellets landed nicely in the black. Five pellets made a group that measures 1.644-inches between centers. The target you see below holds the two groups.

All holes are from Meisterkugeln wadcutters. The holes in the white are the first group. Two pellets went through the hole closest to the pellet. Bottom five are in 1.416-inches. Top 5 are in 1.644-inches. I am aware the target is upside-down.
Discussion 1
We know several things from this first target. First we know that the Meisterkugeln is probably not the best pellet for this pistol. At least we hope the pistol can do better than this!
Second we know that the sights do work. Adjustment did move the second group higher.
I didn't mention it but I shot the first group while wearing my everyday glasses. The target was in sharp focus but the front sight was blurry. That is backwards so I put on my 1.25 diopter reading specs for the second target. Now the front sight was sharp and the target was blurry for the rest of the test. But the second group is larger than the first and that seems to go against what I have told you about seeing the front sight sharp. But just wait a bit.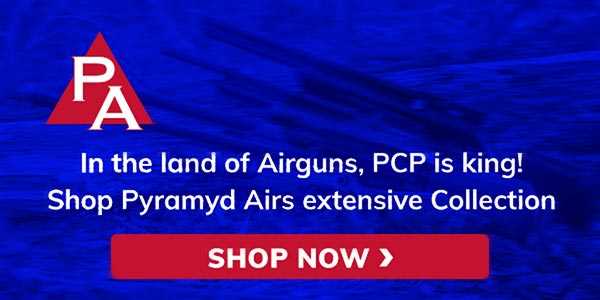 Crosman Premiers
Next I tried some .22-caliber Crosman Premiers. Four of the five are in 1.294-inches but the fifth shot opened the group to 2.95-inches. I have no idea which of the 5 shots it was. And there was no called pull for this group. Premiers are out, too.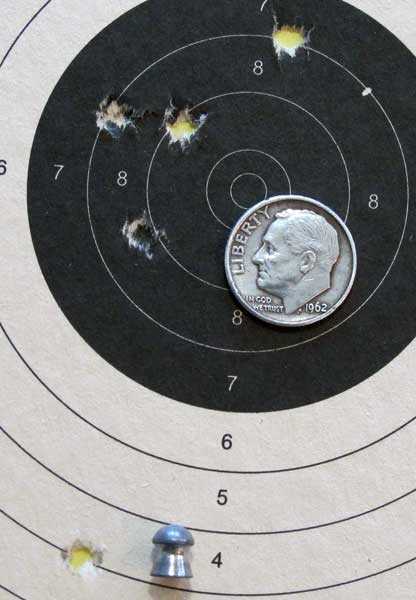 Four of five Premiers are in 1.294-inches, but that one stray at the bottom opened the group to 2.95-inches.
Air Arms domes
Next to be tried were five of the Air Arms domes that weigh 16 grains. I was hoping for a decent group from them, but I didn't get it. Five pellets went into 2.576-inches at 10 meters.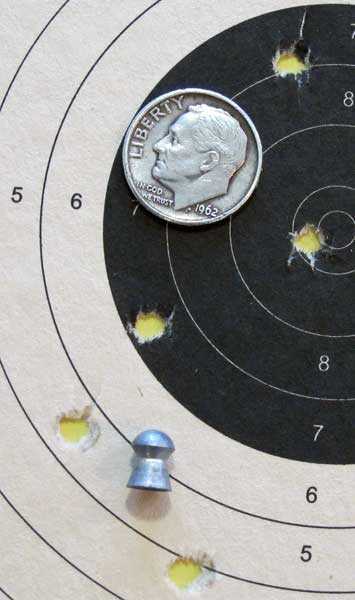 Five Air Arms domes went into this vertical 2.576-inch group at 10 meters.
Discussion 2 — can this pistol even shoot?
At this point in the test I was doubting everything — the airgun and even myself. This was not the report I thought it would be. Isn't the 78G supposed to be a target pistol? Then, a single pellet turned things around.
RWS Superdome
I shot 5 RWS Superdomes at the target and didn't look through the spotting scope — even after it was all over. I just walked down to the target trap to change targets for the next pellet. And that is when I saw it — a 0.787-inch group. Four of the pellets are in a tight 0.397-inches! Now THAT is a group! I can work with that!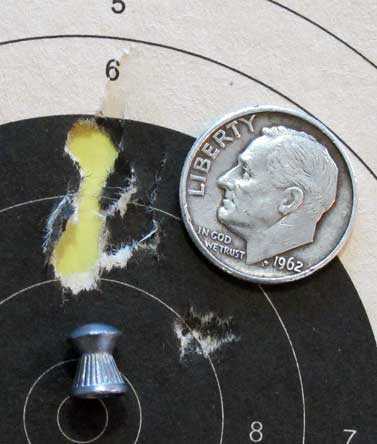 The S&W 78G put five RWS Superdome pellets in 0.787-inches at 10 meters, with four of them in 0.397-inches.
Discussion 3
Finally I shot a real group! After the test of the Sig Virtus I was starting to wonder whether I can still shoot. Incidentally, I have shipped the Virtus back to Sig for their examination. I am hoping they will tell me what they find after they examine it, and then ship the rifle back for me to test again. But there are so few examples in the US they may send it on to Tyler Patner for his review.
I wanted to shoot a second group of Superdomes to prove this one wasn't a fluke, but there was one more pellet to test. So, let's look at that one first.
Gamo Match
Several readers have asked if I ever tried Gamo Match pellets. I used to use them in a lot of tests, but I stopped at some point and my tins got buried in my cabinet. However I did some digging and found both calibers, so today I'll test them in this .22 pistol.
Five Gamo Match pellets went into 2.451-inches at 10 meters. It's not the worst group of the test, but it's not the right pellet for this pistol. That doesn't make it a bad pellet — just not one that's suited to this pistol.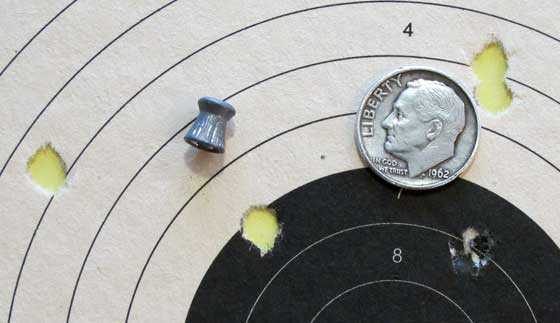 Five Gamo Match wadcutters went into 2.451-inches at 10 meters.
Back to Superdomes
Okay, this last target is a check on BB. Was the first Superdome group a fluke or does the 78G like this pellet a lot? I dropped the rear sight a little because the last Superdome group was at the top of the bull. And then I shot the second-best group of the day! Five Superdomes went into 1.067-inches between centers at 10 meters. It's larger than the first group, but still not too bad! I did call the shot that's highest and farthest to the right as a pull. I think Superdomes are what this pistol likes.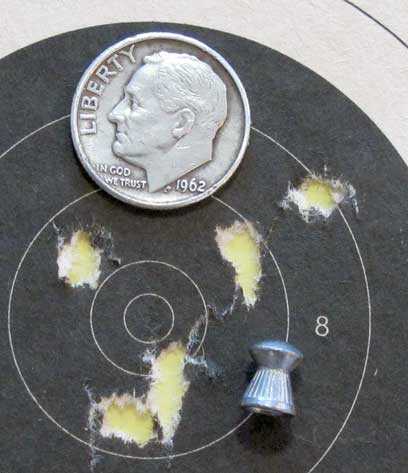 This second group of Superdomes measures 1.067-inches between centers.
Trigger
I will agree with reader Ian (45Bravo) that the 78G trigger is not as nice as the trigger on a Crosman Mark I or II. But while shooting it for this test I discovered how it works. The test pistol has a horribly creepy and heavy first stage pull that masks the second stage. Once I got used to it and could feel stage two, I started knowing when the trigger was about to break. That makes a big difference because when you can do that you can hold the sight picture that little bit better for the final pull. I don't think it affected my groups that much, other than allowing me to clearly see one pull I called on the final target.
Summary
This series has been a great one because I had a window into the past. This unaltered S&W 78G performed for me just as it would have in 1971. The only difference is the pellets I used are better than what was available back then.
These old airguns are sometimes surprisingly good even today. I know many people think that can only be true of springers, but we have seen a couple CO2 guns like this one that are just as good.