by Tom Gaylord
Writing as B.B. Pelletier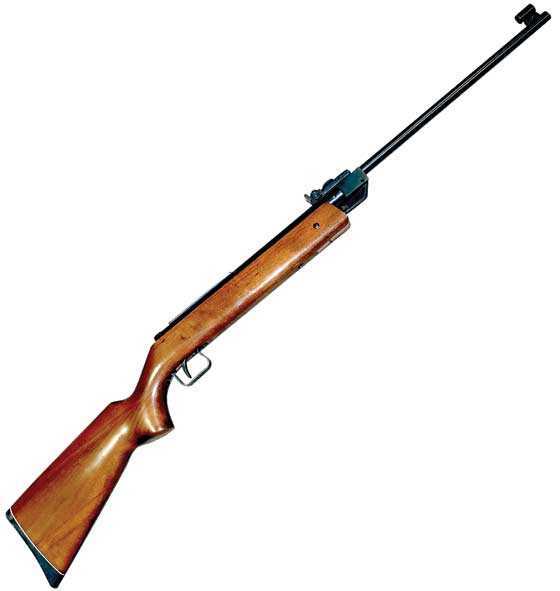 Diana 27S.
Part 1
Part 2
Part 3
Part 4
Part 5
This report covers:
Two accuracy tests
Today's test
Sight-in
Air Arms Falcons
JSB Exact RS
H&N Baracuda Match 4.52mm head
RWS Meisterkugeln Rifle
Discussion
Summary
It has taken me 6 reports to get to the first accuracy test of the Diana 27S. I think that's a record. But the way it was shooting before was too rough and I wouldn't have wanted to shoot it for any length of time. I'm glad I waited for the parts to arrive and did the job right.
Two accuracy tests
There will be two different accuracy tests. Today I'm shooting the rifle with the open sights it came with. Next time I will mount a Diana peep sight and test it again with that. Today will be at 10 meters. Next time I'll back up to 25 yards.
Today's test
I shot the 27S off a sandbag rest at 10 meters for today's test. I started shooting with the artillery hold, but I soon noticed how smooth the rifle was shooting, so I switched to resting the stock directly on the sandbag. Only one target that you will see in today's report was shot with the artillery hold.
I shot both five- and ten-shot groups, so I will tell you the count for each one as we go. Before I started shooting I read the last accuracy test of the Diana 35 that I tuned last year. I figured that since these two air rifles have the same maker, the same .177 caliber barrel and similar power, the best pellet for the 35 would be a good place to start.
Sight-in
I was shooting with the open sights that came with the rifle. They might be off a little, but unlike an optical sight they should at least be somewhere on the paper. So I started shooting right from 10 meters. It took 4 pellets to get on target where I wanted to be.
Air Arms Falcons
The first pellet was the same one I used to sight in — the Air Arms Falcon. The first target was ten shots using the artillery hold. This is the only group in this report that I shot using the artillery hold.
Ten Air Arms Falcon pellets went into 0.675-inches at 10 meters. It's pretty obvious that I had an aiming problem with one of the ten shots, because nine of them are in a round group measuring 0.303-inches between centers and that lone shot is above and separated from the group. Seeing that prompted me to try resting the rifle directly on the sandbag, which worked so well that I completed the test that way.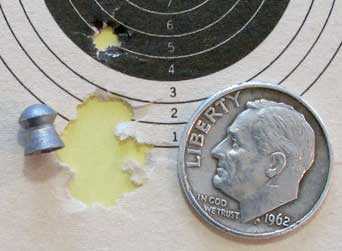 This first group of 10 Falcons convinced me to try resting the rifle directly on the sandbag. The group measures 0.675-inches between centers, with 9 in 0.303-inches.
I guess the sight-in wasn't as precise as I thought. I adjusted the rear sight up three clicks and shot again with the rifle rested on the bag. This time 10 pellets went in 0.384-inches at the same 10 meters. From that I decided to rest the rifle on the bag for the remainder of the test. The rifle still shoots to the left but I can accept that.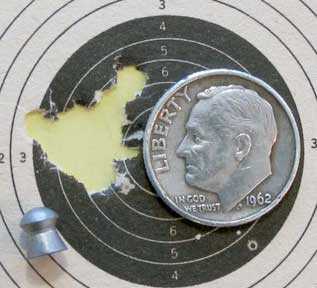 This group of 10 Falcon pellets was shot with the rifle resting on the sandbag. It measures 0.384-inches between centers.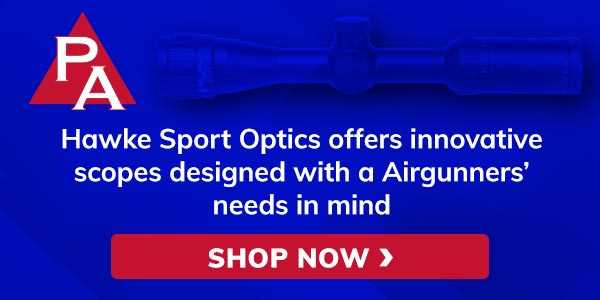 JSB Exact RS
Now I switched to JSB Exact RS pellets. I figured they were enough like Falcons that they could do well in the 27S. Ten went into 0.535-inches. Not quite as good as the Falcons.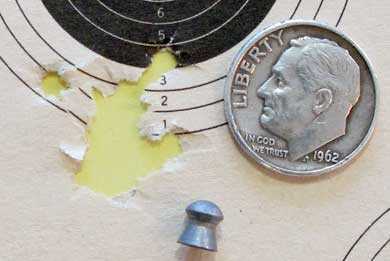 Ten JSB Exact RS pellets went into this 0.535-inch group at 10 meters.
The RS pellets also hit the target below the center of the bull, so I raised the rear sight by three clicks and shot a second 5-shot group. That one measures 0.411-inches between centers. And it's nicely centered.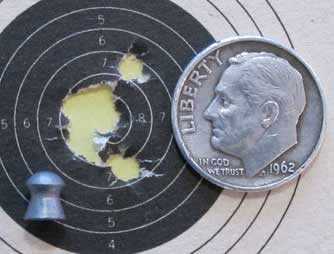 Five JSB Exact RS pellets went into 0.411-inches at 10 meters. The sight adjustment was perfect!
H&N Baracuda Match 4.52mm head
Next I tried five H&N Baracuda Match pellets with 4.52mm heads. They are really too heavy for the 27S. but I wanted to see how they would do.
Actually they didn't do too bad. Five pellets went into a group that measures 0.411-inches between centers. It is 4 inches above the aim point though, and 0.7-inches to the right. Given how well Falcons do, I didn't pursue this one any further. That would have meant adjusting the rear sight too much.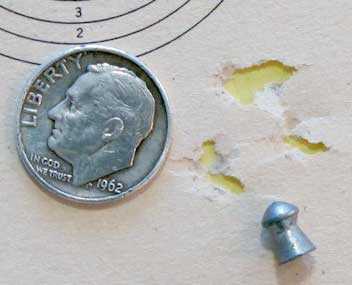 Five H&N Baracuda Match pellets with 4.52 mm heads went into 0.411-inches at 10 meters.
RWS Meisterkugeln Rifle
The last pellet I tried was the 8.2-grain RWS Meisterkugeln Rifle wadcutter. Five of them went into 0.54-inches at 10 meters. They also went high, though only 2 inches above where I aimed.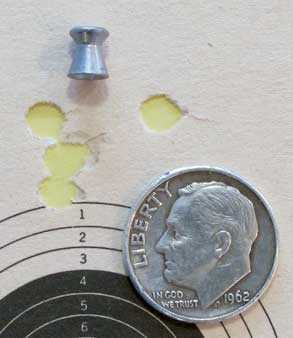 Five RWS Meisterkugeln Rifle pellets went into 0.54-inches at 10 meters.
Discussion
The 27S shoots beautifully. It hasn't got a hint of vibration, though it does slide backward about an inch when it fires. Even though I rest it on the bag I still hold it very lightly.
The open sights are not very precise. I am hoping to do better when I mount the target sight on the rear.
The gun is as powerful as I want. Actually it's a bit too powerful. I prefer the older model 35 that's about 40 f.p.s. slower and 6 lbs. lighter to cock. But that one can't accept a peep sight and this one can. So we're not done yet.
Summary
The lube tune was a complete success. The rifle is now smoother to cock and much smoother to shoot. The power came back when I replaced the breech seal, but this light lube tune with Tune in a Tube changed the rifle's personality completely. Twenty-five yards next!