by Tom Gaylord
Writing as B.B. Pelletier
This report covers:
What is it?
Seen before
Quiet?
Power?
Description
Repeater
Magazine
Sights
Ambidextrous?
Summary
What is it?
The Umarex Fusion 2 CO2 repeater is a .177 caliber bolt-action repeating air rifle. It comes with two 9-shot rotary pellet magazines and a 4X32 scope. The rifle is powered by two 12-gram cartridges or by one 88-gram cartridge. The claim is up to 70 powerful shots on the 12-gram cartridges and as many as 250 shots on an 88-gram cartridge.
Seen before
Back in 2013 I did a 5-part report on the first Fusion rifle. It tested well, though I did have trouble trying to adjust the trigger. The box this new Fusion 2 rifle comes in says the trigger is adjustable, but the manual has no information about it. And Pyramyd AIR lists the trigger as single-stage. I will check further, but I do believe the trigger is not adjustable.
Quiet?
The rifle I tested before was accurate and very quiet. Umarex goes out of their way to hype the low discharge sound. They tout the SilencAir silencer that's on the end of the barrel. You know I will tell you how this one performs! Discharge sound is very important to many readers who want to shoot as quietly as possible for various reasons. Pyramyd AIR rates the discharge at a 2 on their 5-point scale. That is a low to moderate level.
Power?
The manual and the hangtag that come with the rifle say to expect 650 f.p.s. with lead pellets and up to 700 f.p.s with alloy pellets. Naturally I will test that for you. The rifle is powered by CO2 and you have a choice of using either two 12-gram cartridges or one 88-gram cartridge. To get a shot count I will start with two 12-gram cartridges and Umarex says to expect up to 70 good shots per fill. I have 9 shots on the first two cartridges, so the test is already underway.
Where the original Fusion had adjustable power, the Fusion 2 seems not to have an adjustment.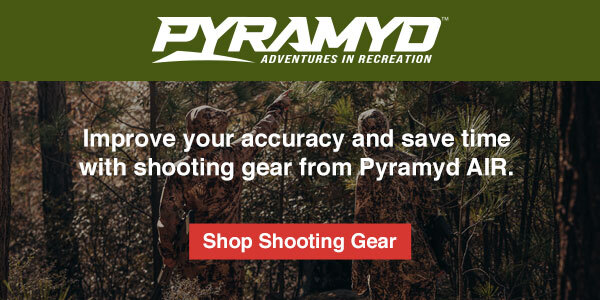 Description
Okay, here is my take. As long as it's warm where you shoot, the Fusion 2 is very much like an affordable PCP repeater. It is bolt action and please don't start redesigning it! Yes a sidelever would be nice, but if the price was $139 instead of $129 the same people who say they want that feature would bellyache over the cost increase. I will report in the future how easy or difficult the bolt is to use.
The stock is synthetic and matte black overall. The butt feels solid, so no complaints about a hollow sound. The rifle weighs just under 6 pounds. I weighed the one I am testing with two fresh 12-gram cartridges installed but no magazine and it came to 5 lbs. 13 oz.
The stock narrows just ahead of the triggerguard to make a natural place to grasp the stock when shooting offhand. The forearm is wider and squared. It has M-LOK (Modular Lock) slots for attaching accessories. M-LOK is a patented locking system invented by Magpul. It is best for polymer handguards because it places less stress on them than the KeyMod accessory attachment system.
The barrel is 18.54 inches long and the SilencAir is a 5-chambered silencer permanently affixed to it. The length of pull is 14.25 inches. The rifle's length overall is 40.25 inches. The buttpad is thick rubber with deep horizontal grooves across it. It grips the shouder positively.
Repeater
The Fusion I tested in 2013 was a single-shot. This Fusion 2 comes with two 9-shot rotary magazines. There seems to be no provision for shooting this rifle single-shot, nor can I find a single-shot adaptor. The space in the receiver where the magazine fits is very narrow and I doubt single-loading would be convenient. I am aware that clever people have designed ways of getting around this, but as of now the Fusion 2 seems only to be a 9-shot repeater.
Magazine
The magazines are unique, as far as I know. They load easier than most rotary mags, but they don't stop the bolt after the last pellet is shot. So you have to keep track of where you are or you'll shoot blank shots. I will tell you more about the mags in Part 2 when we look at velocity.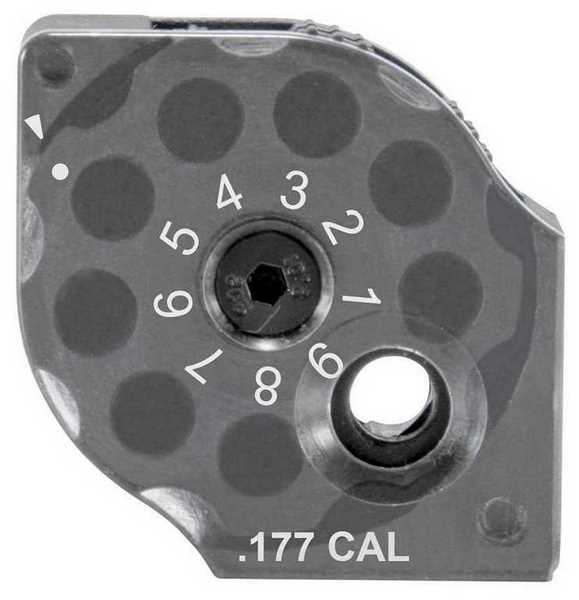 The Fusion 2 rotary magazine is unique.
Sights
The Fusion 2 comes without open sights. But a 4X32 scope and rings are supplied, and the top of the rifle has a long Picatinny rail. I know a 4X32 isn't much to shout about, but if we see stunning accuracy during the test I will also try the rifle with a better scope.
Ambidextrous?
The stock is ambidextrous, but the safety and bolt handle are on the right side and cannot be switched. They do favor right-handed shooters.
Summary
The Umarex Fusion 2 repeater has been available for about three months and seems to be quite popular. It is out of stock when this report was published. Pyramyd shows a restock date of late September. Hopefully they will be in stock sooner than that.