by Tom Gaylord
Writing as B.B. Pelletier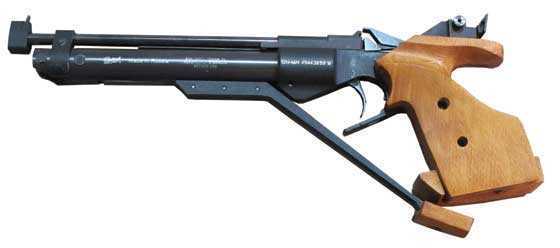 IZH 46M single stroke target pistol.
This report covers:
First test
Tip 1
Test 1
IZH 46M velocity
Tip 2
IZH 46 velocity
Test 2
Sig Match Ballistic Alloy
RWS Meisterkugeln
Pumping effort
Trigger pull
Storing with the breech open
Summary
Today I test the velocity of the IZH 46M pistol. Mine is new-old-stock. It was used as a display gun at an NRA show, but as far as I can tell, it has never really been used. When I got it, it had all the tools, parts and documentation that came with a new gun.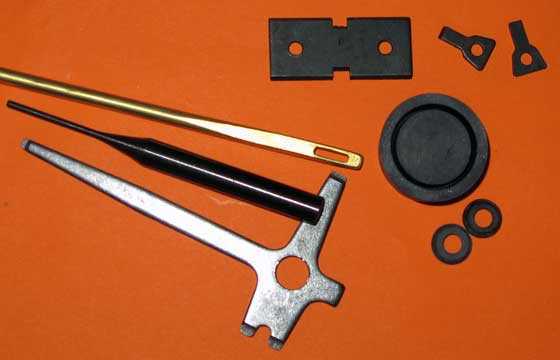 A lot of stuff came with these airguns. You got a new pump cup seal, two new breech seals, a cleaning rod, a rear sight blade and two different front sight posts, plus the combo tool and pin punch needed to take the pistol apart.
First test
What it did not have when I got it was velocity. When I first tested the pistol it shot lightweight .177-caliber pellets at 200 f.p.s. I expected something like that because of all the time it has been sitting around. And here is your first tip. Single stroke pneumatics (SSP) are not left charged with air. So their seals sit around and harden. Multi-pumps are left with air in them when the design of the gun permits it, and that protects the seals, but an SSP uses the pump cup as the inlet seal to retain the air. It is recommended to not leave the gun charged for more than about 5 minutes because this seal isn't designed for it.
Tip 1
So I oiled the pump cup. And, because I knew this one was probably getting hard, I oiled it with automatic transmission sealant. I have been telling you about this stuff for several years now and by now you should know that it does work! I have "repaired" many CO2 and multi-pump guns just by using this oil. I also fixed the two IZH MP532 target rifles with it, and they are both SSPs, too.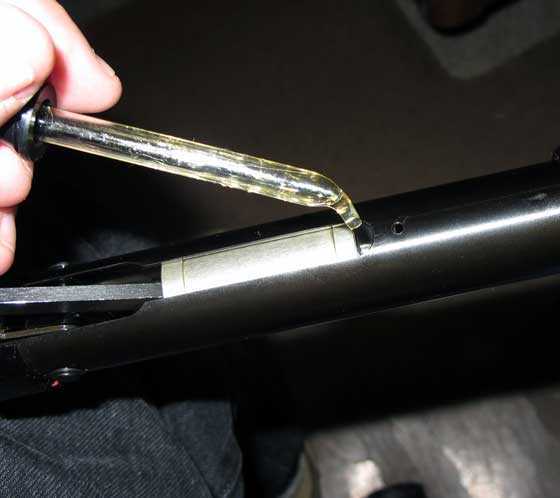 Oiling the pump cup with ATF sealant. This is a 46. The 46M doesn't have the air inlet hole in the compression tube.
This advice applies to much more than just this one air pistol. I now use ATF sealant for most of my pneumatic and CO2 lubrication jobs. As Gene Salvino told us, no matter how much oil you put into these airguns, they cannot be over-oiled! Keep them well-lubricated for the best results.
Test 1
The first test I will do will show you the benefits of the second tip I'm going to give you. And you will also get to see an older IZH 46 that was resealed a couple years ago go up against this 46M that is supposed to be faster.
The IZH 46M is supposed to shoot lightweight lead pellets at around 450 f.p.s., according to the manufacturer. I have seen some of them go as high as 500 f.p.s. Let's see what this one can do. I used RWS Hobby pellets for all the testing in this first test.
IZH 46M velocity
Before the test I lubricated the 46M with 5-8 drops of ATF sealant and worked the pump piston back and forth without allowing the compression build (just don't complete the cocking stroke and the piston will move around without building pressure) to spread the oil around the compression chamber walls. Remember, this stuff also gets blown through the gun as it fires, so this is the way to get it on every seal in the gun.
For the first test I just opened the pump handle all the way once to cock the gun, then closed it again like you normally would, to shoot the pistol.
Shot………Vel.
1…………350
2…………365
3…………427
4…………443
5…………436
6…………419
7…………441
8…………447
9…………456
10………..455
The average for this string is 424 f.p.s., but it's a meaningless number, as you can see. It's obvious that the pump cup is warming up as I shoot.
The spread from the slowest to the fastest shot in this string of 10 is 106 f.p.s. The gun isn't ready for shooting right off the bat, despite me oiling it beforehand.
Tip 2
This is where we boost the velocity of any SSP by changing the manner in which we pump it. I pumped the pistol partially 20 times and then shot it. Every shot thereafter was filled with one partial pump before the final complete pump. The partial pump adds no air to the reservoir. It simply flexes the pump cup. The pump cup stays warm and flexible this way.
Shot..……Vel.
1…………472
2…………481
3…………476
4…………477
5…………473
6…………481
7…………476
8…………478
9…………470
10………..482
By pumping the pistol this way the same Hobby pellet averaged 477 f.p.s. The variation in the spread was just 12 f.p.s. This IZH 46M with factory seals that were installed back in 2005 is shooting faster today than the 450 f.p.s. advertised velocity. That is what ATF sealant and my special way of warming up the pump cup can do. Now let's look at the IZH 46.
IZH 46 velocity
This pistol was made in 1994, but I sent it back to Pyramyd Air to be resealed about 2-3 years ago. Gene Salvino told us that Pyramyd Air has produced the seal kits for these airguns (both the 46 and 46M), so they can always reseal one for you.
I oiled the 46 pump cup with ATF sealant, the same as the 46M. Then I shot it exactly the same way, but for the first string I just pumped it once and shot it. And I'm still shooting Hobby pellets
Shot..……Vel.
1…………389
2…………406
3…………394
4…………396
5…………410
6…………403
7…………415
8…………420
9…………421
10………..429
We see the exact same thing that we saw with the 46M. It starts out slow and then speeds up as the pump cup warms. The average for this string is 408 f.p.s. and the extreme spread is 40 f.p.s. By the end of the string the pistol is shooting faster than the advertised velocity of 420 f.p.s. Now, let's see what my special way of pumping does! Same Hobby pellet, same 20 partial pumps before the first shot and one partial before each shot that follows.
Shot..……Vel.
1…………463
2…………459
3…………448
4…………454
5…………451
6…………455
7…………456
8…………452
9…………456
10………..458
Same results as for the 46M. That average velocity for this string is 455 f.p.s and the extreme spread is 15 f.p.s. Pumping it my way, the pistol becomes faster and more stable.
Test 2
Now let's see what the 46M does with a couple other pellets. We'll try one that's lighter and one that's heavier. I'm not going to test the 46 this time because we know that the relationship between the two pistols will remain the same.
Sig Match Ballistic Alloy
The Sig Match Ballistic Alloy wadcutter has proven quite accurate in other airguns, so I thought I'd give it a go here. It is made from pure tin, so it's expensive, but also much lighter than lead. At 5.25 grains, it's a real lightweight.
I will pump the pistol one time partially, followed by a complete pump for every shot. Let's go!
Shot..……Vel.
1…………535
2…………522
3…………473
4…………492
5…………497
6…………522
7…………492
8…………518
9…………513
10………..503
Wow! That was all over the place! The average for the string was 507 f.p.s. but only a few shots were anywhere close to that speed. The velocity spread from low to high was 52 f.p.s. That is so much of a difference that I don't think this pellet will do well for accuracy.
RWS Meisterkugeln
The last pellet I tested was the 8.2-grain RWS Meisterkugeln Rifle wadcutter. Ten of them averaged 455 f.p.s. with an 11 f.p.s. spread. Now that is something I can work with!
Pumping effort
The pistol pumps with 18 pounds of effort. I thought it would be a little heavier, but as long as you pump smoothly and don't rush it, it's that light to pump.
Trigger pull
I measured this for you in Part 1 and adjusted the trigger to 513 grams. I must have fiddled with the adjustments after that because today the 2-stage trigger required 11 ounces to get through stage one and the pistol fired at 14.8 ounces (419.57 grams). That's too light for a match, but I'm leaving it where it is because I really like it.
Storing with the breech open
The IZH46M has two rubber breech seals. They can go flat and stop sealing well if they remain compressed so I advise opening the breech when this pistol is stored.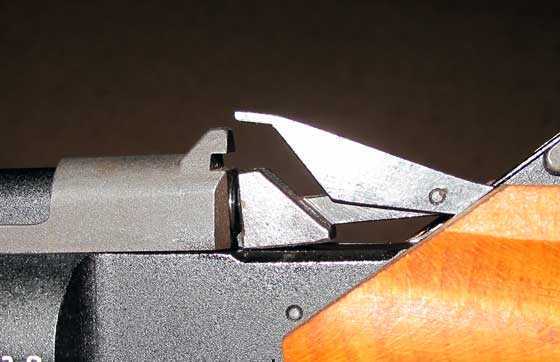 Whenever I store the pistol I leave the breech open like this., Just pull the spring-loaded latch cover forward to do this.
Summary
Well, the IZH 46M is turning out like I thought it would. It's a little slower than I would have guessed, but for a 10-meter target pistol it's right where you want it to be.
The next test will be accuracy at 10 meters, and since that is what this pistol was designed for, I have high expectations. Until then, stay tuned.