by B.B. Pelletier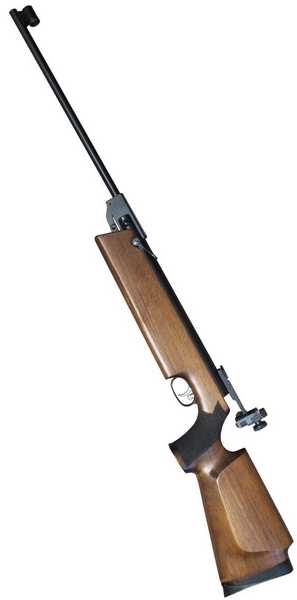 Is this Custom Match the best HW 55 ever made? Read the report to find out.
In the last report, I tuned the rifle and got rid of the objectionable firing cycle. It's always a great pleasure to return to a classic air rifle like this one after testing so many modern airguns, because these oldies are so reserved and well-behaved. I know it's not going to kick, roar and fight me at every turn. It may only be suited to shoot 10-meter target, but sometimes — and by that I really mean often — that's exactly what I need.
Sight-in
I had to remove the sights during the tuneup, so the rifle needed to be sighted-in again. It wasn't that far off, but the indices are so dark on a 55 rear sight and my eyes are so bad that I had to play around until I discovered which way to adjust the sight to go right. In this respect, a modern 10-meter rifle has it all over a vintage one.
The first pellet I tried was the H&N Finale Match Rifle pellet. I haven't had a lot of recent success with this pellet in target rifles, but in the past this was one of two to contend with — the RWS R-10 Match Pistol pellet being the other. This time was different, though. Although the first group wasn't what I wanted, it showed enough promise that I shot a second and a third. By the third group, I could tell this pellet likes this rifle.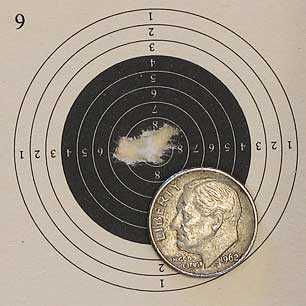 Not bad! Five H&N Finale Match Rifle pellets went into this group at 10 meters. Any one of them could be a 10 if the sights were adjusted.
Next, I tried the RWS R-10 Match Pistol pellet, and I gave it the same number of chances, but it never showed me anything. That was a surprise, because I think this pellet is one of the more accurate pellets in several of my other 10-meter rifles.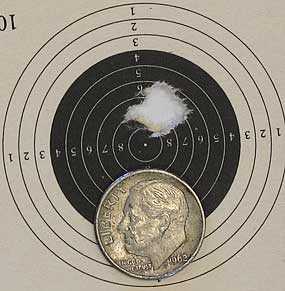 Five RWS R-10 Match Pistol pellets made this nice round group. This is impressive to anyone but a veteran target shooter, who would see that it's about twice the size it needs to be.
Following the R-10, I tried the RWS Hobby pellet, because in my HW 55 SF — the 55 that has no barrel lock — Hobbys do surprisingly well. Again, there was no joy this time. I'm showing the group to contrast with the others in this report.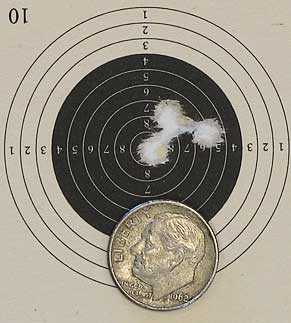 RWS Hobby pellets are just not right for the HW 55CM.
At this point, I was satisfied that this rifle is accurate, though it won't give an FWB 300S any competition. But why stop there?
I next mistakenly loaded some obsolete and nondescript European diabolos that I mistook for JSB S-100 competition pellets. Boy! If you ever wanted to see a comparison between good pellets and cheap ones in a good gun, this was it! How about a three-quarter-inch five-shot group?
Back to serious ammo. The next pellet I tried was the H&N Match Pistol. This is not a Finale Match pellet, and I find that these sometimes vary in weight a lot more than Finales tend to, but there can be surprises. Not this time, though. The best group looked like Hobbys. Oh, well!
After that, I tried H&N Match Rifle pellets. They're the same as Match Pistol, only heavier. But for some reason that nobody understands but everybody believes, they shot great! These are the pellets for this rifle — until I find something better.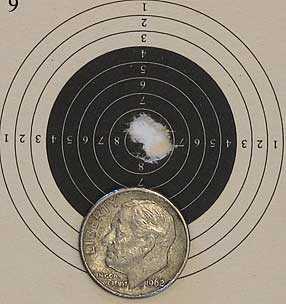 Now, this is what we're after! Five H&N Match Rifle pellets are obviously working very well in this rifle. This would be the pellet to stick to until a better one comes along.
Overall evaluation
The rifle is shooting fine with the new tune. I could live with less power, but what I have isn't bad. The trigger is a joy, because it breaks at just 7 oz., and that's as light as I need it to be. Shooting from a bench in the rested position doesn't give you the full feeling of the rifle. All it shows is the potential for accuracy, and this one's got it.