by Tom Gaylord
Writing as B.B. Pelletier
Edge Part 1
Edge Part 2
Edge Part 3
Edge Part 4
Edge Part 5
AirForce Edge 10-meter target rifle: Part 1
AirForce Edge 10-meter target rifle: Part 2
AirForce Edge 10-meter target rifle: Part 3
AirForce Edge 10-meter target rifle: Part 4
AirForce Edge 10-meter target rifle: Part 5
AirForce Edge 10-meter target rifle: Part 6
This report covers:
History — Crosman Challenger 2000
CH2000
NRA
Whaddaya do?
Description
Trigger
Comments???
Adjustable power
Summary
History — Crosman Challenger 2000
I put this report in the historical section because the Crosman Challenger PCP has had a short but interesting history. In the year 2000 Crosman introduced the Challenger 2000. It looked like a target rifle but was not as sophisticated as the rifle we are reviewing in this report. The closest I can come to a description was it was a CO2-powered bolt action rifle with target sights. It came with a composite stock in colors of gray, blue, dark blue, gloss black, red, and silver. Though it had target sights, the trigger was heavy and creepy and the best you could hope for was ten pellets in about 3/4-inch at 10 meters. The velocity was rated at 485 f.p.s. The buttplate and cheekpiece were both adjustable.
The Challenger 2000 had a T-shaped cocking handle with a locking latch on the left side. It was similar to an AR-15 cocking handle and unlocked as it was pulled back. It was very hard to cock!
And the Benjamin barrel was attached to the reservoir. That's something no target shooter wants!
CH2000
The Challenger 2000 was discontinued in 2001, replaced by the model CH2000 that was introduced that year. It also had the ambidextrous T-shaped cocking knob that resembles the one on the current Challenger PCP — but the locking latch on the left side was elimimnated. This model was also powered by CO2 and rated at 485 f.p.s.
This model lasted until the year 2009, but before I tell you what came next I need to remind you of some related history that you probably know if you are a regular reader.
NRA
The NRA used to hold an airgun breakfast at the SHOT Show for members of the airgun industry. One year early in the millennium they stunned us all by telling us about their NRA Junior Marksmanship program. The NRA told the airgunning world that over a million junior shooters compete each year in a multi-tiered national competition that involves over 74,000 different teams from around the nation. Well — pour the bucket of blood into the shark-infested waters and watch what happens!
I'm sure that Daisy, who up to this point had supplied ALL the target rifles to these junior marksmanship programs, was thrilled at the possibility of competition from the rest of the world! It took years to sort it all out and by then only two new companies decided to play. We have already looked extensively at the AirForce Edge that came from one of them; now we switch over to the Crosman Challenger PCP.
When did this NRA briefing take place? I forget, but let's call it 2006. AirForce was faced with a clean sheet of paper because they had nothing like a target rifle but Crosman was already playing around with an airgun that looked like a target rifle. And Ed Schultz was their lead engineer, so they knew what they were doing. Those were the heady days of success at Crosman with the Benjamin Discovery, followed by the ten times bigger success of the Benjamin Marauder. Things were a' poppin' at Crosman and they wanted their share of this huge previously unknown market!
Whaddaya do?
So, you're at Crosman and you want to build a target rifle for juniors. All of us reading this are sitting on our comfortable couches 12-15 years later with nothing at risk, so of course we know exactly what to do. Crosman, who was owned at the time by a penny-pinching investment group with a board of directors that watched everything, had to guess right the first time, because when people guess wrong they can get fired.
I am going to fast-forward you through all the decisions they made and show you how success looks as it's unfolding.
First — they already had a target-looking air rifle with a synthetic stock that had an adjustable cheekpiece and buttplate. So that part was done!
Second — they already had target sights. No change needed there.
Third — they had a good ambidextrous cocking handle, and the action was easy to cock. Keep it!
Fourth — they were using CO2 to power their target rifle. That's BAD, for reasons all of you should know by now. CO2 is not consistent enough — especially when we know that precharged pneumatics are better (more consistent, shot-to-shot). Keep the DESIGN of CO2 (a tubular reservoir under the barrel) but make it from aluminum, strong enough to hold 3,000 psi air! Forget the "Dual Fuel" marketing concept. It's a cutesy slogan but target shooters don't care. CO2 IS NOT for shooting in competition — not in this millenium. You can take that from someone who used to do it! If you just want to hit Necco wafters at 20 feet, CO2 is fine. If you want to hit the ten-ring at 10 meters, it's not. Remember — this rifle is for one million junior marksmanship shooters and their coaches — not Buba at the box store!
Fifth — the trigger HAS to be good. The rules say 1.5 lbs. or more, so make it crisp and as close to that release weight as possible.
Sixth — get rid of the home-grown barrel and install one from Lothar Walther. Not only will it probably be more accurate — you'll also get a super sales push from having it! Target shooters don't know much about the technical side of airguns, as a rule. But they know names like Lothar Walther.
Seventh — build it for a price. The NRA would tell you what that could be, once they got their draconian rules committee up to speed, but you just charge on ahead and then figure out how to do it for a lot less than you need, once they have made up their minds.
Challenger 2009
Crosman did each and every one of those things, and in 2009 they launched their model CH2009, which at the time they called the Challenger 2009. A few years later they realized that the years change over time and they renamed it the the Challenger PCP. That's the rifle I am testing for you.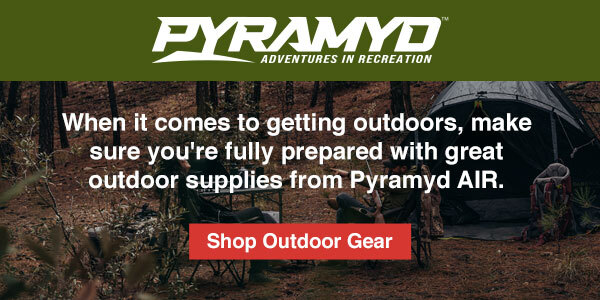 Description
The Challenger PCP is a three position (prone, kneeling, standing) 10-meter target rifle made for junior marksmanship competition. It is a precharged pneumatic (PCP) that fills to 2,000 psi — yes, you read that right — just 2,000 psi! Crosman still maintains the "dual fuel" principal and the pressure gauge is even calibrated for CO2 — which is a joke because CO2 maintains its pressure until the last of the liquid is gone, then the pressure drops like a rock. It is not in vogue in competition today.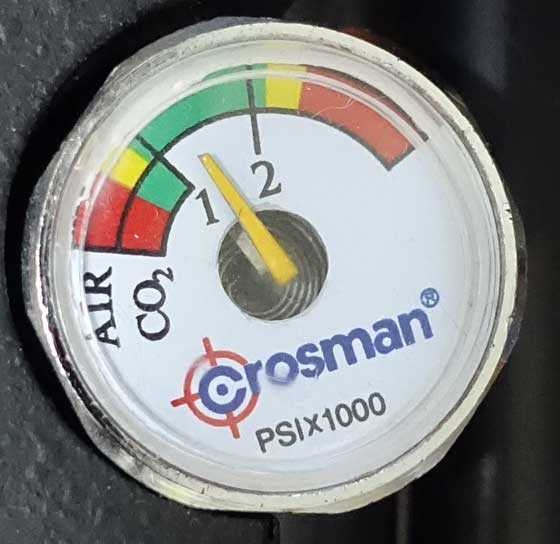 The gauge reads either air or CO2. The green area for CO2 is small because it's either at pressure or not — there is no gradual decline of pressure. The gauge actually tells you which gas is in the rifle.
The rifle I'm testing weighs 6 lbs. 12 oz. The NRA weight limit is 7.5 lbs. The Challenger is 40 inches long overall, with a 12.5-inch length of pull. That was measured with the adjustable buttplate installed. It can be removed for wee teeny children, and I have seen little 8-year-old girls mastering this rifle like pros. The Lothar Walther barrel is just shy of 24-inches long.
Trigger
The trigger is 2-stage and adjustable. It is a Marauder trigger, and Crosman could not have done a wiser thing! They are in direct competition with AirForce Airguns with this one and the Edge has many features the Challenger doesn't offer. But the trigger on this one is the best — hands down!
Comments???
I read the questions and answers on the Pyramyd AIR website for the Challenger and one really surprised me. Here is is, as written.
"And does it not come in .22 cal? If it does come in .22 or .25 why is it only showing the .177cal ?"
Indeed! And why don't NASCAR racers have 4-cylinder engines? They would certainly get better milage.
The Challenger PCP only comes in .177 caliber because the rules only allow .177 caliber pellets in matches. All the scoring systems are geared to that one caliber and to the use of wadcutter pellets.
There is an international rail (3/8″) under the forearm so all accessories that are allowed by the rules can be used.
Adjustable power
Crosman gives you the ability to adjust BOTH the hammer spring tension and the length of the hammer stroke! This allows for fine-tuning the velocity AND the shot count for optimum results.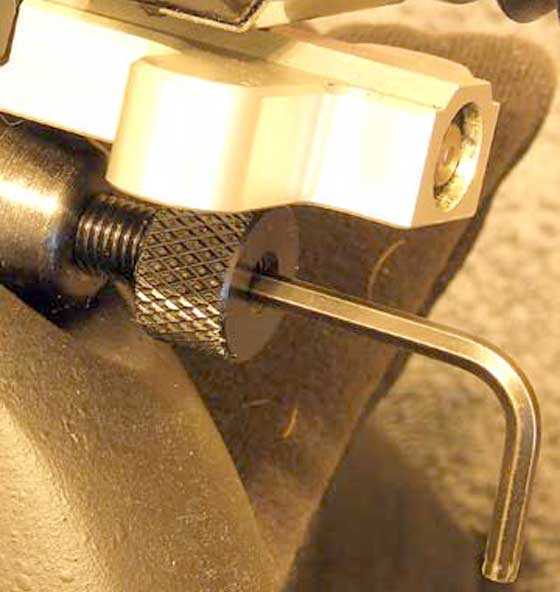 The knurled knob adjusts hammer string tension and the 1/8-inch Allen screw adjusts the hammer stroke.
When you unpack the rifle Crosman says it should shoot at around 530 f.p.s. That's faster than the 485 f.p.s. the CO2 models achieved and everything I'm about to say applies to the gun running on high pressure air (up to 2,000 psi). Crosman says you'll get about 70 good shots at that velocity. I tested the rifle back in 2009 when it first came out and it was shooting 550-568 f.p.s. with Gamo Match pellets. I got 72 shots within that 18 f.p.s. spread.
Then I adjusted the hammer spring and hammer stroke length and got 116 shots that averaged 545 f.p.s. The spread for that string was 29 f.p.s. I like it so much that I will rely on this setting because I'm not touching this adjustment again! I will, however, test the velocity of several pellets for you in Part 2.
Summary
So in the Challenger PCP we have a target air rifle that's still available, though I have put Part 1 into the historical section for this first report. I have also linked to all the Edge reports we just finished so you can check between guns if you like. This is going to be interesting!