Walther LP2 target pistol: Part 3
by Tom Gaylord
Writing as B.B. Pelletier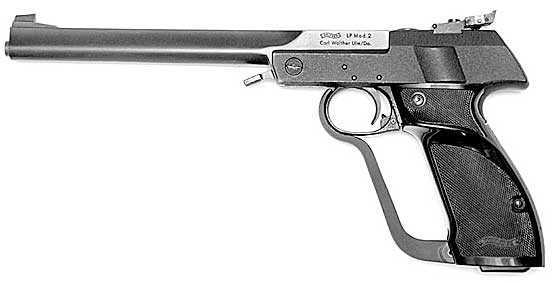 Walther LP2 single stroke pneumatic target pistol.
This report covers:
The test
H&N Finale Match Light
Adjusted the rear sight
Second Finale Match Light group
The trigger
Gamo Match
H&N Match Green
Sig Match Ballistic Alloy
RWS R10 Match Pistol
Discussion
Summary
Today we look at the accuracy of the Walther LP2 single-stroke-pneumatic air pistol. We saw the test group that came with the pistol in Part 2. It's serial-numbered to this pistol, so we have a good point of comparison.
You will remember that this pistol was resealed by Scott Pilkington for the velocity test in Part 2. With lightweight target pellets the pistol averages 330-350 f.p.s. That's not blistering, but a 10-meter pistol doesn't need to be. What it does need is a good trigger, good sights and a good ergonomic set of grips. Let's see what this LP2 has.
The test
I shot off a sandbag rest from 10 meters with the butt of the pistol rested on the bag. Because the LP2 is pneumatic there isn't any recoil to speak of, so a bag rest works well. I decided to shoot five-shot groups today so I can shoot more pellets. That's my normal approach when a target gun is being tested. Also you have to remember that the LP2 needs to be pumped for every shot, so it's a little work to shoot.
I deep-seated all pellets used in today's test with a ballpoint pen. The seating depths differed slightly from the differing thicknesses of the pellet skirts.
H&N Finale Match Light
First I tried five H&N Finale Match Light pellets. The gun was cold when I started (room temperature, but not shot recently), so I shot 5 rounds and let them go where they wanted to. I used a 6 o'clock hold on the bull of a 10-meter pistol target. The first pellet struck right below the bull at 6 o'clock, but the next three pellets climbed into the black. Some of that is my imprecision, but I think a little could also be the new piston seal warming up. The fifth shot landed next to the first one (that's probably me) and the 5-shot group measures 0.63-inches between centers.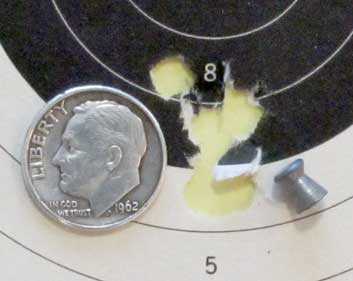 Sighting-in with 5 H&N Finale Match Light pellets made this 0.63-inch group at 10 meters. I think the pellets climbed higher as the piston seal warmed up. It's not the best group, but considering the circumstances (as in sighting-in), it isn't too bad.
Adjusted the rear sight
After seeing this group I adjusted the rear sight up by three clicks. I will report that the LP2 rear sight has definite clicks that I like a lot. It also has something I've never seen before but I now want it on all my target rear sights. There is a single white dot on both sight adjustment screws that allows you to easily see that the sight has been adjusted. In a noisy room you may not be able to hear the clicks, but you should be able to see this dot every time. I like it!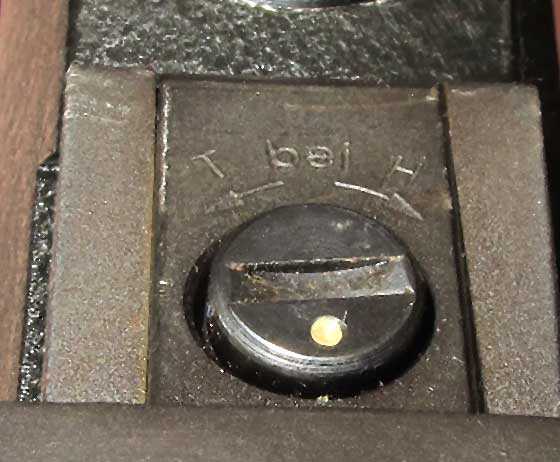 That white dot at the bottom of the elevation adjustment screw tells the shooter that the sight adjustment screw has been turned. The screw head has a slot for a coin. No doubt it's a German coin like a one pfennig coin, but an American penny or dime will also work. I used the screwdriver blade of my Swiss Army Midnight Manager knife.
Second Finale Match Light group
The second 5-shot group of Finale Match Light pellets struck the target higher and in line with the center of the bull. This group was also a little smaller — perhaps due to the piston seal being warmed up. Five H&N Finale Match Light pellets went into 0.382-inches at 10 meters. It's a very good group, but not as small as a modern 10-meter pistol would produce.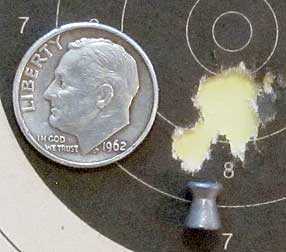 Five H&N Finale Match Light pellets made this 0.382-inch group at 10 meters in the LP2. This is the best group of the test, but the test group that came with the pistol is less than half that size, at 0.145-inches. Old BB has a way to go to beat it.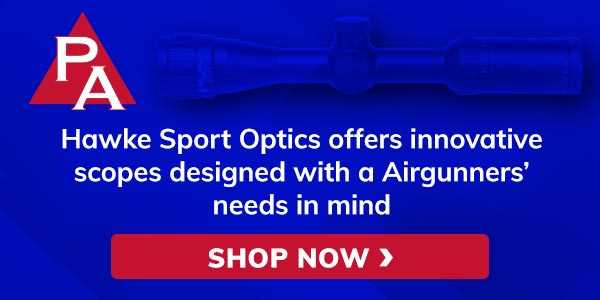 The trigger
I can now comment on the LP2 trigger. It's gorgeous! Stage one is smooth with a definite stop at stage 2. Stage 2 breaks cleanly. I have it set at exactly one pound which is 2 ounces too light to compete in matches, but since the LP2 isn't competitive it doesn't matter.
Gamo Match
The next pellet I tested was the Gamo Match. They are a budget pellet that sometimes surprise me with their accuracy. This time, though, there wasn't a lot of joy. Five pellets landed in 0.707-inches at 10 meters. This is probably not the best pellet for this pistol.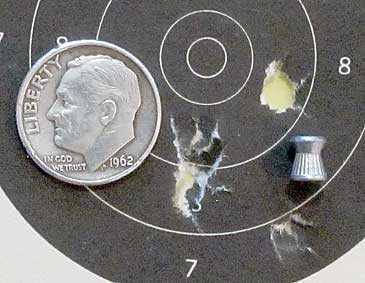 The LP2 shot five Gamo Match pellets into 0.707-inches at 10 meters.
H&N Match Green
I shot the lead-free H&N Match Green pellet next. These weigh the same 5.25-grains as the Sig Match Ballistic Alloy pellets and H&N makes both of them, but I have found those two pellets to give widely different performance. Five of these went into 0.534-inches at 10 meters. Not bad!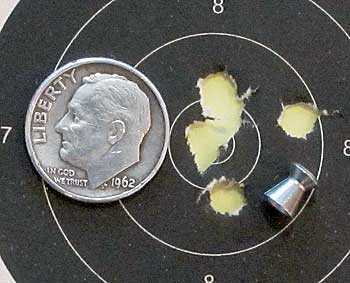 The LP2 likes H&N Match Green pellets. Five went into 0.534-inches at 10 meters.
Sig Match Ballistic Alloy
Next to be tried were five Sig Match Ballistic Alloy pellets. They do resemble the H&N Match Green pellets, but they don't perform the same, as you are about to see. From the LP2 five pellets made a group that measures 0.993-inches between centers at 10 meters. This is obviously not the right pellet for the LP2, and it is the largest group of the test.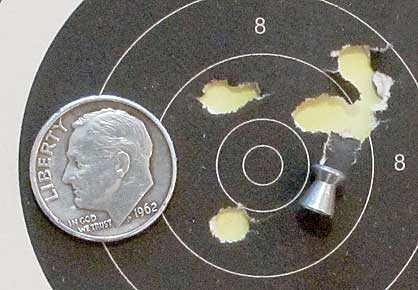 Five Sig Match Ballistic Alloy pellets went into 0.993-inches at 10 meters.
RWS R10 Match Pistol
The last pellet I tested was the venerable RWS R10 Match Pistol pellet. At ten meters the LP2 put five of them in a group that measures 0.708-inches between centers. It surprised me because I thought the R10 would either be the best of second-best. But it ranks fourth today, by a slim margin.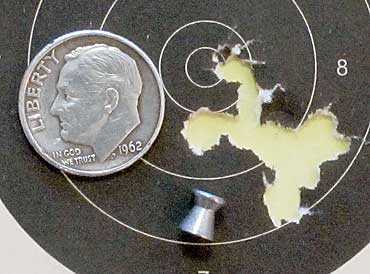 The LP2 put five RWS R10 Match Pistol pellets in a 0.708-inch group at 10 meters.
Discussion
Well, that's the test. H&N Finale Match Light pellets were the best and Sig Match Ballistic Alloy were the worst.
The pistol now has reasonable velocity for a target pistol. Scott Pilkington was able to return it to the factory spec.
The trigger is very nice. Only a modern high-end 10-meter target pistol has a better one. I would rate it as slightly better than the IZH46M trigger. This seems to be common among high-end target airguns from the 1960s. The FWB 300S trigger is also hard to beat, even today.
Summary
That's our look at a target pistol from way back when… The Walther LP3 is more common than the 2 and probably a better air pistol to purchase. But once the valve is repaired the LP2 is a goodie!
Tags In
Tom Gaylord is known as The Godfather of Airguns™ and has been an airgunner for over a half-century, but it was the 
Beeman
 company in the 1970s that awoke a serious interest in airguns. Until then, all he knew were the inexpensive American airguns. Through the pages of the Beeman catalog, he learned about adult airguns for the first time. In 1994, Tom started
The Airgun Letter
 with his wife, Edith. This monthly newsletter was designed to bring serious reports about airguns to the American public. The newsletter and
Airgun Revue
, a sister magazine about collectible airguns, was published from 1994 until 2002, when Tom started
Airgun Illustrated
-- the first American newsstand magazine about airguns. Tom worked for three years as technical director at
AirForce Airguns
, the makers of the 
Talon, Condor, and Escape
 precharged air rifles. Today, he writes about airguns and firearms for various publications and websites. He also makes videos, and you'll find short clips embedded in some of his artices on Pyramyd Air's website. Tom is a consultant to Pyramyd Air and writes under the name of B.B. Pelletier.