by Tom Gaylord
Writing as B.B. Pelletier
This report covers:
Mr. Hollowpoint
The test
Two important things
Bullet seating
Shot count
255-grain bullet target 2
300-grain bullet group 1
300-grain group 2
350-grain bullet
365-grain bullet
Discussion
Summary
Today I finally report on my AirForce Texan .458 that we looked at last in September. Some reader asked me to try different commercial bullets in my rifle, and while I was talking to Ton Jones at AirForce he said they really like the bullets Mr. Hollowpoint, Robert Vogel, makes. So I contacted him and ordered a selection of bullets to test.
Mr. Hollowpoint
Robert was on a hog hunt when I contacted him, but when he returned we communicated and he generously sent me a sampling of some of his .45 caliber bullets. I asked for them to be sized .459, because my Texan's bore is .458. He said he understood and would try his best to satisfy my needs.
If you get nothing else from today's report get this. The best accuracy with lead bullets comes with bullets that are sized exactly the diameter of the bore, measured from the depth of one groove to the depth of the groove on the opposite side, or up to one-thousandth of an inch larger. In my experience, one-thousandth of an inch larger is best.
Because Mr. Hollowpoint casts his own bullets, he can control the sizes, up to the limits of his molds. And I have to tell you this — I have been casting lead bullets for over a half-century and I can see that Robert Volgle does excellent work. Not all who cast bullets do. Many people cast hard lead bullets because the antimony that hardens the lead also makes the lead flow better. But these are bullets so soft a thumbnail can scratch them. That's what you want for a big bore airgun.
By maintaining a tight watch on the temperature of the lead and the bullet molds during casting good bullets can also be made from soft lead, and it's obvious that Robert Vogel knows what he is doing. Every bullet mold has a "personality" of its own, which means you have to learn what they like before you can do good work.
One last observation. Casting hollowpoint bullets involves extra steps that many bullet casters won't take the time to do. Not only do the bullet molds have to remain at a constant temperature — the hollowpoint pin also has to, and that's not a given.
Robert sent an me assortment of bullets to try, and I'm not going to rush things. I selected four of them to start with. We will refer to them by their nominal weights in grains. There is a 255, a 300 a 350 and a 365.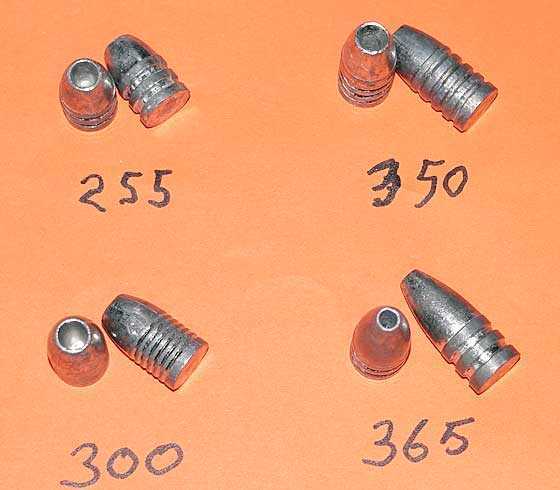 Mr. Hollowpoint's lead bullets are well-cast. As you can see, the shapes differ a lot, though they are all hollowpoints.
The test
I shot 5-shot groups for this test because of the amount of air being used by the rifle. I shot off a concrete bench with the rifle rested in a long sandbag. The rifle is scoped with a UTG 6-24X56 SWAT scope.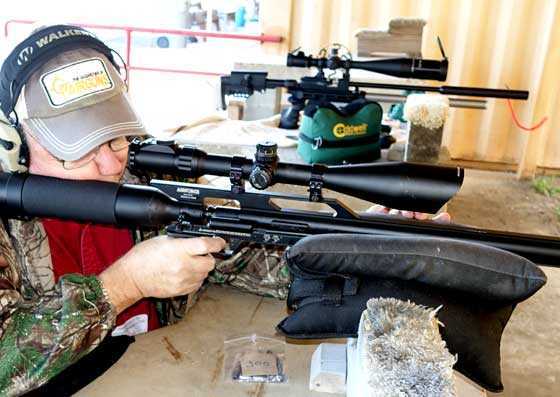 It was good to get behind the Texan once more.
Two important things
When I visited Ton in September he reminded me of two important things. The first is to always seat the bullets deep in the Texan's breech or they will tilt in the bore. That destroys accuracy. The second thing is to adjust the rifle's power adjuster for each bullet you shoot. It's best to find one good bullet and set the rifle up for it, rather than to hop from bullet to bullet. It's the same as for a pellet rifle that likes certain pellets, only with the Texan it's more sophisticated because you are adjusting the powerplant for each bullet you shoot.
I did one of those things in today's test but not the other. I seated each bullet deep into the rifling like Ton said, but I did not change the power adjuster. Until I find the bullet I'm searching for there is no sense adjusting the power for each bullet. I will waste all my samples just trying! So let's look at bullet seating first.
Bullet seating
I started shooting the 255-grain bullet first. Shots one and two overlapped each other on the paper, and then shot three landed 1.5-inches lower. I wondered what caused that and then remembered my lesson from Ton in seating each bullet. So bullet 4 I seated properly and it went back to bullets 1 and 2. Lesson remembered! Let's look at what I'm saying.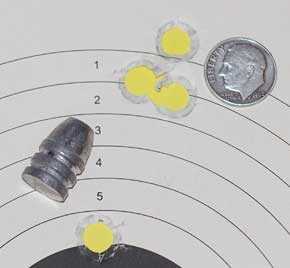 Bullets one and two overlapped, but bullet 3 dropped because it wasn't seated properly. Bullet 4 was then seated correctly and went back to bullets 1 and 2. Group measures 1.991-inches between centers at 50 yards, with the top three in 0.516-inches.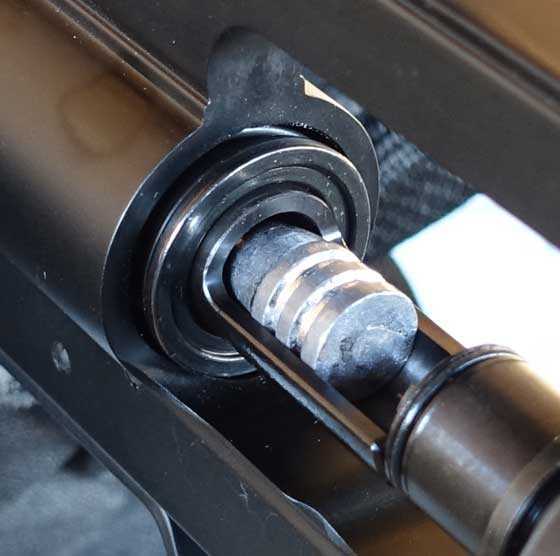 The 255-grain bullet lies loose in the loading trough. Whatever you do, don't close the breech with the bullet laying out like this!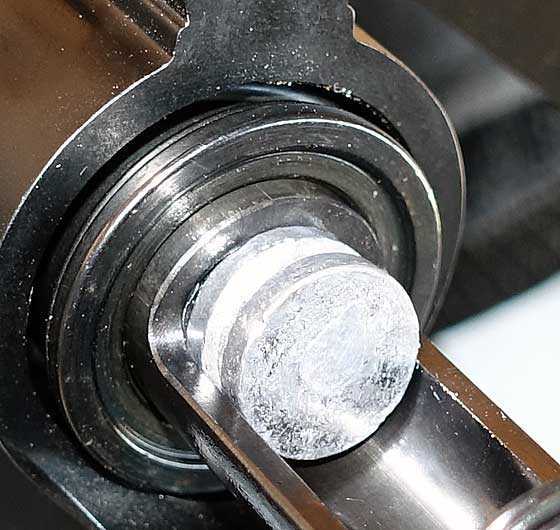 Here I've pushed the bullet into the breech half-heartedly. Don't do this! the rear of the bullet is tilted up. I have exaggerated the angle for you to see. But I can feel a much smaller tilt when it clicks down straight. I press the bullet down and then in with my thumb.
All bullets do not seat in the barrel to the same depth, but each different type of bullet does seat into the rifling to the same depth every time when the same thumb pressure is applied. And it takes a LOT of thumb pressure! The rifling straightens the bullet, aligning it with the axis of the bore and setting up the rifle for the best accuracy.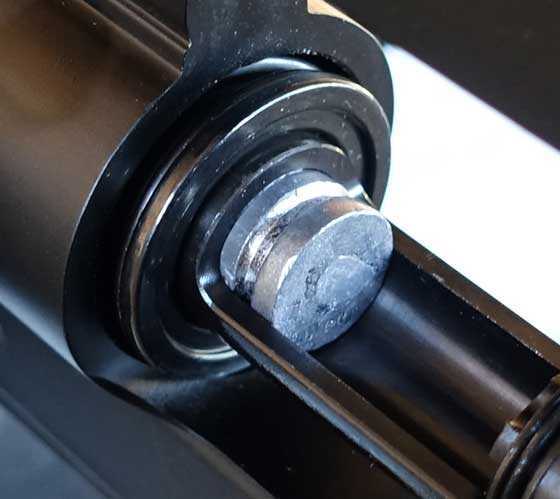 This is how deep the 255-grain bullet seats when it is done right.
Seating the fourth bullet right is what caused it to return to where the first two bullets strike the target at 50 yards in that first target. And here is BB's tip to Texan owners. Press the base of the bullet down and in to seat it correctly.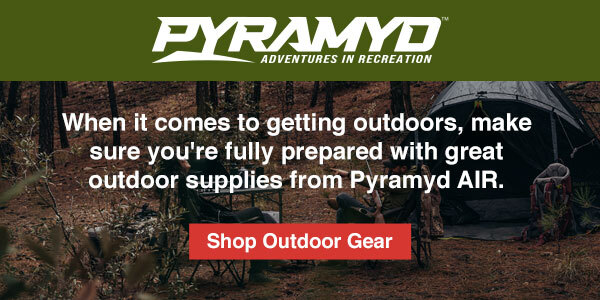 Shot count
I remembered refilling the Texan after 3 shots in the past, but that was in 2016 when I was shooting at 100 yards. This time I fired 4 times on the first targbet and there was still 2,300 psi remaining from a 3,000 psi fill. So, on the second target I fired the rifle 5 times on a fill. That is very good air management for a rifle in the Texan's power range. I haven't chronographed these bullets yet, but suffice to say we are getting something in the low 300 foot-pounds range with a bullet this light.
255-grain bullet target 2
I just shot the second target and did nothing special. Just 5 shots, one after the other. This time the group was more open, measuring 2.388-inches between centers. I still think this 255-grain bullet is worth spending some time on, but for now I moved on.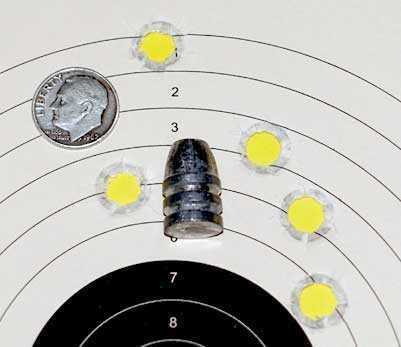 The second group of 255-grain bullets is more open and larger. Five shots in 2.388-inches at 50 yards.
300-grain bullet group 1
Next to be tested was the 300-grain bullet. This one has narrow bands that the rifling engages It seats easier and a little deeper. The first 5 shots landed in 1.258-inches at 50 yards. Shot number 4 is the stray and the other four bullets are in 0.504-inches between centers. Wow! Now, THAT is a group!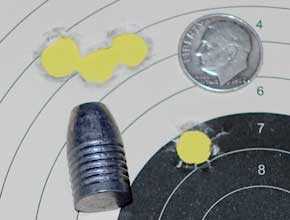 Five 300-grain Mr. Hollowpoint bullets are in 1.258-inches at 50 yards with 4 in 0.504-inches.
This is a bullet worth pursuing! And I can tell that the power adjuster is set almost optimal for this one. It probably needs to come out (less hammer pressure) just a little. A second group might tell us more.
300-grain group 2
The second 50-yard group of five 300-grain bullets is also small, measuring 1.232-inches between centers. Three of the bullets are in 0.349-inches. This bullet really wants to shoot!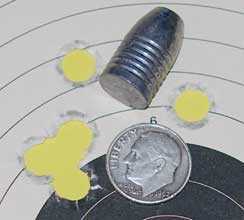 Five 300-grain bullets are in 1.232-inches at 50 yards, with three of them in 0.349-inches.
350-grain bullet
Next to be tried was the 350-grain bullet. Five of them (still on a single 5-shot fill) went into a vertical 3.714-inch group at 50 yards. Given the 300-grain bullet's performance I think I'll leave this one alone.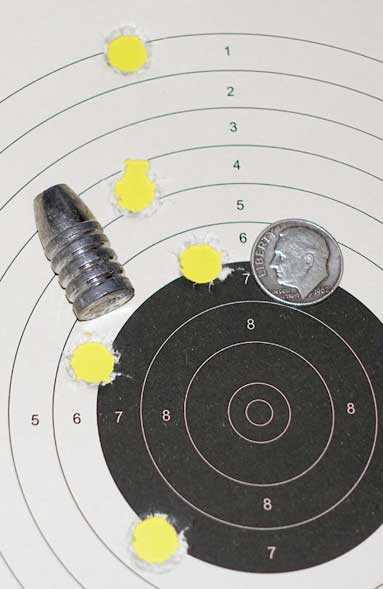 Five 350-grain bullets strung vertically in this 3.714-inch group.
365-grain bullet
The final bullet to be tested was the 365-grainer. The Texan put five of them into 4.857-inches at 50 yards. It was another vertical group and the worst one of the test.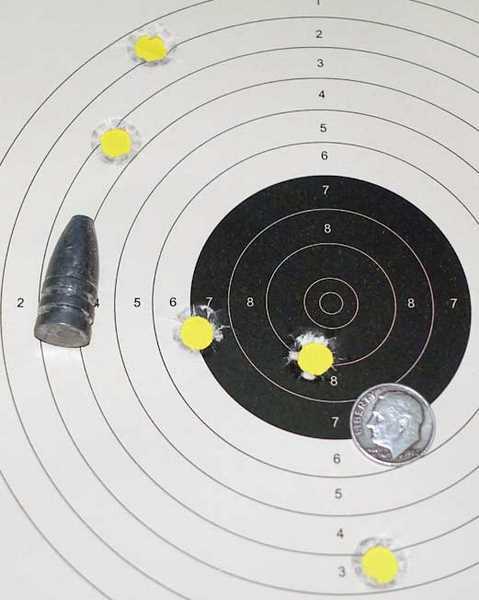 The Texan put five 365-grain bullets into this vertical group that measures 4.857-inches between centers. It's the largest group of the test.
Discussion
In light of the 300-grain bullet's performance, I think it is the one to pursue. The 255-grainer is also good and shows promise to be even better, but the 300-grain groups tell me they are the bullet the Texan likes the best out of the ones I tested — so far. I have one more Mr. Hollowpoint bullet to test — a 333-grainer. I also want to try adjusting the power setting to optimize the rifle for the 300-grain bullet. If it turns out the way I imagine, that will be the bullet to order in quantity.
Of course I also need to test the velocity of this bullet, so we can find out the power. No sense doing that until I'm sure the power adjustment is set to the optimum. And then if this bullet warrants it I will shoot it at 100 yards.
I did measure the diameter of the 300-grainer, though, and my caliper says it is 0.4570- to 0.4595-inches across at the base. Soft lead bullets usually measure out of round after they have been handled awhile. But their softness squishes them into all corners of the bore, which is where the accuracy and velocity come from.
Summary
That's it for this report. But as you can see, we aren't finished with the .458 Texan just yet.