by Tom Gaylord
Writing as B.B. Pelletier
This report covers:
TX2 valve for .45 and .50 caliber Texans
Old rifle, fresh test
"New" bullets
The TX2 valve
Power setting
Seat the bullet in the rifling!
Velocity
One more velocity lesson
Summary
After writing Part 2 of this report last week I went to AirForce last Friday morning and spent a couple hours with Ton Jones, talking about the Texan and the new TX2 valve and carbon fiber tank. I took my Texan that was made in the first production run, and we attached the new tank to it. That answers the first question — does the new tank fit older Texans?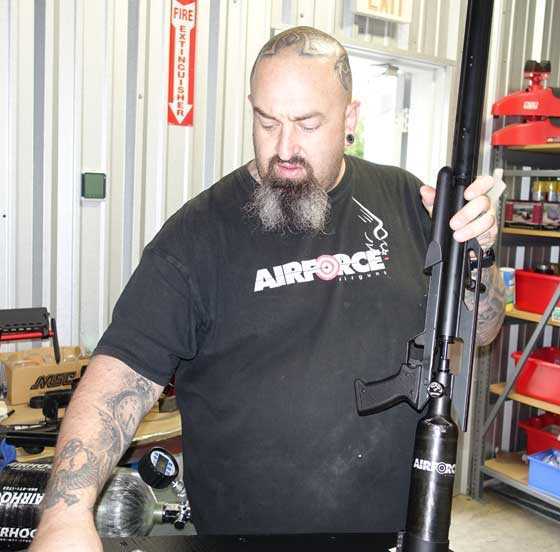 |Ton Jones set up my .45 caliber Texan with the new carbon fiber tank and the TX2 valve.

The TX2 valve boosts power and currently only the .45 and .50 caliber Texans work with it. There is also a difference between the valve cap on the .45 and the .50 caliber valve, so to use the same tank on both airguns the cap needs to be exchanged. read more