by Tom Gaylord
Writing as B.B. Pelletier


Benjamin Cayden sidelever repeater.
Part 1
Part 2
Part 3
Part 4
Part 5
This report covers:
The test
JSB Exact Jumbo Heavy
JSB group 1
JSB group 2
JSB group 3
Did I sort pellets?
Air Arms heavy dome
Air Arms dome group 2
Air Arms group 3
Air Arms group 4
Summary
This will be my last report on the Benjamin Cayden precharged pneumatic repeater. In today's report I shoot the rifle at 50 yards.
The test
I shot the Cayden at a local rifle range where I was a guest of reader Cloud 9. I shot at 50 yards off a concrete shooting bench. The rifle was rested on a sandbag.
Cloud 9 was shooting his new RAW field target rifle next to me and this was the third time he'd had it out to the range. He must have gotten it sighted in well enough on this day because he won his field target match the next day. You will be seeing a test of that air rifle soon.
I shot several 10-shot groups with the two best pellets from the 25-yard test. I forgot to bring my new silencer, so this test was shot with a box-stock Benjamin Cayden that mounted the factory muzzle brake.
JSB Exact Jumbo Heavy
Since the Cayden I'm testing is a .22 I started the test with the 18.13-grain JSB Exact Jumbo Heavy dome. The scope was still sighted for 25 yards, so I expected the shots to go low, but they didn't. I loaded the first magazine with 12 pellets, because I didn't know how much the scope had to be adjusted. When the first pellet hit above the bull but close I decided not to adjust the scope and just shoot all 12 pellets.
JSB group 1
I could see some of the pellets fly downrange and I saw one of them spiral off to the right. I think it's the hole farthest to the right. The first group is very large, at 2.041-inches between centers, and it's a little left of center.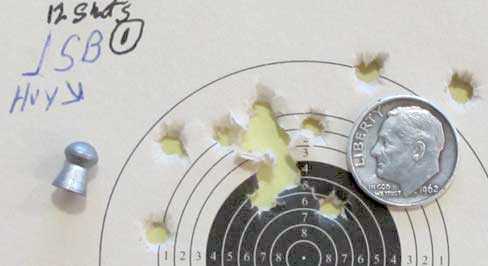 The first group consists of 12 JSB Exact Jumbo Heavy domes, shot at 50 yards.
JSB group 2
I left the scope set where it was for the second group. It didn't seem like this JSB pellet was the right one for the Cayden, but a second group might tell. This time 10 shots went into 1.361-inches at 50 yards. Where the first group was more horizontal, this group was more vertical. It's also off to the left.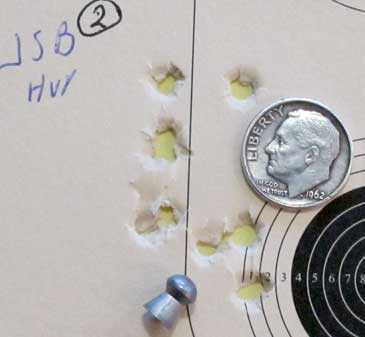 The second group of 10 JSB Jumbo Heavys at 50 yards measures 1.361-inches between centers.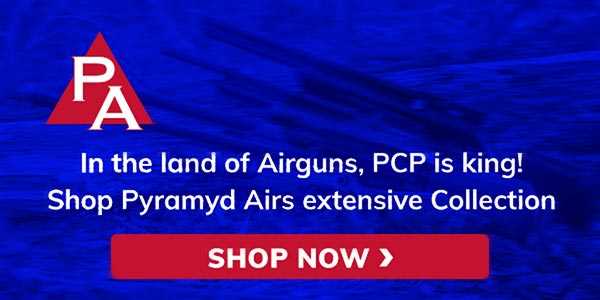 JSB group 3
I shot one more group of the JSB domes. Some of you feel that a rifled barrel needs to be "seasoned" by a pellet before the rifle will shoot its best and this was my concession to that viewpoint.
I adjusted the scope a couple clicks to the right for this group. This time 10 JSB Jumbo heavy domes went into 1.331-inches at 50 yards. Nine of the pellets landed in a 1.013-inch group. Based on that it seemed to me I had taken this pellet about as far as it would go in the Benjamin Cayden.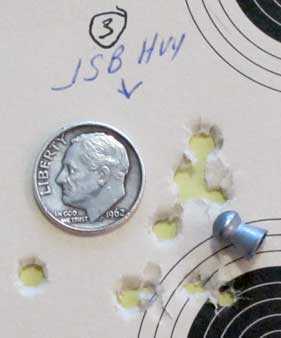 Ten JSB Jumbo Heavys are in 1.331-inches, with nine in 1.013-inches at 50 yards.
Did I sort pellets?
Cloud 9 was shooting his RAW field target rifle next to me and he was shooting pellets that had been head-sorted with a PelletgageR. His groups were large until he found the correct head size, then they shrank immediately.
I don't typically sort pellets in these tests and I always tell you when I do sort them. I'm not trying to find the absolute best pellet and top accuracy for the airguns I test. I'm trying to find out what they typically do — kind of like the majority of their owners will do. So, no — I didn't sort pellets for this test. I shot them right out of the tin.
If I was competing in a field target match I definitely would sort pellets. But at almost 30 foot-pounds this .22-caliber rifle is not for field target.
Air Arms heavy dome
The other pellet I tested in the Benjamin Cayden was the Air Arms heavy dome. This 18-grain dome looks a lot like the JSB pellet I just tested, but let's look at the first group of 10 before we decide anything.
Ten Air Arms heavies went into a 50-yard group that measures 0.908-inches between centers. Now, that is a result! The group is more rounded than any of the JSB groups, so I think this pellet may be better in this rifle.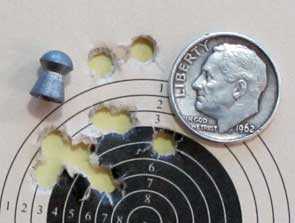 What a difference! The Cayden put 10 Air Arms heavy domes into this 0.908-inch group at 50 yards.
After shooting this group I adjusted the scope to the right. I could not hear the clicks but I watched the adjustments move on the adjustment knob scale.
Air Arms dome group 2
The wind was picking up at the range by this time. It was at our backs and gusting to 15 m.p.h. most of the time, but down at 50 yards it was swirling. The second group of 10 Air Arms domes illustrates this. The Cayden put 10 pellets in 1.863-inches with nine of them in 1.261-inches at 50 yards. The horizontal spread of this group was due to the wind. Cloud 9 was shooting smaller groups than I with his RAW and he was having the same problem with the wind.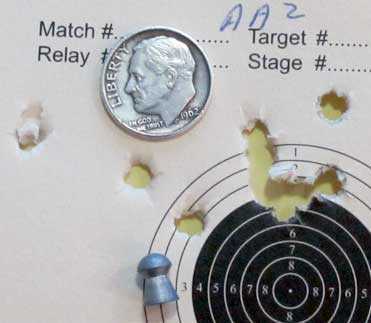 The second group of Air Arms pellets suffered from the wind. Ten shots in 1.863-inches with nine in 1.261-inches at 50 yards.
Air Arms group 3
I adjusted the scope farther to the right and down after this group. I had to wait out the wind, so for this third group of Air Arms pellets I was very patient. This time 10 pellets landed in 0.874-inches — the smallest group of the test.

The Cayden put 10 Air Arms pellets into this 0.874-inch group at 50 yards. This was the result of patiently waiting out the wind.
I now adjusted the scope a little back to the left and a little down. The wind really picked up by this time.
Air Arms group 4
The last group was a nail-biter! This group hit the target low and to the right of center. After the first five shots I wanted to stop because I had a 0.215-inch group. I had waited out the wind for each shot and through my 16X scope it looked like a one-hole group. Cloud 9 had a 50X scope and could see two overlapping holes — the ones that are on the bottom left side of the group. But I decided that I was shooting 10-shot groups on this day, so I fired shot number 6 — and watched the shot get blown sideways to open the group to 1.123-inches, where it remained through shot ten. The moral of my story is to sometimes quit when you're ahead.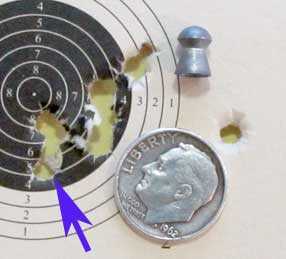 The first 5 shots (arrow) went into 0.215-inches. Shot 6 landed all the way to the right, opening the group to 1.123-inches between centers.
Summary
The Benjamin Cayden is a very worthwhile precharged pneumatic repeater. It has good power and accuracy and gets lots of shots on a fill to just 3,000 psi. The power is adjustable across a very useful range.
Probably top on the list is its outstanding looks. Many shooters talk about how they desire a beautiful wood-and-metal air rifle that delivers performance. Well, we just tested one!
So — is the Cayden better than the Marauder? I'm not sure. Is yellow a prettier color than green?