by Tom Gaylord
Writing as B.B. Pelletier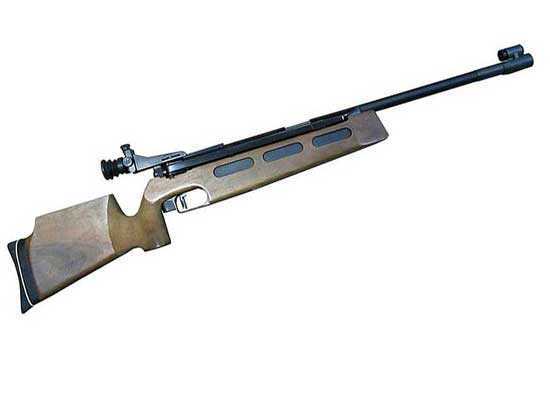 The Diana 75.
This report covers:
Refresh your memory
Wayne Johnson
The Diana 75/Beeman 400
Right-hand bias
History of the Diana 75
Giss contra-recoil mechanism
Sights
The wood
The metal
Summary
Today we begin our look at the Beeman 400 sidelever recoilless target air rifle that is really a Diana 75. I linked to the Making lemonade report because of the piston seals. That should be an issue I no longer need to explain.
Refresh your memory
This air rifle is the one I saw on Gun Broker and contacted Wayne Johnson, the seller, directly. I offered what I felt was a good price, plus the shipping he requested. I had never done that before and I was called a name for doing it, but I felt this was a special airgun and Wayne was a special owner. Here is exactly what I said to him on my first contact.

Wayne Johnson
Wayne and I hit it off right away. I would normally never publish the full name of anyone in this blog, unless that person was a personality or they were out there for some other reason. Wayne is the author of The FN49, The Last Elegant Old-World Military Rifle, expanded second edition, copyright 2019 by Wayne Johnson, published by Wet Dog Publications.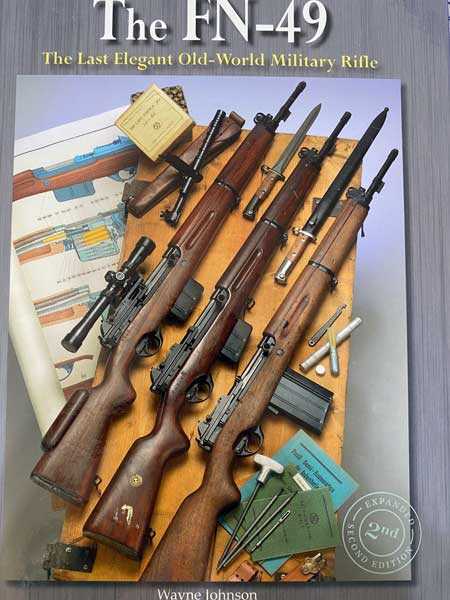 Wayne's book is an excellent treatise on the development, production and oddities of the FN49 battle rifle.
I bought his book because the FN49 is a military rifle I always wanted to know more about. Now I do, thanks to Wayne.
Wayne is the kind of person you want to buy something from. From his listing I could tell that he is scrupulously honest, because on Gun Broker he listed every fault the rifle had — not that there were many! And, after he accepted my offer we conversed a little about his airgun.
Hi Tom,
I don't think I need the proof of age – I imagine you are over 18 !
Yeah – I am pretty much a straight arrow on the auction stuff and no, I'm not insulted by the direct approach. After I had the gun serviced by David Slade I should have chronographed it to see what it did with the new seals. I was VERY disappointed when I test fired it yesterday and realized that it was shooting slow so I wanted to make sure that I pointed that out in the auction. Anyway, as I mentioned before, I made this exception on cancelling the auction since I know it's going to the right place. I did have 45 views on that auction in the first 12 hours along with 4 watchers so no telling where the auction might have gone but regardless, I like where the rifle is going.
I've attached to this email a scan of the original receipt that shows the purchase price from Beeman – I don't know what info you include in your air gun write-ups but that may be of interest to some readers. I'll include in the papers for the gun my original chrono data from 1984, when the gun was two years old (with 1500-1600 pellets fired) that shows it averaged 605 fps on two different range sessions.
If you think of it, after you complete and post your review of this rifle perhaps you could send me a link to that article.
Best,
Wayne
First off, know that I emailed Wayne the link to this blog. This is something I have been wanting to do ever since I got the rifle.
I want today to be about the Diana 75 target rifle in general, but I will weave in things that are special about this particular rifle as I go. Just getting ready to take pictures last Thursday I discovered an "Easter Egg" gift that Wayne had packed under the foam of the hard case he sent the rifle in. It was an unopened tin of Beeman Silver Bear hollowpoint pellets that the note said were about 35 years old. Well, they will still be unopened at my estate sale, so watch for them!
The Diana 75/Beeman 400
Although this rifle was sold to Wayne as a Beeman 400, it is a Diana 75. We sometimes see the name RWS attached to Diana airguns in the U.S., but that is an importation thing. Diana makes the guns. Both Robert Beeman of Beeman Precision Airguns and the late Robert Law of Air Rifle Headquarters thought enough of the 75 to sell it. But Beeman did change at least the name he called it in his catalog, if not the actual markings on the airgun.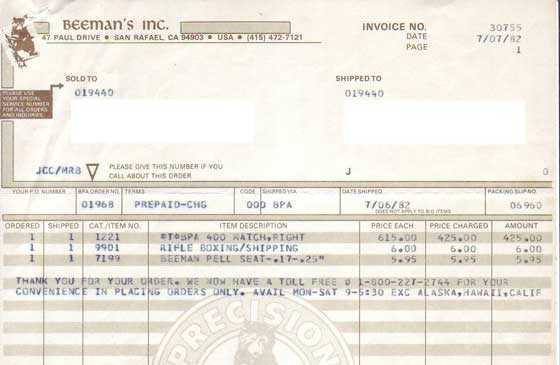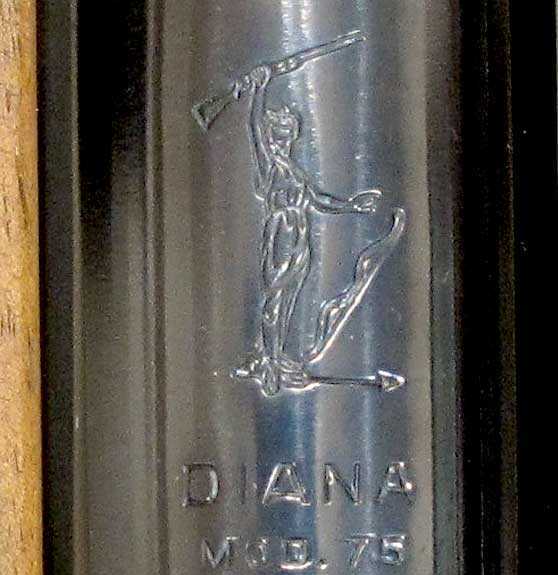 There are no Beeman markings on the rifle.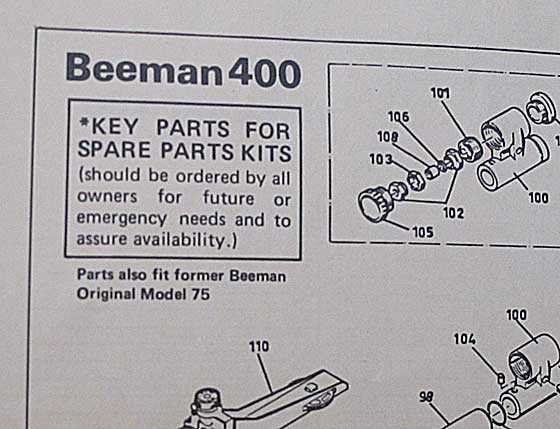 Beeman literature like this parts list, plus the purchase receipt, is the only way to tie the rifle to Beeman as a 400.
The 75 has a long production life, though it changed and evolved as time passed. The basic 75, which I believe this rifle to be, was produced from 1977 to 1983. Mine was made in March of 1981, according to the date code stamped into the spring tube. Other versions of the rifle lasted until the 1990s.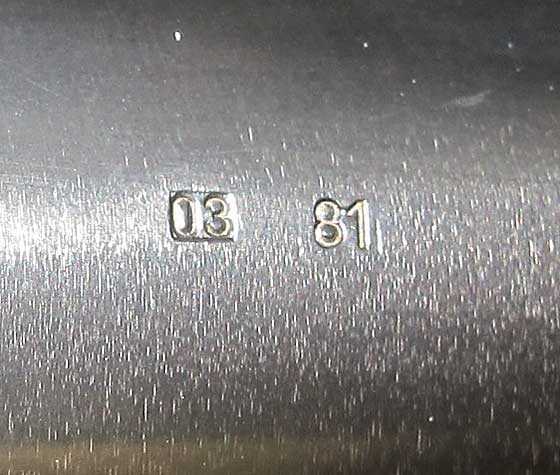 This 75 was made in March of 1981.
Right-hand bias
My rifle was made for a right-handed shooter. How can I tell? Look at the buttstock and see if you can tell.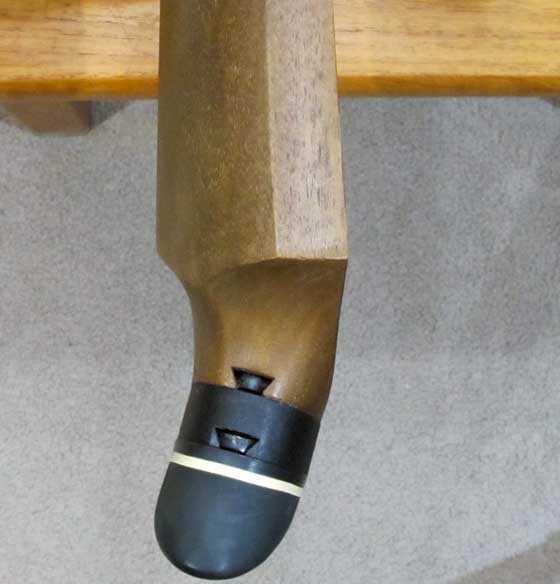 Whaddaya think? Made for a righty?
As the years passed, manufactures would move to more adjustable stocks so they weren't locked into right- or left-handed shooters. But the 75 was made at a time before such things were considered.
By the way, Diana did offer the rifle with left-hand stocks and the Blue Book of Airguns says to SUBTRACT 10 percent for one! That's odd, because everyone else adds a small percentage for a southpaw stock. Gotta change that in the book next time. I already wrote a note in my bench copy of the Blue Book.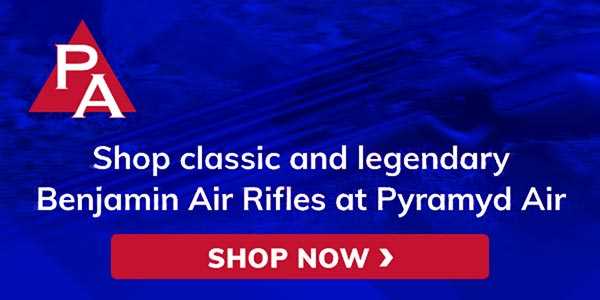 History of the Diana 75
The Diana 75 lies at the end of a long line of recoilless Diana target air rifles that began with the Diana model 60 in 1960. The 60 was a pretty basic breakbarrel target rifle which was okay for a few years, as its competitors were also breakbarrel — like the Weihrauch HW 55 and the Walther LG 55. But when rifles like the sidelever FWB model 110 came out and then quickly morphed into the recoilless model 150, shooters started wondering whether fixed barrels were somehow more potentially accurate since their barrels never moved. That's a hard argument to ignore and the world moved on, though Diana did bring out two more refined breakbarrel target rifles — the 65 and the 66.
Editor's note: I cannot locate Part 3, the accuracy test for the FWB 150. I'm pretty sure I did it, but with all the WordPress changes over the years it's gotten misplaced.
When the 75 came out it represented the high-water mark for Diana spring-piston air rifles. It was a Diana 66 with a fixed barrel and a sidelever for cocking. It was fully capable of competing against the finest FWB 300S, which it did for several years before CO2 and finally PCP rifles pushed springers off the world stage completely.
The test rifle came with its original manual that includes a Diana test target in which five pellets have grouped in 0.065-inches at 10 meters. That will give my most-accurate FWB 300S a run for the money!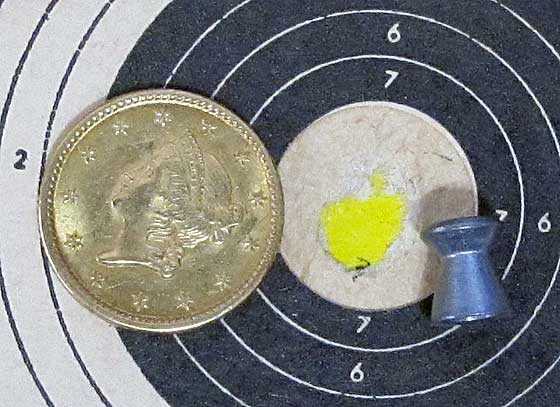 The test target that came with the Diana 75 is serial-numbered to the rifle. A group of five pellets are in 0.065-inches at 10 meters.
Giss contra-recoil mechanism
Probably the best-known feature of the 75 is its Giss contra-recoil mechanism that renders it recoilless. As the real piston with its seal moves forward to compress the air, an equally-weighted false piston moves in the opposite direction. Both pistons stop at the same instant, cancelling all felt recoil. This system works surprising well, though it does pose a problem for airgunsmiths.
When replacing the piston seal, which you now know must be done at least once, the rear false piston must be timed perfectly if the contra-recoil is to be maintained. Timing can be a touchy task, and a shooter will notice immediately if it's off. So, it must be done perfectly. Dave Slade replaced the piston seal in this rifle and I can tell you that he nailed it.
Sights
Naturally the 75 comes with a fine set of adjustable target sights, and I'll give you a better look at them in future reports. The front sight has replaceable inserts that are early 1980s vintage, which is to say a solid post or aperture. This one came with a post installed and the rest of the inserts in a box. I will replace it with a clear aperture that allows for more precise aiming as well as not shooting at the wrong bull. More on the sights when we get to accuracy.
The wood
Back when this rifle was new manufacturers were using walnut for their stocks. This one has a nice bit of figure in the butt. The remainder of the stock is straight grain except for the vertical pistol grip. It also has some figure which means the grain isn't straight there, either. That's desirable, because a 10-meter target rifle stock is very prone to break at the wrist where the wood is thinnest and also straight grain. Feinwerkbau even put vertical wooden posts into their grips on later rifles to strengthen this sensitive area.
The metal
I hope the pictures show a little of the deep polish and bluing on the metal parts. I had to lighten them to show details in things like the logo and the date code, so you don't get the full appearance of the miles-deep polish. Only the barrel is intentionally matte, and that is to cut down reflections when sighting.
Summary
That's your first look at this fine old target rifle. Wayne entrusted it to me to care for and that's an obligation I both respect and intend honoring. Stay tuned for lots more fun.