FWB 110 target rifle: Part 2
by Tom Gaylord
Writing as B.B. Pelletier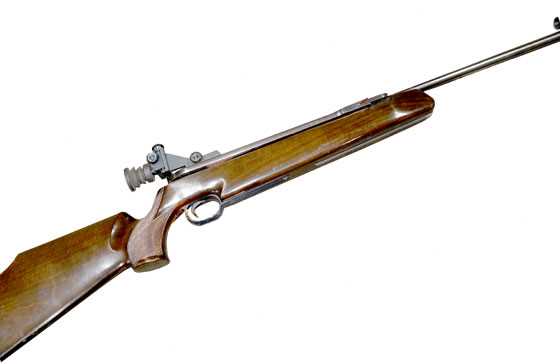 FWB 110 target rifle.
This report covers:
Sliding compression chamber
Velocity
RWS Hobby
Vogel Match Green
Accuracy
How good is it?
Summary
Today I will finish the report on the FWB 110 target rifle. Some readers thought I was testing the rifle myself. Jerry and Tommy Cupples offered to leave it with me, but given its rarity and value, I declined. I would hate for anything to happen to it in shipping! So, they did the testing for me. Let's take a look.
Sliding compression chamber
When you pull the sidelever back you also pull the sliding compression chamber back, which in turn moves the piston. The piston compresses the mainspring, and when the sear catches the piston, the rifle is cocked. I showed you the compression chamber open in Part 1, so link back to that (above) if you have forgotten.
Speaking of the sidelever, there has been a lot of discussion about not pulling on the sidelever locking latch while cocking the rifle, for fear of breaking it. The 110 and the 150 that followed had this latch, as well as a few of the early 300s (that's plural for 300 — NOT the model 300S that came later). Feinwerkbau corrected the problem by changing the locking latch from a separate lever to an integral part of the sidelever. It's less convenient to operate, but there is nothing to break because you can't cock it wrong with this one-piece lever.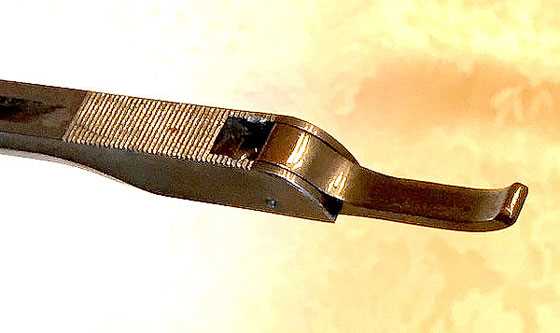 The 110 sidelever latch pivots on a tiny pin. If you cock the rifle holding this latch, that pin will break.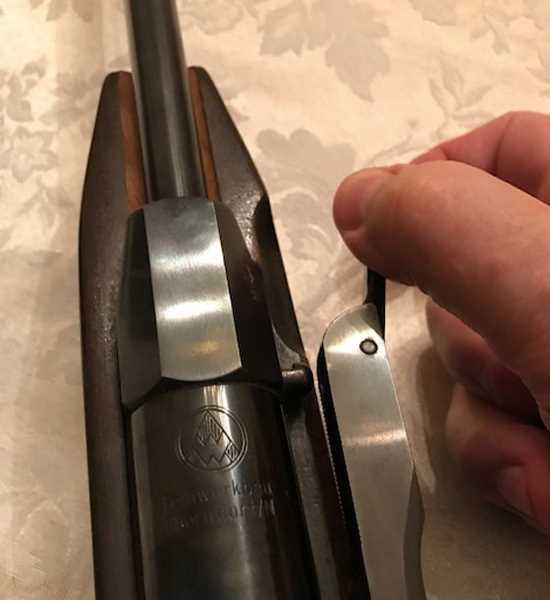 This top view of the latch open shows the weakness of the latch design. If you continue to pull on the sidelever while holding the latch at this point, you put too much pressure on the small pivot pin.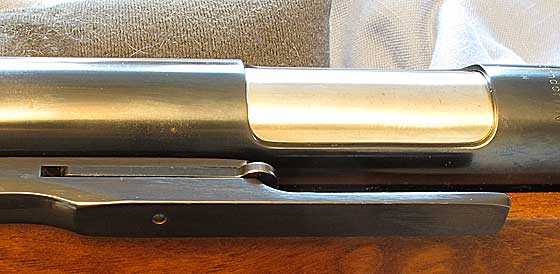 The new-style FWB 300S sidelever latch does not have a delicate pin to protect. It's not as easy to operate but there is nothing to break.
Velocity
Tommy Cupples had Dave Slade rebuild the 110 powerplant. And, now that I have shot the rifle, I can verify that Dave did his usual great job. The rifle now shoots very smoothly. That is due to a combination of a good tune, the Feinwerkbau design and the weight of the rifle.
RWS Hobby
The first pellet tested was the 7-grain RWS Hobby wadcutter. They are often used to determine maximum velocity. In an FWB 300S with a good fresh tune, this pellet would be expected to average around 640 f.p.s. In the freshly-tuned FWB 110 they average 608 f.p.s. The spread is 49 f.p.s., going from 573 to 622 f.p.s. That seems large, but remember that this is a freshly-tuned spring gun. Tommy Cupples even remarked that it was visibly smoking a little when he shot it. I would expect the velocity spread to diminish to around 20 f.p.s. after several hundred shots have been fired.
Vogel Match Green
The second pellet they tested was the Vogel Match Green, which as far as I can tell is not a lead-free pellet. Green simply refers to the color of the label. These weigh 8.18 grains and average 532 f.p.s. The spread runs from 519 to 540, a spread of 21 f.p.s.
The light smoking that Tommy Cupples mentioned was not present when I shot the rifle at the Texas airgun show. Smoking is common right after a spring gun tune, but once the lubricants settle down it often goes away. Not always, but often. Nothing bad comes from it.
Accuracy
Now, what can she do? Tommy shot five targets with Vogel Green pellets. He mentioned that they were shot from a rest at 10 meters. He took a couple groups to settle down, then shot two good groups.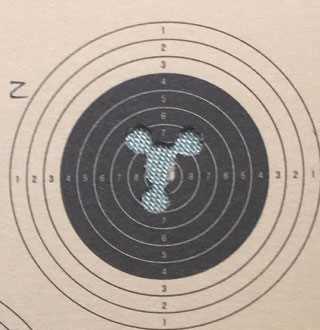 Mickey Mouse blowing a bubble! The first good 5-shot group is centered on the 10-ring. No measurements were given but from the target I can estimate 0.375 to 0.475-inches between centers.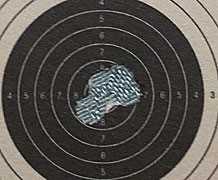 This last 5-shot group was the best one he shot at 10 meters. He didn't give a size but I would guesstimate 0.30-0.40 between centers.
How good is it?
This is a slightly different test than I usually do, but you can interpolate these results from the dozens of past tests you have seen me do. I would say this FWB 110 is right there with a Walther LGV Olympia or an HW 55 — two of its closest competitors. Remember, we don't know if the pellet that was used for the accuracy test is the best one for this particular rifle. I would have tested several different pellets for that. I also would shoot 5-shot groups with a 10 meter rifle, so that part remains the same.
Summary
The bottom line in this report goes in two very different directions. On the one hand, you have just witnessed a test of one of the rarest air rifles ever produced. Fewer than 200 of these are thought to have been made and I am sure there are fewer than that remaining. We agreed that the value is whatever two parties can agree upon.
On the other hand, as far as performance goes this 110 is very much in competition with the HW55 series of target rifles and the Walther LGV of the 1960s (not the ones made a few years ago). I feel it holds its own with both of them, in terms of power, accuracy, good trigger and smooth behavior. If it wasn't such a rare collectible I would want one just for the pleasant way it works. What a strange test —an FWB sidelever target rifle that recoils!
Tom Gaylord is known as The Godfather of Airguns™ and has been an airgunner for over a half-century, but it was the 
Beeman
 company in the 1970s that awoke a serious interest in airguns. Until then, all he knew were the inexpensive American airguns. Through the pages of the Beeman catalog, he learned about adult airguns for the first time. In 1994, Tom started
The Airgun Letter
 with his wife, Edith. This monthly newsletter was designed to bring serious reports about airguns to the American public. The newsletter and
Airgun Revue
, a sister magazine about collectible airguns, was published from 1994 until 2002, when Tom started
Airgun Illustrated
-- the first American newsstand magazine about airguns. Tom worked for three years as technical director at
AirForce Airguns
, the makers of the 
Talon, Condor, and Escape
 precharged air rifles. Today, he writes about airguns and firearms for various publications and websites. He also makes videos, and you'll find short clips embedded in some of his artices on Pyramyd Air's website. Tom is a consultant to Pyramyd Air and writes under the name of B.B. Pelletier.