by Tom Gaylord
Writing as B.B. Pelletier
This report covers:
Things to consider first
Red Ryder
Start with open sights
Fun!
Other grandpa airguns
Crosman 760
Daisy 880
Daisy 35
Lawyer triggers
Breakbarrels
BB — what about CO2? What about a repeater?
Over to you
Today's report will be near and dear to many of you. What airguns does a grandpa need, so when the grandkids come over he has something fun to do with them?
When I was a boy, both my grandfathers were so much older that they didn't really play with me at all — at least not that I remember. But watching guys these days, I see a big difference. Grandpas are fun guys! Well, airguns are fun and every kid wants to shoot — the girls just as much as the boys. So, what airguns can grandpa have that will be fun for the grands when they come bye?
Things to consider first
Long guns are the best way to begin. They are safer because grandpa can watch the muzzle easier and stop the kids from making dangerous mistakes.
Some kids want to keep their fingers on the trigger all the time. Grandpa has to discourage this by taking the gun from them and explaining how dangerous it is. Each kid is different and grandpa should know how far to trust each one.
Single shot rifles are the best way to start a kid. That way you can coax the "spray and pray" mentality out of them before it becomes ingrained. Video games often do just the opposite, rewarding the fast trigger finger, so you have to battle that. If the kids will listen to you, get them started talking about making good shots.
When I trained junior marksmen the key was to get the kids to focus on hitting the exact center of the bull, rather than just pulling the trigger and hoping the shot was somewhere in the black. Each kid is different and you have to learn right away whether they are listening to you or not. In marksmanship training we used to not let them touch the gun until they could explain a good sight picture and respond to basic safety commands such as "cease fire."
Grandpa shouldn't be a safety Nazi, but he should insist on safe gun-handling practices before allowing the shooting to continue. This is an important responsibility — especially when one or both parents are impulsive and careless. Do it right and the kids will soon be correcting the adults.
Red Ryder
If I don't put the Red Ryder down I'll hear from you readers. Yes it is a good gun to use with grandkids, but being a BB gun you need to take some extra safety precautions. A BB gun in this class is shot at very close range and those BBs have a way of bouncing back and hitting the shooter. So — eye protection for everyone in the vicinity.
The good thing about the Red Ryder is it's lightweight and relatively easy to cock. It's a repeater, so the little guys and gals won't get frustrated too soon. Shoot at targets that react for the greatest enjoyment. Balloons are a lot of fun, and the common tin can is the number one target of choice, with the feral aluminum soda can being the current high-tech favorite. Plastic army men are another good choice to sharpen the eye!
I said it's relatively easy to cock, because for a small kid cocking a Red Ryder can be a challenge. This is where Grandpa steps in and shows the youngster the right way and the safe way to cock the gun. It is also self-limiting. The youngster will tire more quickly if he or she does the work, which is as it should be.
Start with open sights
Unless the child has a serious vision problem that precludes it, start them with open sights. Don't graduate to a scope until they are proficient with opens.
I will put in a plug for the Daisy 499B here. It is a wonderful training tool that teaches the use of non-optical sights and may bring out a young William Tell or Annie Oakley.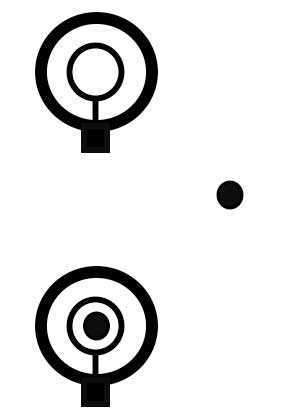 The Daisy 499 is a natural to teach a proper sight picture.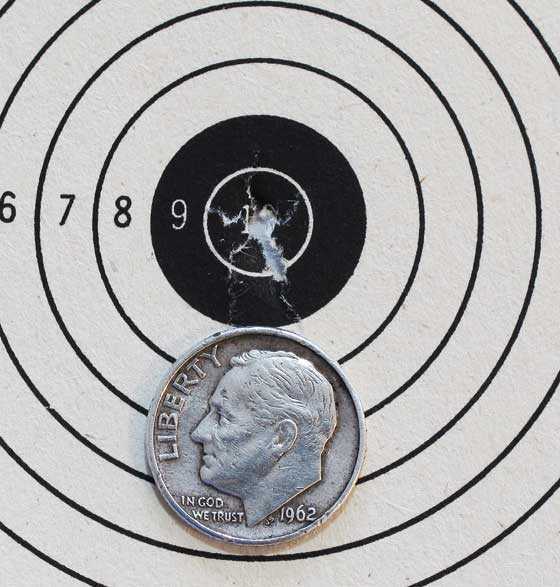 Yes, there are 10 shots in this 5-meter target. When youngsters apply themselves they can learn to do this offhand with a 499B in a few years.
Fun!
Okay, BB got away from today's topic just a little. This is supposed to be about fun — not work! Sorry, but I have seen too many kids who had the potential to become great shooters after just a few hours of instruction! But we're interested in grandpa-fun today.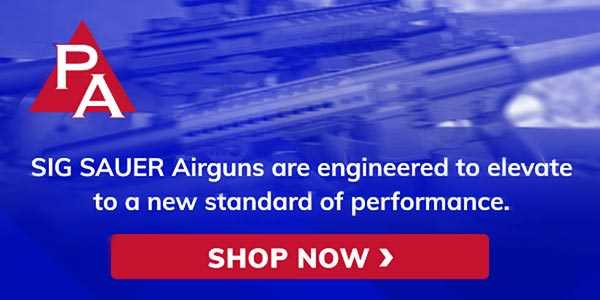 Other grandpa airguns
I'm not listing these in any order of preference. But I will mention the benefits of each gun as we go.
Crosman 760

/product/crosman-760-pumpmaster?m=339
Crosman 760 Pumpmaster.
The Crosman 760 is a single-shot multi-pump gun that shoots either pellets or BBs. When it shoots BBs it is a repeater. For pellets it's a single-shot.
This airgun is a smoothbore, so the accuracy isn't going to be good at long range. I did get one good group of H&N Finale Match Light pellets, but I'm betting grandpa isn't going to spring for pellets that cost $17 a tin. I did find the 760 accurate with RWS R10 Match Pistol pellets, as well, but the price is the same. It did okay with Hobbys, too, so either start with them or with Crosman wadcutters.
The 760 also did its best with H&N Smart Shot lead BBs at 5 meters. That's a blessing because Smart Shot BBs are lead and don't bounce back like steel BBs.
The 760 is reasonably lightweight and it also pumps fairly easy, so it's a great airgun for older kids. It's not for the youngest ones, but when they start growing, this is one to consider.
Daisy 880
Okay, we have now heard from Pepsi — what about Coke? Daisy's 880 is another fine gun for grandpa. It too shoots both BBs and pellets. With BBs it's a repeater and with pellets, a single shot. I did even better at 10 meters with the 880, shooting Hobbys and some obsolete Daisy Superior Match Grade wadcutters. And the 880 is rifled!


Daisy's 880 has a rifled barrel!
I did test the 880 with BBs, and Daisy also sent the target they shot that showed 5 Daisy BBs in 0.65-inches at 5 meters. It's no 499 but it's pretty good! I put ten Daisy BBs into 0.624-inches at 5 meters. So, grandpa, the 880 is a great little gun for the kids.
Unlike the Crosman 760, the 880 has a rifled barrel. That's why it's a little more accurate 10 meters. It's also lightweight and easy to pump. There are several related air rifles when you search on the 880. Many are kits that have additional items besides just the rifle. These kits come and go too fast for me to address, but at their heart is the 880 rifle.
Daisy 35
Daisy's model 35 is another good grandpa gun. It's a multi-pump that shoots both BBs and pellets. So, how does it differ from the 880. Well, the pump handle is a short stroke instead of the 880's longer stroke. In other words, it's more like the Crosman 760. It's also a smoothbore that shoots both BBs (as a repeater) and pellets (as a single shot.


Daisy 35.
The 35 I tested back in 2012 and '13 did not-so-good with BBs and very good with pellets. I liked it so much that I ordered another one for another test in the near future.
Like all the airguns we've seen so far the Daisy 35 is lightweight and easy to pump. But is does have one drawback that all the other airguns I've mentioned share.
Lawyer triggers
For some reason airgun manufacturers cannot put out a youth airgun with a decent trigger. I think the reason is simple. These guns all compete on price. They sell them in the big discount stores where most people shop by price and not features. All these airguns have variations of direct sear triggers. Putting a killer trigger on a $35 air rifle would add $5 to the price and make 300 sales to informed customers, while loosing 30,000 sales to moms and dads who only look at the price tag. So the lawyers have their day and I have to agree with that logic. Unless there is a caring grandpa or grandma who is willing to spend the time to train little Bobby and Susie on the right steps of gun handling, give them their lawyer triggers!
Breakbarrels
Now let's take a big step up to the next level of kids airguns. I'll start with the Ruger Explorer. Many of you can tell that it is a less-expensive version of the Umarex Embark. Both are breakbarrel spring-piston air rifles that are reasonably lightweight and cock easily. They are well-suited to children that are old enough to hold them offhand and cock them while standing up. I'm not giving ages now because boys and girls develop at their own rates over time. I wrote a 5-part report on the Embark and got superior accuracy from it at 10 meters. I'm guessing the Ruger can do just as good. Gramps — this one will make you a hero!
BB — what about CO2? What about a repeater?
Well, sure. Repeaters can be great fun and CO2 is an inexpensive way to get one. My pick in this category is the Crosman 1077. And, I see that Crosman has brought back something that we have been asking for for years — the 1077W with a wood stock!
Now, you can get a regular 1077 for $40 less than the one with the wood stock. You'll still be a hero if you do. But the wood one is the one you personally will be proud to own.
All right you tire-kickers! Off the couch and get online to buy that rifle you all said you wished Crosman would bring back. Because — here it is — the 1077 with a wood stock! Grandpa — what beautiful airguns you have!
There is one drawback for a 1077. It's certainly light enough for anyone, but that trigger that operates both the clip advancement and the hammer cocking has a pull that's too heavy for the little ones. After it breaks in with a few hundred shots it does become smoother and easier to pull, but at first the trigger pull is an obstacle for younger kids.
Over to you
Okay, Gramps, now you have your say. You know what works and what doesn't. Tell the world!