by Tom Gaylord
Writing as B.B. Pelletier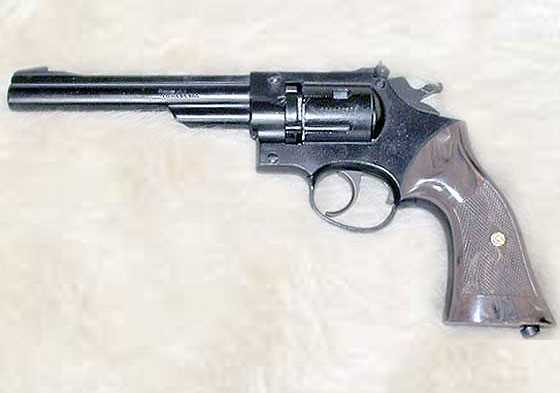 Crosman 38T.
Part 1
Part 2
Part 3
Grips & tips
This report covers:
Crosman ashcans
How did they do?
The test
RWS Superdome
Crosman ashcan pellets
RWS Superpoint
Discussion and summary
Today will be the last report on this .177-caliber Crosman 38T target revolver. Reader Billj commented to Part 2 that ashcan pellets were the most accurate in his 38T, but after some discussion he mentioned that they weren't Crosman ashcan pellets. They were Ampell pellets.
Crosman ashcans
Ampells I can't remark on, but Crosman ashcans I have. For the record, they aren't called ashcans. Crosman called them Superpells. We call them ashcans because they look more like that than they do a conventional diabolo.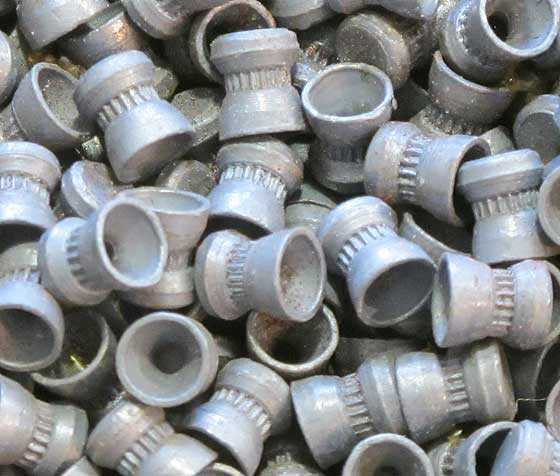 Crosman "ashcan" pellets are uniquely shaped. But are they accurate?
The first thing I did was weigh 10 of them for you. Here is what I saw.
Pellet….weight
1……………8.4
2……………8.3
3……………8.3
4……………8.4
5……………8.3
6……………8.3
7……………8.4
8……………8.3
9……………8.3
10..…………8.3
That's pretty consistent. Most modern pellets don't do any better.
How did they do?
Well, for starters ashcan pellets didn't load into the rotating cylinder very well. The spring-loaded pellet loading tool wouldn't push them all the way into the chamber unless I pressed down and pushed on it very firmly. It felt like they were much larger than average diabolos.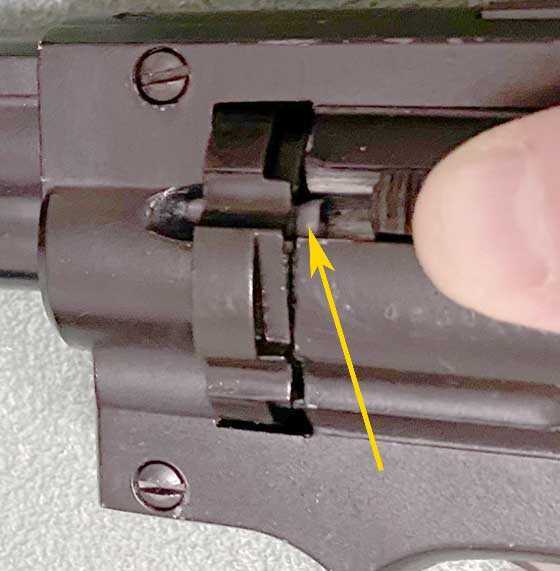 Every ashcan pellet went into the rotating cylinder this far and then had to be pushed in the rest of the way by hand. They went in with a click.
Just for fun I measured the heads of a few of the ashcans. They were all larger than 4.56mm, which is as large as my Pelletgage goes. So they are large!
The test
I shot off a sandbag rest at 10 meters today with my hands resting on the bag. I shot 6-shot groups because that's how many pellets fit into the 38T cylinder.
RWS Superdome
I started the test with RWS Superdome pellets. In Part 3 they grouped the best, with 6 going into 0.97-inches at 10 meters. Today these were the first pellets I tested, with the hope that they would groups similarly. And they did. Today 6 Superdome pellets made a 0.999-inch group between centers at 10 meters.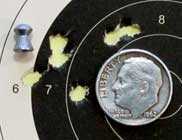 Six RWS Superdomes made a 0.999-inch group at 10 meters.
That was close enough to the group shot on Day 3 that I feel this 38T really likes this pellet.
Next up were the ashcans.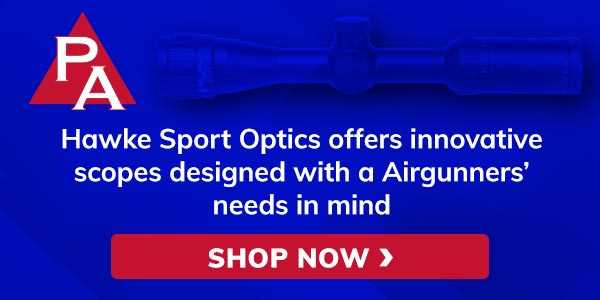 Crosman ashcan pellets
I already mentioned the ashcan's sluggish loading. That gave me hope that these Superpells might be wonderful because of how large they are. But alas, they turned in a 6-shot group that measured 1.455-inches between centers at 10 meters.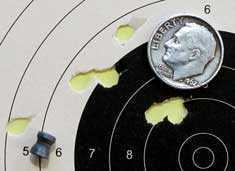 The 38T put six vintage Crosman "ashcan" pellets into this 1.455-inches at 10 meters.
RWS Superpoint
The last pellet I tried today was the RWS Superpoint. The 38T put six of them into 1.587-inches at 10 meters. This is the largest group of today's test, and it's also larger that all the groups in Part 3.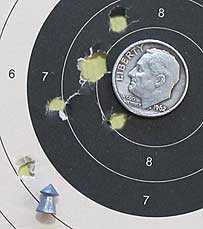 Six RWS Superpoints made a 1.455-inch group at 10 meters.
Discussion and summary
Well, that's it for the .177-caliber Crosman 38T. I always wondered how this air pistol shot and now we all know. The airgun is powerful and accurate. It looks very realistic and functions quite well. For an airgun made no less than 36 years ago, I have to say it gives up nothing to an air pistol made today.
Now, the good news is, we are just half finished with this report. Yesterday's guest blog by 45Bravo, Grips & Tips, was written about the left grip panel of my .22-caliber 38T that I sent to Ian for a reseal. I told him the left grip panel was wonky and he turned the repair of that into a guest blog, with a second report on resealing the pistol that's yet to come.
Then I will test that pistol for you and, because Ian sent me some .22-caliber ashcans, I'll also test it with them. When this series is over you should have a very good understanding of the Crosman 38T!