Benjamin 397 Variable Pump Air Rifle: Part 5
This report covers:
New stock's comb too high
The secret
Not firewood
Bumper quiets operation
Stippled
Crosman did it right!
Does it work?
No more info
Today's report takes a second look at the Benjamin 397 variable pump air rifle.
New stock's comb too high
The new 397 is supposed to shoot .177 pellets at 1100 f.p.s. but that was disproved in Part 2. It also has a high comb that is better suited to the use of a scope.The open sights can't be seen when shooting with this stock unless you slide your head back behind the cheekrest.
You will remember that we tested this with a different stock so BB could see the open sights, and when we did the rifle was very accurate. But I had to install the stock from my Benjamin 392 pump-assist rifle, and I only mounted the butt because the forearm is held on by two roll pins that I didn't want to remove. More on that in a bit.


The wood stock from an older 392 doesn't have the high comb and is therefore suited to see the open sights. But it looks horrible. I wouldn't leave the rifle this way.
The secret
I mentioned at the end of Part 4 that I had a secret that only one reader knew about. That reader was Hank, whose handle is Vana2. We all know that Hank is a woodworker whose 6-part report about building a firewood stock was a reader favorite. I contacted Hank and asked about the possibility of him making a firewood stock for the new 397 and we came to an agreement. He has been quietly making the stock for this 397 behind the scenes since mid-April.
Not firewood
For some reason, Hank couldn't make a firewood stock. I think it has to do with a thin place in the forearm and the pump arm putting too much pressure on that place. So he asked if I would like one made from curly maple. Would I ever! Curly maple is some of the most beautifully figured wood, in my opinion. Even a piece that isn't fully figured can be beautiful. But Hank being Hank, the stock and forearm he made are 100 percent figured.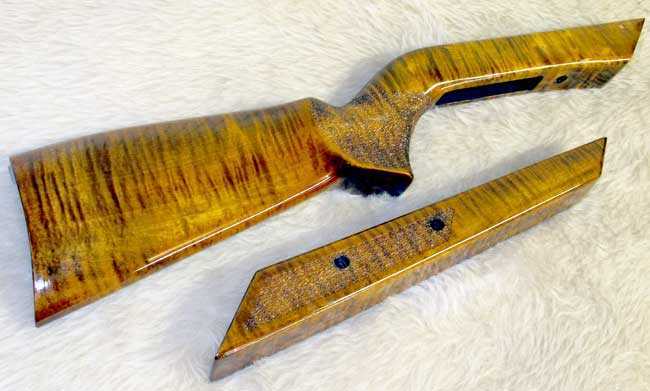 The stock and forearm Hank made are 100 percent figured curly maple. Gorgeous!
Now, I know that woodworkers have a select reserve of beautiful wood they hold back for special projects. This wood didn't come from a pallet! This is some of the good stuff Hank has been keeping in reserve. I now thank him publicly for letting me have some of his special timber. The beauty of this stock means I will purchase this 397 from Pyramyd Air and keep it for myself. You can bid on it at my estate sale.
Bumper quiets operation
In Part One I said this about pumping the rifle:
"The forearm is longer by several inches for increased leverage, and it makes a loud clacking sound when it slaps agains the pump tube. This is the perfect place for some thin rubber, and my old silicone kitchen cutting mat is probably the perfect thickness. If I were keeping the rifle I'd glue a sliver of the mat on the pump tube where they connect."
Well, I don't have to do that because Hank fixed it when he made the stock. He put a synthetic bumper at the point the forearm contacts the pump tube.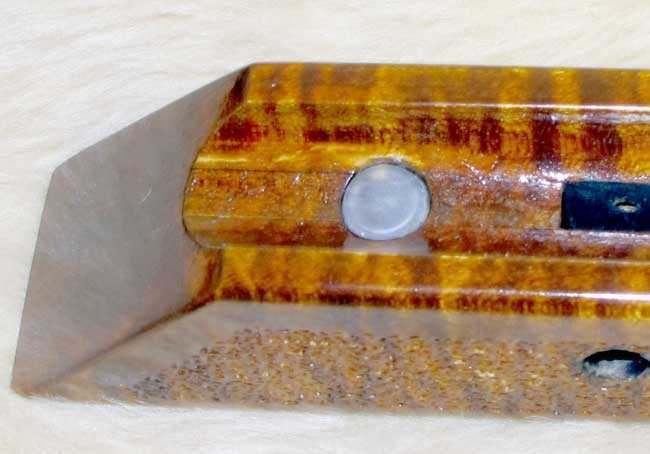 Hank put this synthetic bumper pad at the inside end of the forearm.
Stippled
You will notice stippling in the pictures. Hank has stippled the pistol grip and the forearm very tastefully. It is aggressive and provides a good grip. The grip also has a small palm swell on the right side, for a more comfortanble fit.
Crosman did it right!
And one more thing. When Crosman made this new 392 and 397 series they quit attaching the forearms with roll pins and used Phillips screws. That means it's easy to detach the factory forearm and attach the one Hank made. Thank you, Crosman, for this change.
Does it work?
Yes, friends, this new stock does work. Hank got rid of that overly high cheekpiece and I have already fired the rifle at 12 feet, putting a pellet through a pellet hole at which I was aiming. This is the stock the 397 should have, though not in curly maple.
No more info
I know a few more things about this stock, but I'll let Hank tell you about them himself. He will be writing a guest blog to tell us about this project. And there is no rush, Hank. I intend to test the rifle for accuracy with the new stock. And then I guess I'll get the new sight base that fits this receiver so I can test with a dot sight and a scope.
All I can say is I now "own" (I still have to pay Pyramyd Air for it) the most beautiful 397 on this planet!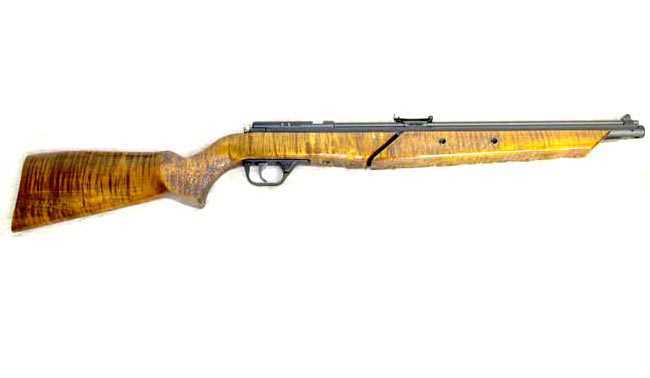 The Benjamin 397 with the new stock made by reader Hank, turns the rifle into one that can be used with the open sights that come from the factory.
Tags In
Tom Gaylord is known as The Godfather of Airguns™ and has been an airgunner for over a half-century, but it was the 
Beeman
 company in the 1970s that awoke a serious interest in airguns. Until then, all he knew were the inexpensive American airguns. Through the pages of the Beeman catalog, he learned about adult airguns for the first time. In 1994, Tom started
The Airgun Letter
 with his wife, Edith. This monthly newsletter was designed to bring serious reports about airguns to the American public. The newsletter and
Airgun Revue
, a sister magazine about collectible airguns, was published from 1994 until 2002, when Tom started
Airgun Illustrated
-- the first American newsstand magazine about airguns. Tom worked for three years as technical director at
AirForce Airguns
, the makers of the 
Talon, Condor, and Escape
 precharged air rifles. Today, he writes about airguns and firearms for various publications and websites. He also makes videos, and you'll find short clips embedded in some of his artices on Pyramyd Air's website. Tom is a consultant to Pyramyd Air and writes under the name of B.B. Pelletier.