Today we have a guest blog from reader Ian who we all know as 45Bravo. He will give you his observations on the Air Venturi Avenger. This is the surprise I mentioned in the Avenger Bullpup report.
If you'd like to write a guest post for this blog, please email me at blogger@pyramydair.com.
Take it away, Ian.
David and Goliath
This report covers:
David vs Goliath
Changes over time
What's it like owning one
Where is David and Goliath
Aftermarket upgrades
It's not pellet picky
A Snappy idea, the Target Shooting Gauge
David vs Goliath
No, this blog isn't about the biblical confrontation, but it is about the little guy going toe to toe with an airgun giant.
BB recently wrote an 8 part series about the Air Venturi Avenger air rifle, showing some impressive groups and flexibilities of the air rifle in how it can be tuned.
This report is about what you can expect owning one, and shooting it with your friends.
The Avenger is a price point PCP that has features and capabilities that normally require a much higher price tag. The rifle is offered with a plastic stock, and a wooden stock. I own the wood stock version, and a friend owns the plastic stock version.
In early 2022, Pyramyd Air will be shipping a bullpup version according to their catalog and website, and after owning an Avenger, I can't wait to get my paws on the bullpup.
Changes over time
Air Venturi has also been quietly making some upgrades to the rifle as the data comes in about how users are making it perform better. Some changes are quite visible, while others are very tiny, but it shows their dedication to give you the most accurate rifle they possibly can.
The most visible upgrade is the wooden stock. The 3 piece plastic stock has some flex in it if you put pressure on it in certain ways, and the bipod mount is directly connected to the barrel band. The wooden stock eliminates the flex and any pressure directly to the barrel band.
Inside of the shroud they have skeletonized the barrel support to allow more air volume in the shroud to reduce the sound pressure and noise level, they have also added a baffle system that is integrated to the end cap of the shroud to quieten it more than the shroud alone does.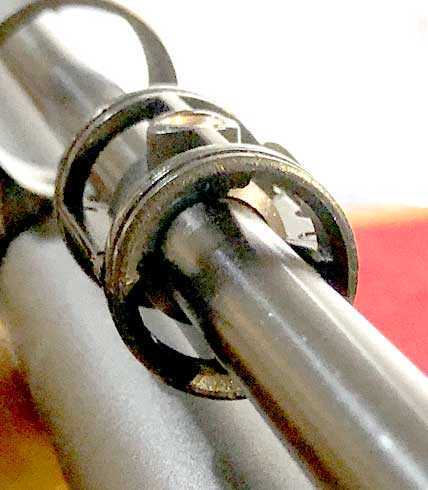 The Avenger barrel stabilizer is skeletonized to pass more air and lower the sound pressure.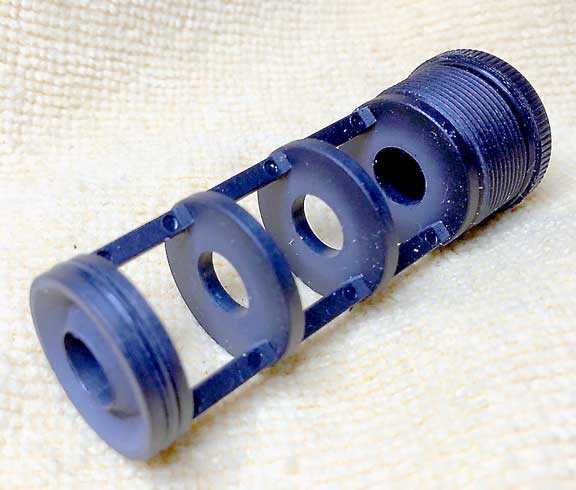 The muzzle cap is attached to several baffles.
They have also added a crown to the barrel, something the first ones didn't have.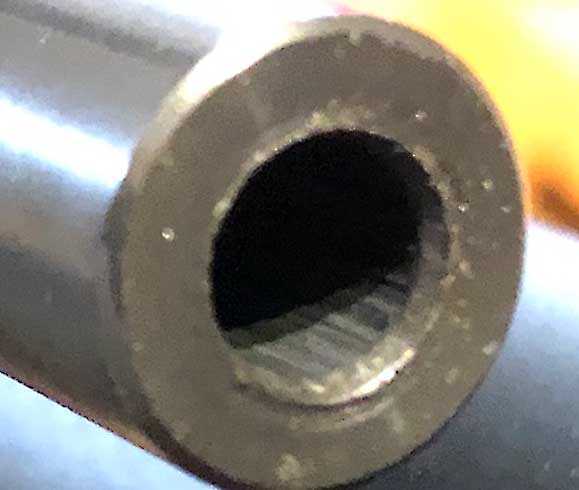 The Avenger barrel is now crowned.
One upgrade you may miss, (and it's important NOT to accidentally misplace this upgrade) is the 2 screws that go through the barrel band from either side to retain the barrel shroud, the first guns just had the set screws that would impinge directly on the shroud and leave little marks. Air Venturi has since added 2 very small nylon or delrin balls that go between the screws and shroud so as not to scratch it, and give a self-centering retention system.
When removing your shroud, do not misplace these little tiny nylon balls.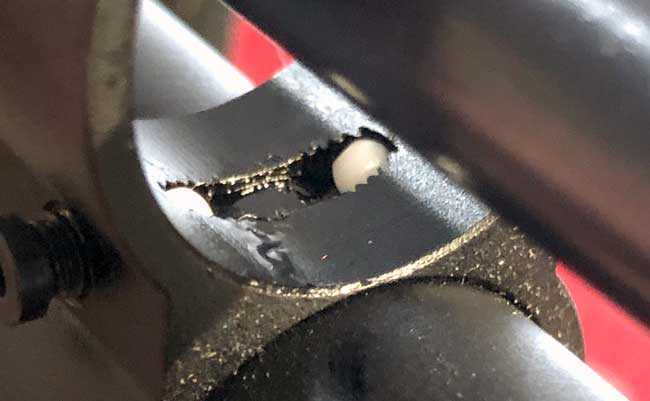 The nylon balls protect the shroud's finish.
What's it like owning one?
The Avenger fills to 300 bar (4351psi) so hand pumping is possible but filling to 300 bar by hand pump is not for the average individual, and should probably be left to the big Hulking green guy in the Marvel universe. You can fill to a lower pressure, but at the cost of shot count. My suggestion is to save up for a small compressor. You will use it on all of your PCP guns and will make your precharged life so much more enjoyable.
The rifle comes from the factory set to a ridiculously high regulator pressure, but it is externally adjustable, just follow the manual. I have reduced the regulator pressure to 1400psi on mine, and the rifle is launching JSB 18 gr pellets at about 855-860 fps, and getting about 100 shots per fill before falling off the regulator.
So where is David & Goliath in this story?
In the airgun world there are many manufacturers, but a small group of elite manufacturers produce high quality and very accurate airguns that every airgun enthusiast knows They are the Big 5, so to speak.
Air Arms
Daystate
FX
RAW
Weihrauch
In my opinion and experience so far, the Air Venturi Avenger will go toe to toe with any of these manufacturers where it counts, in the accuracy department.
Yes the fit, finish, and quality of workmanship of the Big 5 guys are the absolute best, but not everyone can afford the cost of admission into that ownership club. Nor do they want to take a $2000 or more rifle into the woods hunting.
A group of us have been shooting out to 100 yards indoors. We shoot a new FX Impact M3, a synthetic Avenger, and a wooden stocked Avenger. All of these guns will shoot FX or JSB pellets into less than 1 inch at 100 yards with amazing regularity. 
There have been days where the FX is the winner with the smallest group, and days where one of the Avengers has been the winner, But all of them are so close it is a draw until you pull out the digital calipers.
Sure, there are fliers from all of the guns, but those can be mostly attributed to not sorting your pellets, dented skirts, the magazines and shooter error. The less expensive guns do seem to throw more fliers than the expensive gun, but using a single shot tray removes one of the variables in the flier equation.
I have owned many airguns, and, except for shooting in competitions, I have never bothered with sorting and weighing pellets. This is the first non-competition air rifle I have even considered worthy of sorting pellets to get the full benefit of what it has to offer.
The following two 5-shot groups were shot at 100 yards indoors with an Avenger using JSB 15.89 pellets. The rifle was mounted on a bipod, sitting on a table and sighting was done with a CenterPoint 4×16 AO scope. These are both outstanding groups at 100 yards from a $300 rifle.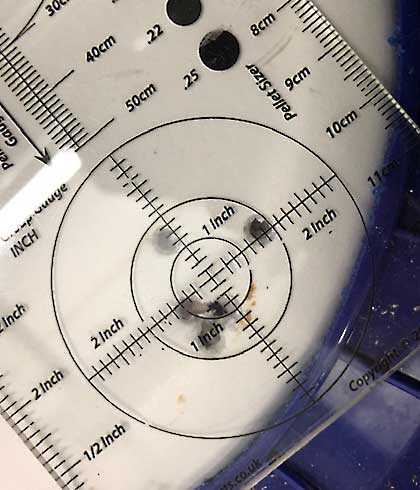 This outstanding 100-yard group was shot by an Avenger.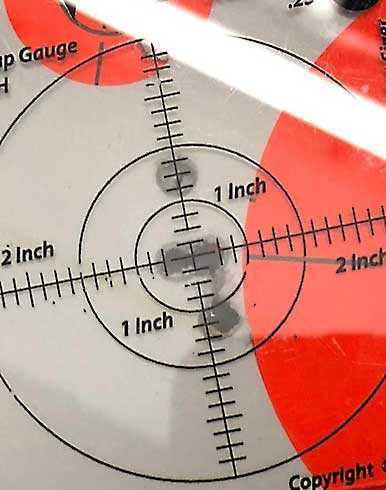 Did I shoot 4 times or 5? It is hard to tell! Another excellent 100-yard group.
The FX owner has already ordered a new carbon fiber shroud and barrel harmonic tuner for his less-than-2-week-old M3, just to stay ahead of the Avengers. (side note: the price for the FX barrel harmonic tuner alone is half of the price tag of the Avenger rifle.)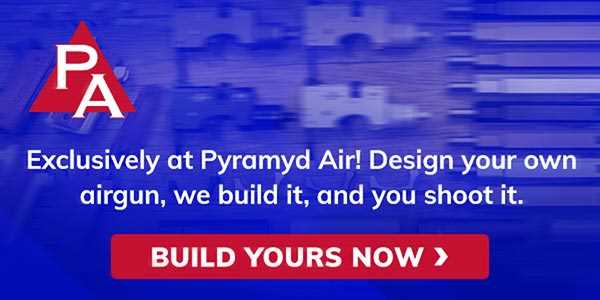 Aftermarket upgrades for the Avenger
There are many places online that are offering "upgrades" to the Avenger in areas where they see a need.
DonnyFL offers an adapter that is threaded 1/2×20 so you may fit any airgun moderator onto the Avenger, his adapter also has a barrel centering/stabilizer that extends rearward to support the muzzle end of the barrel, it also helps prevent pellet clipping if there is any misalignment of the moderator with the bore. The downside to the adapter is with the moderator, it adds more length to an already long rifle.
If you are so inclined, one version of the FX barrel tuner will connect to the DonnyFL adapter on the Avenger so you can take advantage of that technology also.
There are companies offering 3D printed internal moderators and barrel supports, and one company is offering a chassis conversion to completely do away with either of the factory stocks.
Just remember, some of these changes may void your warranty.
It is not pellet picky
The Avenger does not seem to be pellet picky, it shoots Crosman domes well out to about 35 yards. Air Arms, JSB and FX pellets hold good groups out to 100 yards, and in my particular .22 Avenger I have found that the H&N Baracuda Match pellet seems to hold a better group at 100 yards than any of the others.
I haven't shot the H&N Baracuda pellets against the other shooters yet, so it will be a surprise for our next get-together.
Like my target gauge?
I have to apologize. I picked up one of these Snappy group gauges back in 2016 when they first came out, but I've never posted any groups in any of my guest blogs to have shown it. It is a clever device, and does its job well, in both metric and imperial measurements.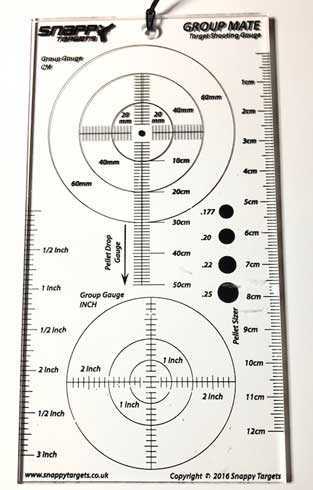 The Snappy group gauge always has a place in my range bag to settle arguments between friends.
My advice to any new Avenger owner is clean the barrel, if your rifle has any air pressure in the gun, drain the air, follow the manual to lower the regulator pressure, and start working your way up until you find the pressure/tune that works for you, and shoot it! You will not be disappointed!
Shoot safely and have fun.
Ian