Part 1
Part 2
Part 3
Part 4
Part 5
Part 6
This report covers:
The test
How NOT loud the rifle is
Sight-in
First up — JSB Exact Jumbo Heavy
Air Arms 18-grain dome
H&N Baracuda Match 5.51mm head
HOWEVER
What's next?
Discussion
Summary
Oh, boy! Here we go! Today we look at the accuracy of the Seneca Dragonfly Mark 2 multi-pump rifle when shooting with a red dot sight and no front barrel support. Lotsa folks weighed in on this one, and today we all see how it went.
The test
I shot from 10 meters with the rifle resting directly on a sandbag. All the groups were five shots except for the final one. I pumped the rifle four times for every shot. I used the pellets that have performed the best in the two past accuracy tests that are documented in Parts 3 and 4.
I was very curious myself because I remember thinking how that large front bead got in the way of everything and made it nearly impossible to get an accurate sight picture. I figured the dot would give me a much tighter aim point, and it did. I will cover that in a moment, but first I have a request to address.
How NOT loud the rifle is
My cat, Dale Evans, usually complains every time I shoot. For this test she lay asleep on the sofa, ten feet from the muzzle. Then she got up and laid down at my feet. Not so much as a peep! On four pumps the Dragonfly Mark 2 is quiet.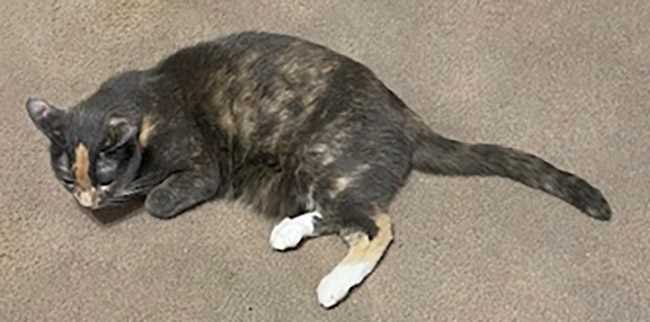 Dale lay at my feet and then went to sleep as I tested.
Sight-in
Because of mounting the dot sight yesterday, I started sighting-in from 10 feet. The first pellet hit the bullseye. I backed up to 5 meters and the pellet hit about 1.5-inches above the bull. When a second pellet went through the same hole I adjusted the sight down several clicks and the next pellet was a 10. That was good enough to back up to 10 meters and try another shot. It hit a little high but inside the black, so I switched targets and shot a group.
I had the red dot set as bright as it would go and it was somewhat imprecise. So after a somewhat mediocre 5-shot group I put another target on the box and dimmed the dot several clicks. I also adjusted the dot down another three clicks because with a dot sight it doesn't matter if you hit the center of the bull. I was ready to shoot for the record.
First up — JSB Exact Jumbo Heavy
Remember, I'm testing a .22. And the JSB Exact Jumbo Heavy has done well in other tests. The first shot was a ten (a pinwheel — dead center in the bullseye) and I didn't look at the next 4. When I finished five pellets had gone into a group that measures 0.078-inches between centers. Folks — that's 10-meter target rifle territory! It earned the coveted Chuckram comparison coin for groups smaller than one-tenth-inch.


Five JSB Exact Jumbo Heavy pellets made this 0.078-inch group at 10 meters.
Well, does that satisfy everyone that the free-floated barrel is accurate? I hope so because that is the best group of this test!
The dot is now so small that I can center it inside the 10-meter bull. Aiming is very precise.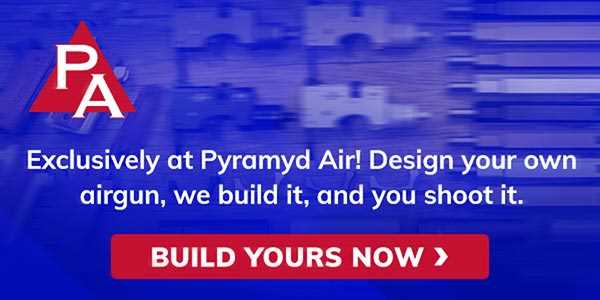 Air Arms 18-grain dome
Next up was the 18-grain dome from Air Arms that is essentially the exact same pellet as the JSB I just tested. Only this pellet landed lower on the bull and more to the left. Five shots went into a 0.224-inch group at 10 meters.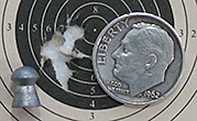 The Dragonfly Mark 2 put five Air Arms 18-grain domes into 0.224-inches at 10 meters.
H&N Baracuda Match 5.51mm head
Next to be tried were five H&N Baracuda Match pellets with 5.51mm heads. In Part 4 they made a phenomenal 0.585-inch group at 25 yards. In today's test the Dragonfly put five into a 0.289-inch group.
These pellets hit above the center of the bull and also a little to the left of center. They weigh more than the previous two pellets, and that explains the group shift. And, there is a "however."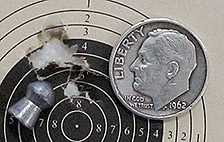 Five H&N Baracuda Match with 5.51mm heads went into 0.228-inches at 10 meters.
HOWEVER
At this time in the test the trigger stopped firing the rifle every time. I would pull and pull and nothing happened. I eventually discovered that if I wiggled the trigger blade back and forth the trigger would work, but I am quite sure I slightly threw several shots in this group because I was playing with the trigger.
What's next?
I thought that since the JSB Exact Jumbo Heavys had done so well, I would shoot a 10-shot group. I hadn't solved the trigger problem by this time, but I pushed on through and shot the group anyway.
Ten pellets went into 0.298-inches at 10 meters. I know the naysayers are going to point out that this group is lower and more to the left than the first group of five of the same pellet. Yes, it is. In fact throughout this test all the groups have been moving to the left.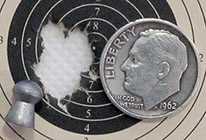 The Dragonfly Mark 2 put 10 JSB Jumbo Heavy pellets into a 0.298-inch group at 10 meters.
Discussion
Do I even need to say it? Can you not all see that this Dragonfly Mark 2 is extremely accurate — especially for a multi-pump, because they are not known for their accuracy.
BUT — the trigger issue is a concern. Earlier in testing I said how much I liked the trigger pull. Now, I just want it to be consistent. I guess I need to look into this.
The free-floated barrel is no big deal in my opinion, but I will watch to see if the zero migrates as some have predicted.
I also have to observe that the UTG Micro Dot allows me to hold the rifle while I pump exactly where I did when the open sights were installed. Yes, the Dragonfly Mark 2 pumps easily, but it's always nice to be able to hold it where you want and not be afraid of a scope.
Summary
In my opinion the Dragonfly Mark 2 has left all the multi-pumps I ever tested in the dust — except for my Sheridan Supergrade that equals it. But it's not perfect yet. I think a 25-yard test is next with this dot sight, but first I have to see about that trigger. Will I mount a scope? Sure, but there is no rush.