This report covers:
How we got here
From Val Gamerman:
Find Bob Moss
Dragonfly Mark 2
What is it?
How much easier?
Cost
The rifle
Sights
Pump effort
How many pumps?
Pump arm doesn't click closed
Trigger
Summary
Well, this is the one you have been waiting for — the report on the Seneca Dragonfly Mark 2 — the pump-assist Dragonfly! And with the new format you know you're going to get two straight days of it. Let's begin.
How we got here
In 2007 an inventor named Bob Moss invented an EZ Pump Assist for the Benjamin 392. Bob worked with different manufacturers, but ultimately partnered with Air Venturi in 2017 to make his invention a reality. Due to COVID product development took longer than expected, but now, almost 15 years from the day Bob modified his first air rifle, his invention is finally going to become available to consumers.
From Val Gamerman:
"I reached out to Bob in late 2017 because we still saw an unanswered need in the market. A lot of us remember multi-pump pneumatic airguns, many folks know exactly what the 3-pump rule meant.
There is only one issue with multi-pump guns — they are notoriously hard to pump once you get past pump 6. Maybe you don't need to be a Hulk, but you need to be fit in order to get any kind of meaningful power out of these rifles. Well, that's exactly what EZ Pump ™️ solves. Not only does the pumping effort stay low (18 lbs), it stays constant no matter how many pumps you put into the gun.
Now you can get more powerful multi-pump pneumatic guns and they can be operated by a wider range of consumers, no matter how fit they are. Literally twice easier to pump, while you increase your muzzle energy more than ten percent."
Find Bob Moss
At SHOT this year Val told me he tried to email Bob Moss and the message was returned as undeliverable. So guess what? He started searching for the phone numbers of every Bob Moss in America and he called them all until he found the right one! I know he says this started in 2017, but I thought you should know what it took to get it started.
There is a lot more to the back story, such as the years that Crosman worked with Bob to license and build what I once called a butterfly hand pump.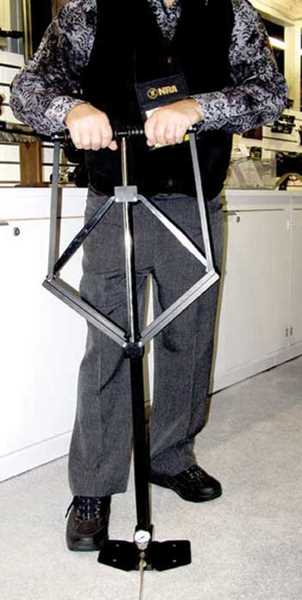 For several years Crosman pursued the idea of the butterfly pump-assist hand pump. It never reached production.
Dragonfly Mark 2
Now it is here. Air Venturi has made the pump assist multi-pump a reality with the Dragonfly Mark 2 rifle. Yes, they did toy with the idea of calling it the Butterfly, but that name didn't sound right to them, plus there might have been some licensing issues.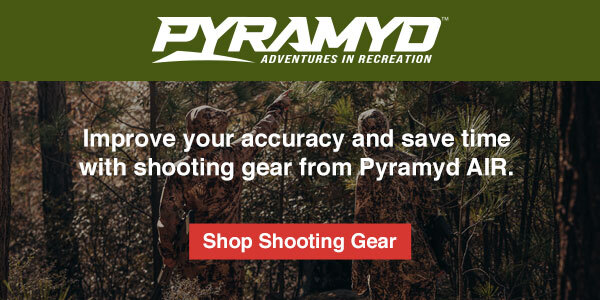 What is it?
The EZ Pump uses a special sliding fulcrum pump linkage to change the leverage of the Dragonfly as you pump to make pumping easier. Let's look at it.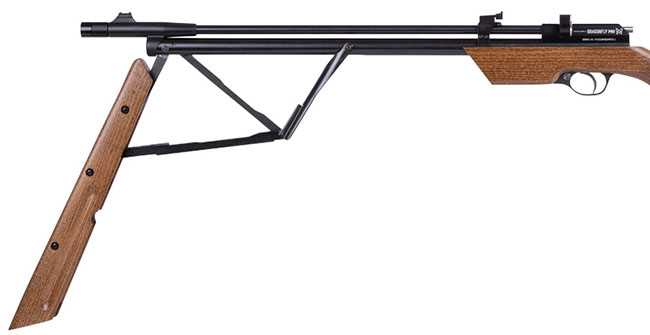 As the pump arm moves, the fulcrum of the linkage changes to make pumping easier.
How much easier?
Here is a chart from the Pyramyd AIR website that shows the relative pumping effort.
Cost
When the pump assist Benjamin 392 sold in 2007 the cost was at least $100 greater than the cost of the 392. That made it $300 at the minimum. The Dragonfly Mark 2 sells for $200, Is that cheap? Who knows? It will be for some and not for others. But this time the rifle was built this way from the start — it's not a modification of anything.
The rifle
I asked for a .22-caliber rifle to test for you. It also comes in .177.
I was surprised when I picked the rifle up out of the box. It's heavier than it looks. My test rifle weighs 6 pounds 9 ounces. That's close enough to the 6.5 pounds advertised on the Pyramyd website.
The stock is a hardwood of some kind. It's tight and evenly-grained and shaped perfectly. The pump arm has a long finger groove and the pistol grip is evenly checkered with flat diamonds. Overall the stock feels slender which adds to the feeling of weight.
The overall length is 40 inches with a man-sized pull of 14-3/4-inches. The barrel is 22.75-inches long.
Sights
The front sight is red fiberoptic but the rear is plain black — hurray! The rear sight adjusts both ways but there are no click detents. There is a windage scale to refer to but the elevation has no scale. I just watch the daylight under the sight as it moves up.
The receiver is grooved for 11mm scope mounts, but the length of the groove is short, so scoping will take some thought. This might be a good candidate for that new Integrix 1-8X22 scope from Leapers.
Pump effort
The rifle must be cocked to pump up. Otherwise a blowoff valve dumps the air with every pump stroke. But can you leave a pump of air in the rifle to keep the valve sealed? You sure can! Just cock the rifle, pump it and then hold the bolt back as you pull the trigger and ride the bolt forward. That's the way I will store this one. I store this one with two pumps of air.
You can see the chart of pump efforts, but I decided to pump it for you and test it myself — at least to 8 pumps. I was going to stop at 6, but pumping this rifle is like eating peanuts — you can't stop! Go slow and even and it's a breeze!
Pump….Effort
1…………….16
2…………….16
3…………….16
4…………….15
5…………….15
6…………….16
7…………….16
8…………….17
Speaking of storing the rifle, I doubt this particular one will be going back to Pyramyd AIR. BB has a thing for multi-pumps that are well made and this one is second only to my Sheridan Supergrade in terms of build quality.
How many pumps?
Here we run into something surprising. The website says to pump it 3 to 15 times. That's right — fifteen times! When I talked to Tyler Patner about the rifle he said he was always stopping at 8 pumps because it was so powerful. Well, you know old BB is going to show everything to you, so I will pump it 15 times with at least one pellet, but I will also probably stop way before 15 pumps with most pellets.
Pump arm doesn't click closed
What is the number one complaint of a multi-pump? After the pump effort, which the Dragonfly Mark 2 has solved, the biggest complaint is the loud click at the end of each pump stroke. This one doesn't do that. The pump stops before the pump arm closes and the stop is both positive and repeatable.

The pump arm stops in this position after each pump stroke. It is almost completely quiet!
Trigger
You guys are gonna love this one because this rifle just keeps getting better. The Dragonfly Mark 2 trigger is two stage. Stage one is very long and stage two breaks crisply. And I do mean crisply. I don't believe a lawyer has ever held this rifle!
Stage one of the trigger pull takes 2 pounds 14 ounces. Stage two breaks right at 4 pounds. Oh, go ahead and sit on your couches and gripe about the numbers if you want. I once saw reader Kevin guess that the 3-pound trigger pull on my Wilson Combat 1911 was one pound . That's how nice this trigger is. It's not adjustable and it doesn't need to be.
Summary
Guys — we waited a long time for this one and now it's almost here. Better get yours on order today. I don't want to hear any whining and crying when the next batch arrives and is already sold out.