BB's Goldie is a golden Cerakoted Avenger. The reservoir, receiver, muzzle cap, forward Picatinney rail and cocking handle were colored differently to set off the gold.
Part 1
Labradar chronograph
Part 2
This report covers:
The test
The test target
Meopta scope
First 10 shots
Second group
JSB Exact Jumbo Heavy
H&N Baracuda Hunter Extreme
More to do
Summary
Today we look at the accuracy of BB's .22-caliber Goldie that was also testing velocity for Part 2, thanks to BB's new Labradar chronograph. While this test does look at three pellets, for reasons I will explain as we go, this was more of a sight-in and confirmation test than a real accuracy test. If you want to make up a Cerakoted Avenger of your own or you're just considering buying a plain Air Venturi Avenger, don't wait. This rifle is accurate.
The test
I was set up on a shooting bench 10 meters from the targets. The rifle rested on a sandbag with the muzzle about 3-4 inches from the Labradar airgun trigger, which is a microphone.
The test target
There was a 5-shot test target inside the box with the owner's manual. It was from Pyramyd AIR who apparently tests all the Build Your Own Airgun guns. Let's look at that first.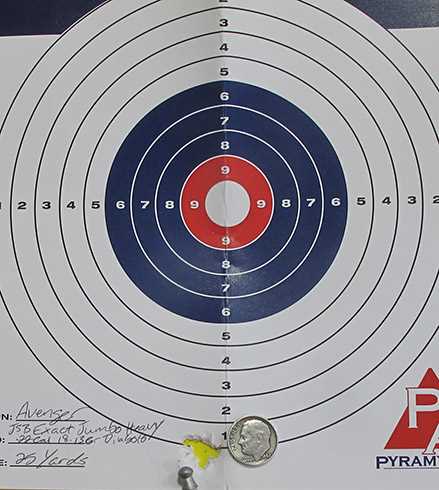 My Goldie came with a 5-shot test target at 25 yards. That group measures 0.269-inches between centers. Of course it is only 5 shots and not 10. So by adding 40 percent for group growth (no science — just BB's own experience) we get a group size of 0.377-inches.
Meopta scope
Do you notice how low on the target this group is? What does that tell us? It tells us that, like most rifles, BB's Goldie shoots low. Something has to be done about that when you mount a scope. I scoped the rifle with the Meopta MeoSport R 3-15X50RD second focal plane scope that was already shimmed in its rings. But even with the shim I still had to adjust the reticle up a lot — maybe a turn and a half of the elevation knob.
This scope is crystal clear, and it has an illuminated reticle (just the dot where the reticle lines intersect) that I can put on top of the 10-dot on a 10-meter rifle target. That gives me the best aiming solution there is. I know that the Avenger is accurate, and a scope of this quality helps bring out everything it has to offer.
One last comment on scoping the Avenger is the scope base on the rifle's receiver will fit both Picatinny and 11mm dovetail rings. That saved the day because the scope rings on the Meopta scope had 11mm bases. I did have to loosen the front ring and slide it forward to fit the rifle better, but it was a breeze for me to scope my Goldie.
First 10 shots
As I explained in Part 2, the first 12 shots were to zero the rifle. I shot what was an accurate pellet for the previous .22-caliber Avenger — the Air Arms 16-grain dome. Shot number 3 hit inside the bull I was aiming at, so I started a 10-shot group with it. But I was concentrating on the Labradar so much that I wasn't concentrating on my shooting. The first 10-shot group measures 0.426-inches at 10 meters. That's not a very good group for an accurate air rifle at 10 meters, but like I said — I was distracted by learning the chronograph.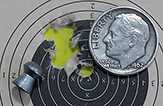 Ten Air Arms 16-grain domes made a 0.426-inch group at 10 meters.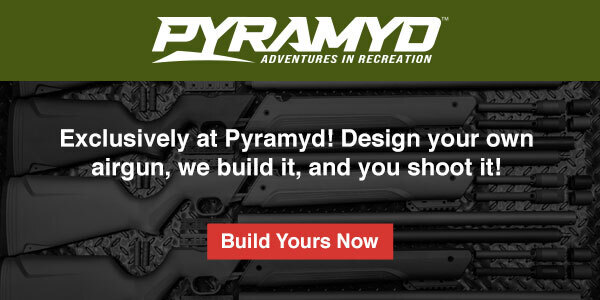 Second group
Okay, forget the chronograph. It works fine without intervention. Just shoot the target. This time 10 of the same Air Arms 16-grain domes went into 0.182-inches at 10 meters. That's more like it!


This is more like it! The Avenger put 10 Air Arms 16-grain domes into a 0.182-inch group at 10 meters.
I didn't adjust the scope after this group because I know that different pellets will move the point of impact. As long as the target's center 10-dot is maintained as my aim point the Meopta scope I'm using will keep me on target. When I find a great pellet at 25 yards I will adjust the scope, but even then I want to preserve the aim point.
JSB Exact Jumbo Heavy
The next pellet I tried was the one that Pyramyd AIR used for the test target shown above. The JSB Exact Jumbo Heavy pellet is pretty good in the Avenger, as I learned in my previous tests of the rifle. This time 10 went into a 0.346-inch group at 10 meters. I think we will see more from this pellet at 25 yards.

Ten JSB Exact Jumbos made this 0.346-inch group at 10 meters.
H&N Baracuda Hunter Extreme
I normally don't shoot hollowpoint pellets in accuracy tests because in my experience they aren't as accurate as domes. There are exceptions like the Predator Polymag that is surprisingly accurate except when one of the plastic points is askew. The H&N Baracuda Hunter Extreme is another notable exception that I have recently discovered. BB's Goldie Avenger put 10 of them into a 0.228-inch group between centers at 10 meters. That's very good.


BB's Goldie Avenger put 10 H&N Baracuda Hunter Extreme pellets into a 0.228-inch group at 10 meters.
More to do
We still need to know the trigger pull and the muzzle report, but as I am tuning my Goldie down in power in the next report I decided to put both of those tests there as well.
These Avengers give the shooter a wide range of choices for power. I don't need the highest power, which my rifle is close to at present, so in the next report I will detune it. That way I won't have to fill it to 300 bar — a pressure that taxes all my fill devices.
Summary
BB's Goldie is quite accurate, as we have learned today. I still need to test at 25 yards and perhaps farther, but the next thing is to get this rifle shooting with less power. I see by reading my test in 2020 that somewhere around 26-28 foot-pounds is where I want to be. I had thought it was lower than that, but I was wrong.
Are Avengers accurate? Yes, they are and you have read my tests of many of them.