This is a guest blog from reader Snake. Today he tells us about his new Umarex M3 grease gun that he waited for, for a very long time.
If you'd like to write a guest post for this blog, please email me at blogger@pyramydair.com.
Take it away, Snake.
The Umarex M3 Grease Gun
By Snake
This report covers:
First Impressions
Safety
Sights
Stock
Magazine
Trigger
Shooting/Accuracy
Details
Summary
Now it's BB's turn
The late great prophet Tom Petty told us that, "The waiting is the hardest part," and he was right. I ordered this Umarex M3 Grease Gun from Pyramyd AIR in September 2021 and then watched as the expected delivery date got pushed back month after month. Frankly, due to various world situations, I gave up several months ago on EVER seeing it. And then last week I got an email from Pyramyd asking if I still wanted it. Did I want it? Would I still like to hit the Powerball? It arrived last Friday (November 25).
First Impressions
Disclaimer: I've never owned, shot, or even held a real M3 Grease Gun of any kind, though I have seen several, and have some experience with the Broadhead Armory M3C, a semiautomatic-only lookalike that was available for several minutes back in the mid-1980s. The M3C was purely a "lookalike," constructed in an entirely different way from the real M3s, and shared no real M3 parts except the magazine (and possibly the barrel and wire stock).
Although billed as an M3, the Umarex gun actually replicates the later, simpler, product-improved M3A1 which dispensed with the cocking handle in favor of a simple finger-hole in the bolt, which rode under a lengthened dust cover.
And replicate it does, in spades. Size and shape seem to be identical, and the weight at 7.7 pounds is only a bit under the real M3A1's listed 7.95 pounds. I have to assume that the replica's handling and balance are very similar, if not identical, to that of the firearm.
Near as I can tell, all original M3s were delivered in a Parkerized or phosphate finish. The Umarex gun is finished in an attractive satin black (paint, powdercoat, or something similar, I assume) much like their MP40. I have seen at least one currently-owned M3 with a very similar finish, but I have no idea if that one was painted, satin-blued, or whatever. At any rate, the Umarex finish is, as I said, very attractive and businesslike.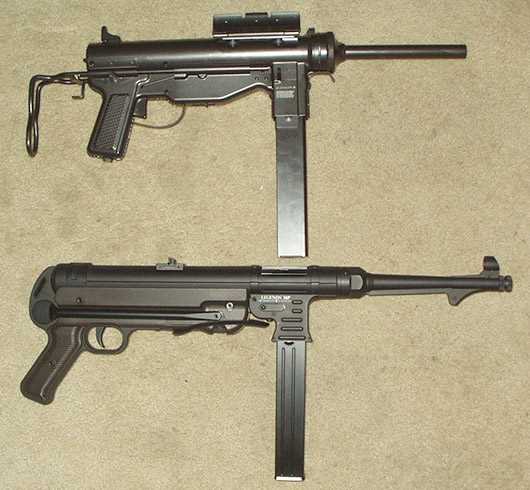 Umarex M3 and Umarex MP40, shown for size comparison.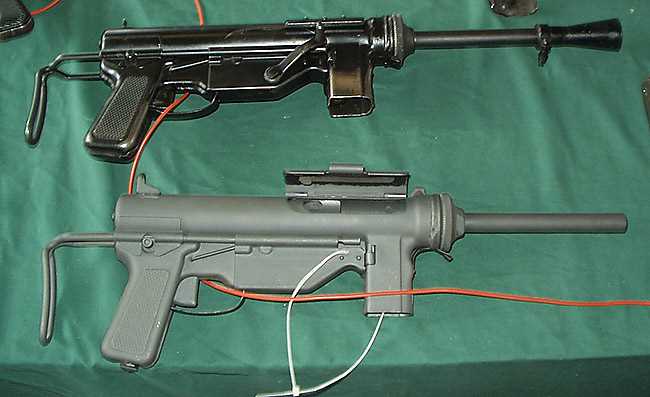 Two M3 firearms photographed at a local gun show about decade ago. Upper gun is a straight M3 with cocking handle and short dust cover; it seems to have been refinished in black. Lower gun is the simplified, product-improved M3A1 with long dust cover. It also appears to have been refinished in Parkerizing (phosphate coating).
Safety
The original M3 has no safety button, switch or lever. On the M3A1 the dust cover includes a projection which fits into a hole in the bolt when the cover is closed and the bolt is pulled back. This locks the bolt in either the rear or cocked position. As the M3s fired from open bolt, the gun was as safe as it was gonna get when the dust cover was closed. The firing pin is fixed in the forward position, so when that bolt slams forward the gun fires.
The Umarex gun, like their MP40 replica, has an unobtrusive 3-position safety switch on the underside for Safe, Semiautomatic, and Full-Auto. Oddly, it does not have the safety projection on the underside of the dust cover, but then again with the switch it's not really needed.
Sights
Sights are fixed, a blade front and an aperture rear. The front sight seems to be thinner than most USGI front blades I'm familiar with. It also looks a bit fragile, and subject to bending, dinging, or breaking if abused. Be careful with it. (On the bright side, it looks like it would be fairly easy to replace if need be.) The sights seem to be pretty well regulated—more on this under Shooting/Accuracy. The hinge of the dust cover is in view when aiming, but this is only a minor distraction and soon gotten used to.
Stock
Just like the firearm, the stock is a wire-rod unit that slides in and out. It includes the firearm's magazine loader projection, which is of course not needed on the replica. This projection interfered with my hand a little bit when the stock is collapsed but is out of the way when the stock is extended. The stock seems very sturdy with little if any play when extended.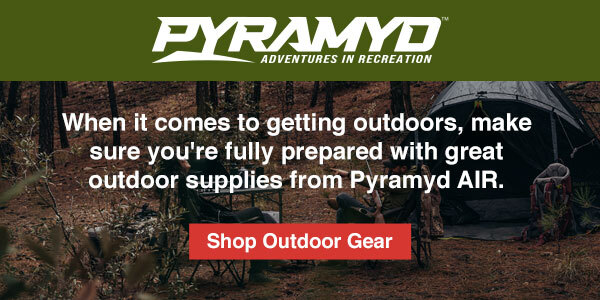 Magazine
The magazine is of the same general type as Umarex's MP40 and M1A1 Thompson, but it is NOT interchangeable with either; the three guns each use distinct, dedicated magazines. The Pyramyd website lists the capacity as 30 BBs, but I had no trouble getting 52 in mine and I suspect it actually holds 60 (I decided at this point not to risk malfunction by loading it to full capacity.) The BBs are easy to load after you get the follower tab locked into its loading notch. (I'm going to invent some kind of little tool to help with that.)
The magazine holds two standard CO2 cartridges, but just like the Umarex MP40 and M1A1 Thompson, the gun will run just fine on one cartridge, with an empty cartridge place-holding for the second one. On one cartridge, the power/velocity isn't reduced, just the shot count. The Pyramyd website lists shot count as about 120 per fill, but I easily got 104 (2×52) from just one CO2 cartridge. The gun stopped functioning full-auto at around round 98, but the last six fired just fine semiautomatic. A full fill with two cartridges should produce around 200 shots or more.
Trigger
As mentioned, I have no idea what a real M3 trigger feels like. [Editor: It's long, stiff and creepy.] The Umarex gun's trigger is probably on the high side of six pounds, and has a little creep and grit (as I imagine the real gun does), but who cares? This isn't a benchrest or target gun, it's built for full-auto rock-n-roll fun! The firearm has a very low full-auto rate of fire and supposedly a skilled shot can get off single shots; the Umarex gun seems to have a much faster rate of fire and I don't think single shots are possible. But if single shots are what you want, just set the safety for semiautomatic. Trigger reach on this gun is very short, much like the AR-15/M16, so I shot it just like an AR-15, pulling the trigger with the proximal joint of my trigger finger. This technique works well with an AR and it worked great with the Umarex M3.
Shooting/Accuracy
Functioning of the Umarex BB gun was flawless. I fired the first 10 shots semiauto, standing and leaning against a door jamb in my basement from about 8 yards. Six of the 10 went into a nice half inch, with the other four not far out (a 1-1/4-inch group for all 10). The group was about 5/8-inches to the left but spot-on for elevation. I then put up a fresh target (a small paper plate) and fired the rest of that magazine and most of the next one full auto, about 4 to 6 round bursts, from unsupported standing at about 7 yards.
These shots tore a nice "rat-hole" of about 2-inches or so, right on for windage but maybe 1 1/2" low. I should add that most of my Umarex guns seem to shoot slightly left and slightly low. I don't know if this is some lighting kink in my basement, or something about my particular eyes or sight picture or whatever but every shot would have probably hit a soda can and overall accuracy is — in my humble opinion, of course — quite good.
As the gun neared the end of the second 52-round magazine, it stopped running full-auto. The last six shots of that magazine spit out just fine semiauto, though, so I left no CO2 behind. (Remember, this was all on just one cartridge, not two.) I don't own a chronograph so can't tell you what the muzzle velocity might be, but I imagine it's similar to Umarex's MP40 and M1A1 Thompson.


Closeup detail of the shots on the targets. Left target is 10 rounds shot from about 8 yards, semiautomatic, from a braced standing position. Right target is 94 rounds fired full-auto in short bursts, unsupported standing, from about 7 yards.
Details
The gun has authentic sling attachment points (can't really call them swivels as they're quite solid) but no sling is included. The proper sling for an M3 is the common M1 Carbine sling and reproductions are available from numerous vendors, or perhaps at a local gun show near you. M3 firearms have a little oiler bottle screwed into the bottom of the grip, similar to the M1 Carbine's oiler. The Umarex gun has a knob there that looks like it unscrews, but I couldn't unscrew it with my fingers and haven't yet laid a tool on it. Someday soon I'll discover what might be hiding in there.
Summary
The Umarex M3 is authentic, well-made, functionally reliable, satisfactorily accurate, an excellent value for the price and an absolute joy to own and shoot. I couldn't like it more! If you want one, I'd recommend that you order one as soon as possible, as who knows how long things will be normal in the part of the world where it's made (Taiwan).
Now it's BB's turn
BB Pelletier has held and shot a lot of M3 and M3A1 grease guns. In his role as an Armor (tank) officer, he had them in his combat support company in Germany. He had several in his arms room and one time, without knowing beforehand, he sent his two Armored Vehicle Launch Bridges (AVLBs) through East Germany to northern Germany where he was reunited with them for a joint exercise called Grosse Baer. Each bridge tank had two grease guns clipped to their interior walls because his bridge section sergeant forgot to take them with him on the train. The whole battalion and all its equipment went through west Germany, but BB's two bridges went through east Germany because they were 4 inches too wide to pass through the train tunnel in the Hartz Mountains. But BB wasn't afraid because the hatches of both bridges were secured by sturdy brass government padlocks. After all — we can't be too careful about weapons' security!
Then there was the time when BB demonstrated the grease gun to ROTC cadets at Fort Lewis, Washington. He had two silhouette targets covered in balloons that were held on the targets by a net. BB intended to explode the balloons for dramatic effect but all the slow-moving .45 ACP bullets did was push them aside. Not a single balloon popped. Wellllllll — BB shot the sub from the hip, so maybe he missed the target altogether. Then, an embarrassed and angry BB grabbed an M16 and shredded all the nasty balloons!
Then there was the time when BB's guards had to react to the Baader Meinhof gang in Tennenlohe forest, in Erlangen, Germany. So the battalion commander sent them out in an M113A1 Armored Personnel Carrier, each armed with an M3A1. But no problem, because the covers that are also the guns' safeties were closed. No way they could get jostled around and fire accidentally inside an armored vehicle, where the bullets would rattle around like a golf ball hit inside a tile bathroom!
Oh yeah — BB knows grease guns!