This report covers:
All over
The rest of the story
So what?
Getting started
Avoid
Caesar
Today I would like to address getting into airguns. It seems like a simple subject for those already in, but try to remember what it was like for us. It's not that simple.
All over
New airgunners can be veteran firearm shooters who want to see what airguns are all about. Or they can be those new to shooting altogether who have someone to teach them (see the series Teach me to shoot), or they can be people who try to get into airgunning on their own. Each of these people will need different things as they get into the hobby. But they all need to know the things I will address today.
The rest of the story
I'll come back to getting started, but what I have to say next is actually a part of it. So, listen up!
Two weeks ago I watched a Sheridan Model A (commonly called a Supergrade) sell for $5,000 on eBay. Reader Cloud9 and I talked about it because neither of us had ever seen one go for so much. I am aware that prices rise on vintage collectibles over time, but seldom do they double like that in just days. At last year's Texas Airgun Show I had my Supergrade for sale at $2,300. I figured if anyone was willing to pay that kind of money I would surely part with it. But $5,000? That's a price I never heard of.

Yes, in time I would expect a Supergrade to command that much, but it ought to take at least another decade to get there. And if anyone has $5,000 to spend, my Supergrade is available right now! However I also have a Dragonfly Mark 2 in .22 caliber that is:
1. More accurate.
2. More powerful.
3. Able to be scoped readily, and
4. Pumps easily.
Stay with me, new guys, because I'm closing in on today's main point. But first, let's look at a second eBay listing.
This one is currently up on eBay as this report is published. As you can see, the starting price for the auction is $2,700 — just over half of what the last one went for.

And here is the first part of the description:
"Sheridan model A super grade, with Weaver G4 scope. Does NOT hold air, everything else seems fine. This is the holy grail of American air guns. Rare and collectable. Very hard to find."
Is it rare and hard to find? Absolutely. Is it collectible? Absolutely NOT!
And here starts today's lesson. This rifle leaks — or at least that's what the seller says. Well, surely you can get it resealed? Almost certainly not; and don't call me Shirley. The number of guys who can repair a Supergrade valve is approximately equal to the number of jockeys who weigh 180 pounds and stand 6 feet tall.
And, by the way, if you haven't spotted it yet let me point it out. This second rifle is missing its adjustable peep sight and someone has drilled and tapped the aluminum receiver to mount a .22 scope. I know that because I know Supergrades and I also know vintage .22 scopes. Let me show you the other side of the receiver.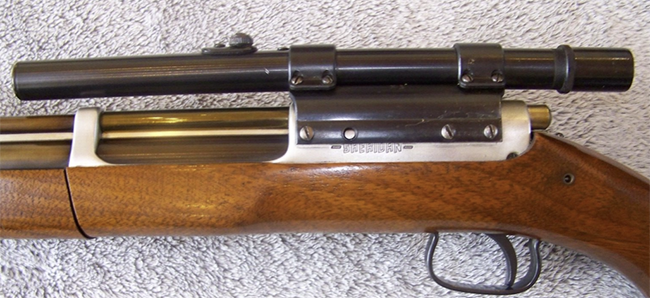 There it is — a vintage .22 rimfire scope with a mount that required the Supergrade receiver to be drilled and tapped.
Number one — that missing rear peep sight subtracts about $500 from the value of the rifle. Think not? Find another one. Number two — drilling and tapping holes into the receiver of a Sheridan Supergrade takes it down from the $2000+ level to around $500-700. Why? Because it's no longer collectible. Now it's just a shooter, and, as I have pointed out, it's neither as powerful nor as accurate as a $200 Dragonfly Mark 2.
I know I'm a crotchety old man who is out of touch with reality, but I do know something about collectibles. A Rolex Submariner wristwatch is collectible; a clone watch that copies it is not. A $400,000 Jaguar XKE is collectible, but put a bluprinted 350 Chevy V8 that has 150 more horsepower in the car and you just built a $10,000 rat rod — especially if you modified the car's frame to accept the new engine. Believe it or not, back in the 1960s someone actually did install a 6 cylinder Slant 6 Dodge engine in an XKE. As I recall it was because, "The Jaguar engine is too costly to maintain and parts for the Slant 6 are everywhere." Yeah! You betcha!
Drilling and tapping holes in rifle receivers is the biggest no-no in the world of collectible guns. And don't think that if they have flush screws installed when they are't holding something that it makes a difference.
This travesty is closely followed by scratching your name or social security number into the finish of a pristine collectible — like my 03-A3 Springfield.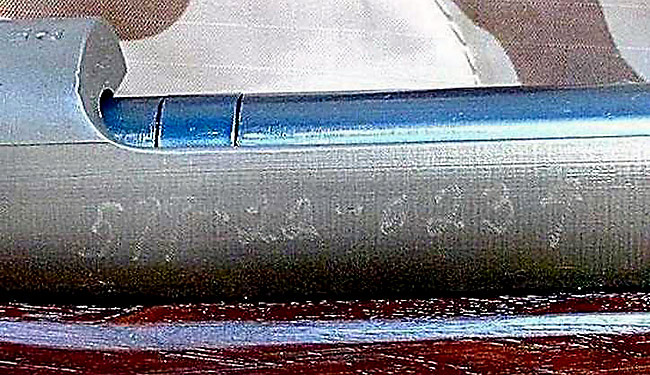 Ahh! Bubba and his electric pen! "I don't care what happens to this rifle after I'm gone. Right now, it's mine!"
That faint scratching on the receiver of my 03-A3 Springfield takes a $1,500-$2,000 collectible down to the level of a $600 shooter that's in nice condition.
So what?
So– new guys — stay away from the vintage airguns unless you have someone knowledgeable to advise you. Just ask reader Michael about the issues involved when buying a collectible airgun. Michael — remember the saga of your Winchester 427?
Getting started
I'm advising you to buy new, or, if you do buy used, buy one that's still being made. For example, a TX200 Mark III that sells new for $780 can be purchased used for $400-500. Just ask reader Jonah, who bought one at the Texas Airgun Show. Now as I recall there was also one selling for $850 at the same show but I think that one went home with its owner.
The next best thing is to wait until Pyramyd Air has refurbished guns on their website. You can usually save close to $100 on these (for guns selling at the $800 price point) and sometimes they haven't even been taken out of the box!
Leave the used FWB 124s and the HW55s for someone who knows what they are looking at. If you do decide to get one, make sure you have someone knowledgeable to help you. Do you remember the recent report I did on the FWB 124 that a man brought to the Texas Airgun Show, hoping to find someone to fix it for him? I took pity on Glenn when he couldn't find anyone at the show to fix his rifle, so I took it home and fixed it myself, letting you watch over my shoulder. That 124 turned out to be the fastest one I have ever seen, let alone worked on. My point is, unless you know a guy, don't be buying vintage airguns just because everyone says they are great. And no — I do not work on airguns!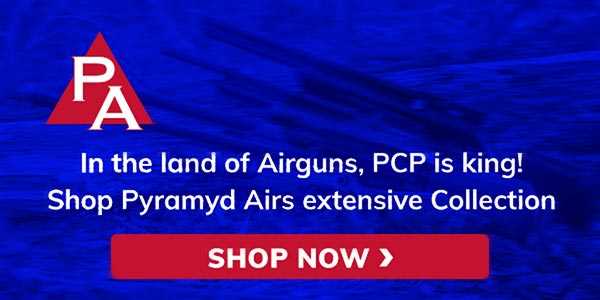 Avoid
Avoid airguns sold in discount stores. The experience will just not be that good.
Avoid airguns whose technology you don't understand. BB's rule is springers for everyone, multi-pumps as well; avoid CO2 unless you're compelled; full-auto and black guns are just for cartoons and precharged pneumatics send you over the moon.
I recommend a breakbarrel spring-piston gun for most people, with the HW 30S and HW 50S at the top of the list. The older Diana 34 is a wonder as well, but the EMS has issues, read the blog; can't you tell?
Ask your questions before you decide. It's the same for airguns as it was for your bride. If you make a mistake it will help you remember; and you will know better what to ask in December.
Caesar
Caesar Augustus said festina lente (make haste slowly). That's good advice for getting into airguns.