Second-generation .25-caliber Benjamin Marauder in a synthetic stock.
Part 1
Part 2
Part 3
Part 4
Part 5
Part 6
Part 7
Part 8
Part 9
Part 10
Part 11
This report covers:
Different report
Scope
JSB Exact King Heavy Mark II
Trigger
Predator Polymag
The JTS Dead Center
One more thing
Summary
It's been a long time (6 years) since I last reviewed this Generation 2 .25-caliber Benjamin Marauder. I have missed shooting it, but today I'm testing it for two important reasons. First, I'm testing it because JTS gave me some of their new .25-caliber pellets to test and this is currently one of the few repeating .25-caliber air rifles I own. And second, I now have a JTS Airacuda Max precharged pneumatic in .25 caliber to test for you and I needed a basis for comparison. If the Airacuda Max was a .177 or a .22 I'd have a lot of airguns to compare to but in .25 caliber the cupboard is, if not bare, at least very sparse.
Today really isn't about testing the .25-caliber Marauder again. I have tested this rifle many times over the years. Nor do I intend comparing it with the JTS Airacuda Max. I just selected the most accurate repeating .25-caliber PCP I own as a means of talking about the .25-caliber JTS pellet in general. So today is a partial test of the .25 caliber JTS pellet, with more to come when I test it in the Airacuda Max.
Different report
Since I have tested the .25 Marauder many times, today's report will be different. I used the Labradar chronograph so I could check velocity and accuracy at the same time. I will report both today.
Scope
When I looked at the Marauder I saw that it had a vintage UTG 10X44 SWAT scope mounted. In the last report back in 2017 it had the 4-16 Bubble Leveler. So I wasn't certain if the rifle was sighted in. One shot from 12 feet showed that it was on target for 25 yards, so I backed up and shot the test from there.
The test
The .25-caliber Marauder holds 8 pellets in its rotary magazine, so each group will be shot with 8 pellets unless I say otherwise. I shot with the rifle rested on a sandbag at 25 yards. I also recorded all shots until something happened that I'll get to in a bit.
JSB Exact King Heavy Mark II
The first pellet I tested was also the sight-in pellet — a JSB Exact King Heavy Mark II. This pellet weighs 33.95 grains and went out of the rifle at an average velocity of 723 f.p.s. That's an energy of 39.4 foot-pounds.
The low velocity was 715 f.p.s. The high was 733 f.p.s. That's a spread of 18 f.p.s.
The group and the velocity string above only contain 7 pellets because the first one was fired as a sight-in check from 12 feet. Seven Kings went into 0.25-inches at 25 yards. This pellet has been even more accurate in this rifle in the past and I'll address that in a bit.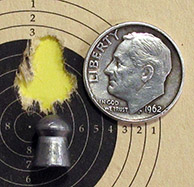 Seven JSB Exact King Heavy Mark II pellets made a group at 25 yards that measures 0.25-inches between centers.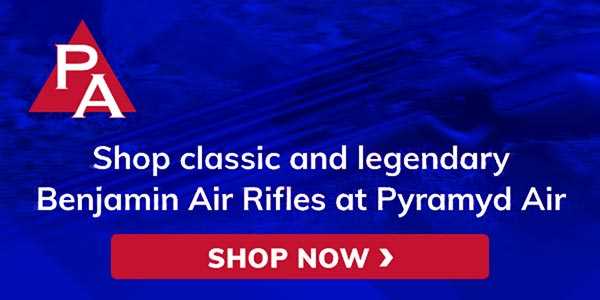 Trigger
The Marauder trigger is set WAY too light for me! It needs to be adjusted heavier. It breaks with just 3 oz. of pressure and I cannot feel a stage two. That HAS to be adjusted!
Predator Polymag
Next up was the .25-caliber Predator Polymag hollowpoint. They weigh 26 grains, according to the tin. They averaged 791 f.p.s. That's an energy of 36.1 foot-pounds.
The low velocity was 690 f.p.s. The high velocity was 846 f.p.s. That's a spread of 156 f.p.s. That"s too high for the Marauder. I don't think the chronograph is recording correctly.
Eight Predator Polymag pellets went into 0.66 inches at 25 yards. This Marauder is WAY more accurate than that!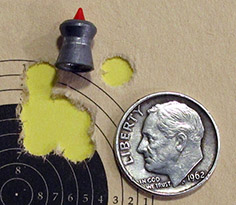 Eight Predator Polymags made a 0.66-inch group at 25 yards. That's out of profile for the Marauder.
The JTS Dead Center
This is the pellet I really want to evaluate in the Marauder. That will let me know how well this pellet shoots so when I test it in the Airacuda Max I'll know something going in.
And this test was different. Remember those "I'll tell you in a bit?" things I said earlier? This test is where they all came to a head. To shoot for accuracy and to test velocity simultaneously I have to shoot with the rifle's muzzle close to the microphone that triggers the radar. That makes me sit scrunched up at the shooting bench because of where the muzzle has to be for me to get as close to the microphone as I can get. Remember — the Marauder has a shroud and is very quiet. That is problem number one and the reason why I believe all but the last of today's groups aren't as small as they could be.
Problem number two is I shot the microphone holder! That ended my trying to record velocities and accuracy at the same time — at least in my house from 25 yards. Not just today — for all time!
So I wound up shooting three groups with the JTS pellet. The first one measured 0.508-inches between centers. The second group measured 0.691-inches between centers and that group had only seven pellets because the first one hit the clip that holds the microphone to the Labradar, sending it about 12 feet. Following that I shot a lot faster, taking less care in my aim because of what happened. So phooey on that group.
After the Labradar was taken down I rearranged the shooting table for comfort and a good hold. This time I did just one thing and I did it to the best of my ability.
The third group of JTS pellets is eight in 0.503 inches between centers. That's so close to the first group with this pellet that it's a tie and any difference is a measuring error.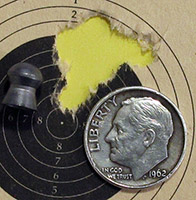 The best group of JTS pellets was made when I stopped trying to chronograph the shots and just concentrated on accuracy.
Before I shot the microphone clip I measured the velocity of the 25.4-grain JTS pellet at an average 810 f.p.s. That's good for 37.1 foot pounds of energy. The low was 612 and the high was 870 f.p.s. That's a difference of 258 f.p.s. There is no way that number is right. And, only one pellet read below 821 f.p.s. The way I had the radar set up at 25 yards had to cause that inaccurate reading.
I will also mention this — the JTS pellets went into the barrel extremely hard. The difference between them and the other two pellets was noticeable!
One more thing
While all this was going on, my cat, Dale Evans, was throwing up and trying to defecate all over my house. That went on for two hours. It had also happened back in October but it was much worse this time. I knew that it was finally time to send her home to be with my wife, Edith. So it's going to be a lot quieter here at casa Pelletier. But 18 years is a long time and now she is out of pain.
Summary
The .25-caliber JTS pellet seems to be good, but in this Marauder the JSB Exact King Heavy Mark II pellet clearly has it beat. Next I'll try the same pellets in the JTS Airacuda Max, which in a way will compare that rifle with the Marauder, though that is not my intention.