This report covers:
The test
JSB Exact RS
RWS Superdome
Trigger performance
RWS R10 Match Pistol
Crosman Premier 10.5-grain domes
H&N Baracuda Green
Discussion
Summary
Today we start looking at the accuracy of the Norica Omnia ZRS .177 breakbarrel air rifle. I was all set to mount a scope before I realized that this rifle has open sights. So that's where we'll begin.
The test
Today's test was shot from 10 meters off a sandbag rest. And, since the Omnia is recoilless, I rested it directly on the bag.
When an air rifle comes with open sights I assume it will be close to sighted in from the start — unlike a rifle I have to scope. So I start shooting from 10 meters, none of this 12-foot stuff. It took two shots to get the pellets hitting inside bullseyes on the 10-meter target.
I shot 5-shot groups today for two good reasons. First, I had no idea how the Omnia would shoot. This is such a novel and different air rifle that I had no clue how it would perform. And second, I wanted to test more pellets. With what I discovered during today's little test I now see that I need to test other pellets. And, as I hope you'll soon see, there was also a big clue about which pellets might be accurate in this rifle. Let's get started.
JSB Exact RS
First up were JSB Exact RS pellets. Five went into 0.334-inches at 10 meters. It's a nice, neat group that was just to the left of center on the bullseye.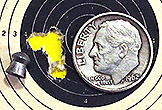 The Norica Omni ZRS put five JSB Exact RS pellets in a great group at 10 meters. It's 0.334-inches.
Okay, that success calmed me down. Apparently the Omnia is an accurate rifle. Now — is it pellet picky or does it shoot well with all pellets?
RWS Superdome
Next to be tested was the RWS Superdome. The Norica Omni ZRS put five of them into 0.447-inches at 10 meters. The group is open, but three pellets did land in a tight little 0.17-inch group. This is a hard one to call since I'm shooting with open sights, but I'm going to say the Superdome isn't the right pellet for the Omnia. Maybe after I scope the rifle I'll come back and try this pellet again. For now though, I'm going to move on.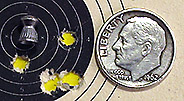 The Norika Omnia put five RWS Superdomes into a 0.447-inch group at 10 meters.
Trigger performance
I will say that the trigger has a great first stage that stops solidly at stage two. Stage two still has a lot of creep but it's light and manageable.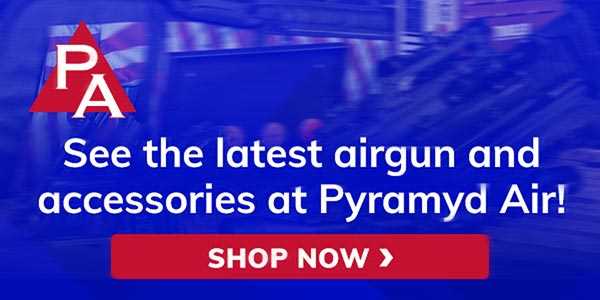 RWS R10 Match Pistol
Next up was the 7-grain RWS R10 Match Pistol pellet. This one was a real surprise! Five pellets made a 0.395-inch group at 10 meters, but four of them are in one tight hole that measures 0.128-inches between centers. Looking at this group I know two things. First, this pellet is great in this rifle and second — this Omnia can really shoot. The one "stray" pellet is so close to the others that I am sure it was caused by an aiming error.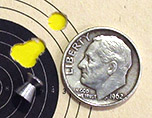 The Omnia put five RWS R10 Match Pistol pellets into a 0.395-inch group at 10 meters.
Crosman Premier 10.5-grain domes
The fourth pellet I tested was the Crosman Premier 10.5-grain dome. Five went into 0.973-inches at 10 meters. You may have wondered about the Superdome pellets. I sure did. But I think there should be no doubt that this particular pellet is not for the Omnia!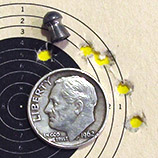 The Omnia put five Crosman Premiers into a 0.973-inch group at 10 meters. Seeing this I don't think there is any doubt that this pellet is not right for this rifle!
H&N Baracuda Green
The last pellet I tested today was the H&N Baracuda Green dome. This 6.64-grain pellet is one I haven't tested a lot recently but it seemed to do okay in the Omnia. Five went into 0.504-inches but once more there was a teaser, and four of the five are in just 0.142-inches. This is definitely a pellet to try again, once the rifle is scoped.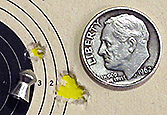 Five H&N Baracuda Green pellets went into 0.504-inches at 10 meters with four in 0.142-inches.
Discussion
I hope you can see how accurate this Omnia rifle wants to be, because I sure can! But there is so much more to test. I want to scope the rifle and get back to 25 yards, because I think the aiming errors will go away. In today's test only the Crosman Premier pellets were a positive no for the future. I think we have a lot more to see, coming up!
Summary
The Norica Omnia ZRS rifle is the strangest air rifle I have tested in my recollection. Based on its looks alone I wouldn't have given it any chance to excel. And now it seems like it has fooled me completely. I sure hope so!
Norica — here is a message from me to you. You have apparently done quite well with this air rifle. I'm not ready to call it a winner just yet, but you are getting very close.