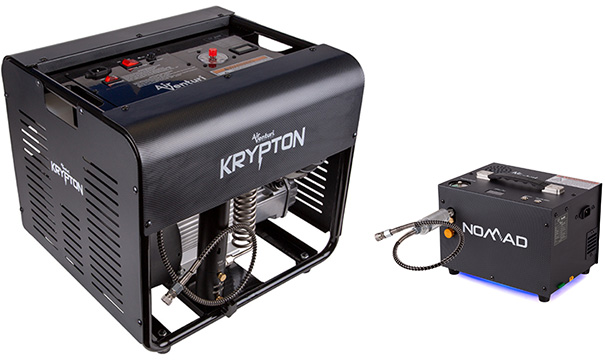 The Air Venturi Krypton is a large compressor. The Nomad III is a small one.
This report covers:
Compressor price
Scuba tank?
Big bores
Big compressors
Bulletproof!
Downside of the big guys
Small compressors
Downside of the small guys
Summary
Let's talk about air compressors today — specifically the new wave of compressors that retail for under two thousand dollars. I will discuss prices in this report but perhaps not in the way you imagine. In fact, price is a great place to begin.
Compressor price
I remember back to around the year 2000, or perhaps just a little after. Back then if you wanted an air compressor for an airgun you expected to pay over $3,000 and what you got for that was a loud, heavy beast that had to be watched every second it ran. I remember seeing the first compressor Eric Henderson got. He brought it to his big bore shoot and I used it to top off an 80 cubic foot aluminum scuba tank. Wow! That's a mouthful. Let's break it down.
Scuba tank?
Back in the day scuba (self-contained underwater breathing apparatus) tanks were how we rolled. It was only 20-25 years ago, but to a newer airgunner it's a "Whaaaat??" It's like the shoebox-sized cellular phones that existed in the 1980s or the 10 megabyte hard drives from the mid-80s that were as large as desktop computers.
In those days most scuba tanks filled to 3,000 psi. Some of the rich kids had 120 cubic foot steel tanks that held 3,300 psi. The poor kids had 2,200 psi tanks, so they detuned their rifles to get more shots from lower-pressure fills. They said things like, "A squirrel hit by a .22-caliber pellet traveling 500 f.p.s. is just as dead as one hit by a pellet going 800 f.p.s."
Then carbon fiber tanks arrived on the airgun market and, while they were frighteningly expensive compared to scuba tanks, they also held a lot more air. For a brief period (8-10 years?) airgunners were blessed to have all the air they needed, but then somebody got the idea that putting higher pressure in the reservoir meant a lot more shots or higher velocity or both. Most companies overlooked the valves in their guns and just focused on air pressure as the one solution for velocity and power.
Big bores
At the same time big bore airguns were becoming the rage. Where 30-50 shots on a smallbore fill was considered good, three powerful shots on a big bore were considered the max. Those big guys really use the air! Which brings us to our main topic — compressors.
Big compressors
When the Omega Supercharger came on the market, I could scarcely believe it. It wasn't $3,000. It wasn't even $2,000. It was $1,800, and, with my writer's discount, it arrived at my house for a little over $1,000. My wife, Edith, whipped out the checkbook so fast when she heard the price that she broke the sound barrier!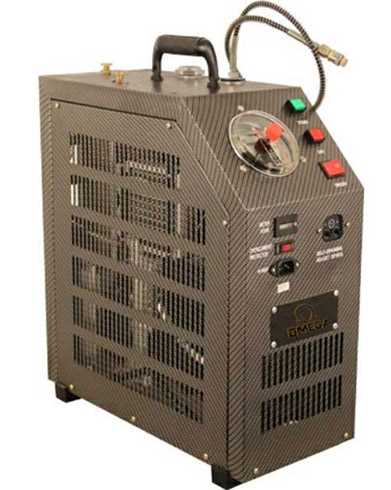 Omega Supercharger air compressor.
I used that compressor for many years, until the large Air Venturi compressor came out. It's called the Krypton today but mine had no name. That's the big guy pictured up top on the left.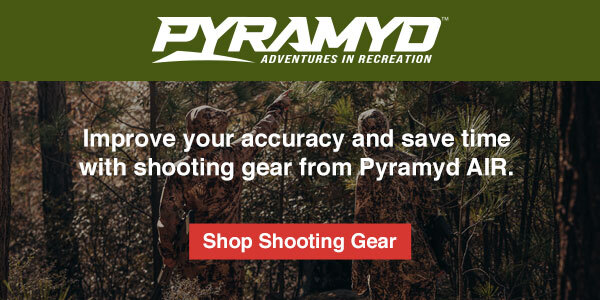 Bulletproof!
Guys, unless you lived through the lean years when airgunners had to plead with dive shops and paintball shops to fill our carbon fiber tanks you can't fully appreciate what this new wave of reliable air compressors has done for our hobby. Oh, I know that some of you are dedicated spring gun fans and ain't nothin' gonna change your minds. But there is a growing contingent of guys and gals using precharged pneumatics today and for them these affordable compressors are a Godsend!
These compressors fill fast. They are reliable. They are set-and-forget, as long as you use reason. In other words, don't go to the grocery store while the compressor is running. But you can be in another room doing something else. As long as you can hear the compressor things will be good.
You can set the fill pressure and most of them will turn off the compressor when that pressure is reached. If they are water-cooled the water pump remains on until you turn it off, and sticking your hand in the cooling air stream is a good test, though I almost always leave the pump running for a minimum of 15 minutes.
These big guys dry the air before it goes into your tank. That was a modification that had to be added only a few years ago; now it's standard.
You know my problem with my big compressor? I don't use it that much! That's right. I have to look for reasons to fire it up, just to keep the seals fresh.
Downside of the big guys
Sure there is a downside. The big compressors are still expensive, despite what I said earlier. They are also very heavy. And, if all you want is to fill an airgun, they are quite a bit of overkill, unless that airgun has a super-large reservoir. Sorta like drinking from a firehose.
The other downside is less obvious but just as real. If you buy a large air compressor you are going to also buy one or more carbon fiber air tanks. I don't know if you have looked at what they cost recently, but it's at least as much as eight sheets of half-inch plywood. For most of us buying a big air compressor means extended talks with the Chancellor of the ExChequer.
For me the big compressor is the way to go. My Air Venturi was used (by Pyramyd AIR, in-house) when I got it and I have used it for almost a decade. There has been a little maintenance over the years, but darned little for all the benefits derived.
Small compressors
I show a Nomad III compressor above but there are a host of small compressors on the market. In fact I just noticed the Air Venturi Rovair 4500! Pyramyd AIR says it fills guns just as fast as the Nomad III, and we know that one is 25 percent faster than the Nomad II. I'm a-thinkin' I gotta try that one!
The prices are one of the big features of these smaller compressors. Some like the Rovair,are under $500. And, to be completely honest, there are other compressors from China that are sold on eBay for prices even lower than what these compressors cost, but I have never tested one, so I have zero experience with them. Many of the compressors on the Pyramyd AIR website are also made in China.
Small compressors are for single gun use. In the beginning, which wasn't that long ago, these guys had many of the features of the large compressors, but as time passes they have evolved into units specifically designed for the purpose of filling one airgun at a time.
Just like the large compressor these are set and forget, but I would stay closer to them than to a big guy. That's not so had because their fill times for single airguns are usually quicker than when you're filling a large carbon fiber tank. And these small compressors are even more maintenance-free than the large ones. That's because most of them (if not all, by now) are cooled by fans alone — not water. That makes them lighter, more portable, but also not as capable of running long times.
On the plus side these guys can also be powered by 12-volt car batteries and they come with the cables to make the connections. Just be sure to run the car's engine when you do this to keep from discharging the battery.
Downside of the small guys
The smaller compressors shouldn't be run for a long time. Fill an airgun and then shoot it while the compressor cools. Don't think of these as club compressors where the guns can stand in line for a fill. For that you need a big one.
Summary
Today's air compressors for airguns are quite advanced from where things were just a few years ago. If you're new to the hobby the prices may seem high but believe me when I tell you that the guys who went before you paid for this advancement.