The HW 30S over the old-style HW 30 stock.
This report covers:
What happened
The tests
Target one
Target two
Target three
Target four
Discussion 1
Target five
Discussion 2
Summary
Today is Monday and I asked you to wait for this day. I have something interesting to show you.
I'm writing this last Friday morning, as I had an eye exam early that morning. They dilate my eyes and I wouldn't be able to shoot or even to type for many hours on that day. And, no, Yogi, I didn't study for this exam!
What happened
What you're about to see took place over two days — last Wednesday and Thursday afternoons. On my HW-30S I showed you both the front sight inserts and the rear sight notches. Before shooting the targets you are about to see, I installed the widest front sight square post and I selected the widest rear sight notch. Let's look at those now.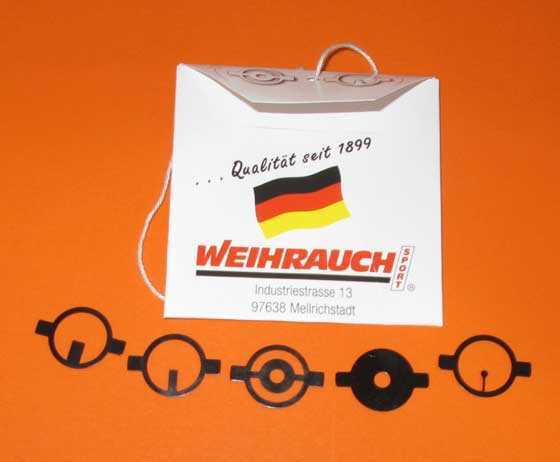 HW 30S came with these front sight inserts. I installed the widest one on the left.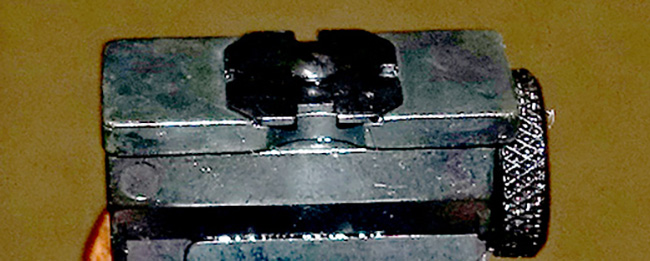 These four notches on the rear sight can be changed to match the front blade. I selected the widest one on the bottom.
Changing the sights this way made them so clear that I could see the front sight without my glasses. I knew I was onto something important!
The tests
On the first three targets I stood offhand and unsupported and shot at 10 meters. I didn't wear my glasses. I'm shooting the JSB Exact Heavy pellet that has been the most accurate in this rifle so far. I will squeeze the trigger until the rifle fires by surprise.
Target one
On the first target I put five pellets into a group measuring 1.951-inches between centers.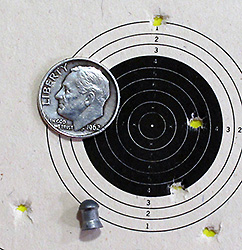 On the first target I put 5 shots into a 1.951-inch group at 10 meters. Not too good.
Target two
For the second target I found a better placement for my feet, so I wouldn't wobble as much. Everything else stayed the same. This time five pellets went into 1.688-inches at 10 meters. A definite improvement, but still not too good.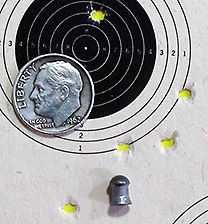 The second target was better than the first at 1.688-inches between centers, but still not that good.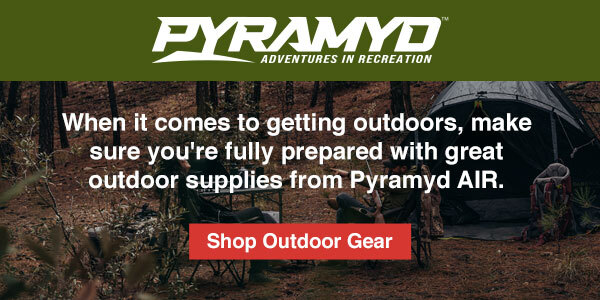 Target three
For target three I worked on finding the most stable position for my legs. That stopped most of the wobble. This time I put five into 1.553-inches at 10 meters. It's better, but still not good enough.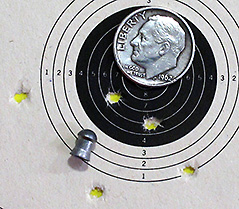 Target three is better because of the stabler shooting stance. The group of 1.553-inches wasn't as good as I wanted.
Believe it or not, just these three groups wore me out! I decided to stop for the day (Wednesday) and to shoot some more on Thursday. While I waited, I pondered what I was doing. Remember that word, ponder?
Target four
Target four was the first target shot the next afternoon. It was late in the afternoon and I had already exercised and showered. I remembered the last target from the previous day, so I worked hard to plant my feet in a stable position. Again I shot without glasses.
This time I put five shots into 1.888-inches. It was better than the first target shot the day before, but worse than the other two.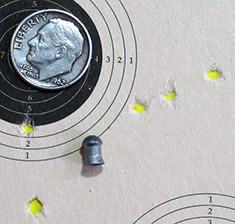 Target four was five shots in 1.888-inches at 10 meters. It was better than the first target from the day before but worse than the last two.
Discussion 1
The goal for this rifle is a critter gitter. I doubt any critter will stand still while I shoot 15-20 warmup shots at it. This was not working. I needed to try something different. I needed every advantage I could get!
Target five
For target five I put on my prescription glasses. It took a moment to get used to seeing the front sight through them, but I could see it clearly. For the rifle hold I tried pulling the butt into my shoulder hard. I held my off hand out under the forearm, resting the rifle lightly on my palm. I learned that from a reader comment and the rifle stopped wobbling around.
I also moved over to a padded chair and rested one leg against it. It came up to my waist. That ended the wobbling around and I was still at 10 meters. This time I shot by intentionally pulling the trigger rather than squeezing off the shot. I had been squeezing off the shot and letting the rifle surprise me on all the other targets on both days. I say this as a note to myself. Many may disagree, but look at what happened.
In target five the first three shots went into the bullseye. Then, because one reader said squeezing the trigger until the rifle fired on its own was better I did that for shot number four and threw the pellet wide. It was a called pull, and I labeled it on the target. On shot five I went back to pulling the trigger the way I did for the first three shots. This time four shots are in 1.032-inches and they are exactly where I wanted them to be. That wide shot opened the group to 1.873-inches between centers. Guys, I'm calling this success!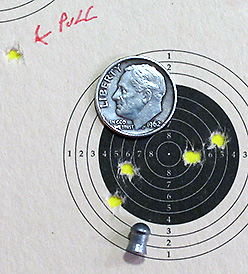 On target five the four deliberate trigger pulls are in 1.032-inches between centers and the one shot where I squeezed the trigger until the rifle fired opened the group to 1.873-inches.
Discussion 2
I need to lean against something to stop my wobble. The butt of the rifle should be pulled into my shoulder hard and the forearm rested lightly on my cupped open palm, held far out under the forearm. I need to wear my glasses. And most importantly of all I need to deliberately pull the trigger.
Am I done? Nope. These sights work quite well for me, but something else might be even better. Target five above shows me about where I should be offhand at 10 meters. These remarks are notes to myself, so please don't try to tell me what I did wrong. You can say what you do, but leave me where I am.
I also need to learn to shoot THIS rifle. Shooting this little beauty is like eating peanuts; it's hard to stop. It cocks easily, shoots without vibration and I know it's accurate. The trigger breaks right where I want it. BB is a happy camper!
Summary
This series is completely different than any I have ever written. It's not a test of an air rifle, and yet it is. It's not about a tuneup and yet that's what made this rifle sing. It's not about BB getting back to shooting a rifle offhand, because he never could. And look at all the reports that have fed into this one:
Not the way it has to be
The fool with 100 airguns
That one airgun
What BB did
Rifle stocks Part 2
It comes together
The importance of sight(s)
What a difference a stock makes: Part One
What a difference a stock makes: Part Two
Out of my sight
And, lest we forget the 14 reports I did on the HW 30S.