This report covers:
Dropped 4 points
What good is it?
Regulation
More shots
Temperature limitations
Power limitations
So what?
CO2 yes or no?
I'm writing this report to balance the scales so all three powerplants receive exposure. It's certainly not equal among the three — spring-piston, compressed air and CO2, but at least they are all addressed to some extent.
As airgunners you have probably picked your favorite one. And some of you like all three. Personally I like precharged when I'm working with them, multi-pump the same and the same for single strokes, then of course the same for springers. When I'm shooting CO2 I find that I like the other powerplants better. I am not a CO2 guy.
Look at today's title carefully. It could be asking why don't you try CO2, but just as easily you can drop the question mark and it can be telling you why CO2 isn't good for you. I suppose that summarizes how I feel about the gas. Let me elaborate.
Dropped 4 points
When I was shooting in a sanctioned regional match with my Chameleon target pistol I was in the middle of the match when my pistol ran out of gas. I had been shooting 9s and 10s and the hold for the next shot was a perfect 10, but I heard the pellet go out and knew that the gas pressure had dropped drastically. Instead of a 10 I shot a 6. It was directly below the 10.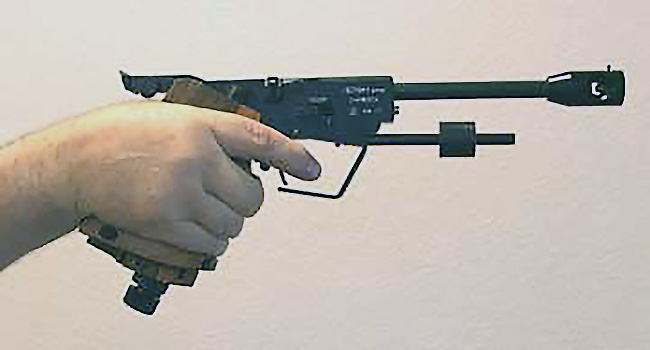 I was running my Chameleon target pistol on bulk CO2. There was no way to tell how much gas remained and it ran out in a match, causing me to drop 4 points.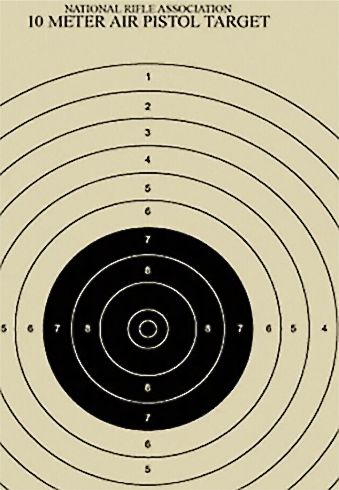 Instead of 10 points the Chameleon's gas ran out and the pellet hit the six ring, directly below.
That shot took the wind out of my sails and I started flubbing my shots. What should have been my first Expert match score (545/600) dropped to a low Sharpshooter score (521/600) and ended my time as a pistol shooter. On the drive home my Chrysler Town and Country minivan blew its transmission from a flawed nylon gear that the manufacturer knew about and my day/week/month was gone. If I had been more determined, this experience would have strengthened me and I might have gone on to national-level competition. But instead I became an also-ran.
Am I blaming CO2 for my failure? Yes and no. Yes for the loss of 4 points and no because I'm the one who quit. But I will say this — you don't see CO2 pistols or rifles on the medal stands at the World Cup and Olympic level that often.
What good is it?
If CO2 can run out at inopportune times, as I have just related, what good is it? Why do we use it at all? Here are some reasons.
Regulation
Everybody knows that a pressure regulator is a good thing for an airgun. We want them in our precharged pneumatics (PCP). Well, with CO2 the gas gives you pressure regulation. Here's how. When you charge a bulk CO2 tank, such as the one on my Giffard rifle, or use a CO2 cartridge such as the ones I reported on in That little silver bottle, as long as liquid carbon dioxide remains inside the tank, the pressure remains constant, within a range of pressures that depend on the temperature. That means the velocity remains constant, as well.
What happens is some of the liquid evaporates to gas as the gas pressure decreases. A shot decreases that pressure and more liquid evaporates to take its place. At 70 degrees Fahrenheit, which is 21.11 degrees Celsius, the vapor pressure of CO2 is 854 psi. That means that on a 70 degree day, your airgun shoots with about 850 psi. If you had a way to make the volume of your gas supply smaller the pressure would not increase. It would simply change more of the gas back into to a liquid. CO2 is a self-regulating gas, and because it is, a 500-gallon tank of liquid CO2 puts out gas at the same pressure as a 12-gram cartridge whose volume is tens of thousands of times smaller.
More shots
A direct benefit of the self-regulation I just described is that a small supply of liquid CO2, such as what's found in a 12-gram cartridge, can supply power for many shots. The lookalike CO2 pistols that get 50 or 60 shots on one 12-gram cartridge are examples of this. Fill those same cartridges with high pressure air and you might get one-tenth that number of shots. When I pressurized the .375-caliber Quackenbush Brigand with air, the rifle went down from 30 shots on CO2 to perhaps five on air. That was a big bore rifle that had a large reservoir!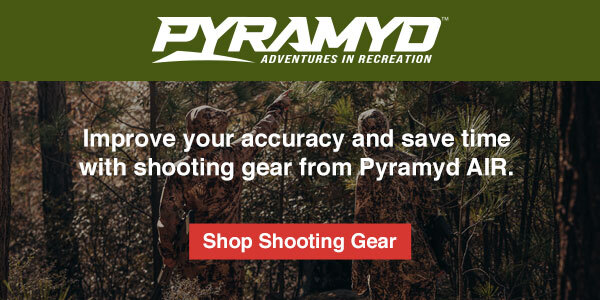 Temperature limitations
We know that as the ambient temperature rises, so does the pressure of CO2. If the pressure rises too far it overwhelms the firing valve and the airgun "locks up." When Paul Capello first filmed the American Airgunner TV show, he didn't know this and I recall a day when the guns we had set on a table in the sun for filming locked up and would not fire. Putting them in the shade for 45 minutes corrected the situation.
I gave you the pressure peak for 70 degrees F. At 100 degrees F the pressure is more than 10 times greater. This is why we don't leave CO2 guns or tanks in a hot car. I know people who have had their car windsheld blown out when a small tank exploded. There is supposed to be a burst disk in each tank to prevent this but clever people find ways around that.
Also, as you shoot some guns are cooled by the expanding CO2 rapidly. This changes the velocity for the next shot. Some guns can lose 100 and even 150 f.p.s. when firing rapidly. Other guns are affected much less. This is a case when a chronograph comes in handy.
Power limitations
Carbon dioxide gas has limits. We know what the pressure limits are, but there are also limits to the length of the barrel. And that means there are limits to the velocity.
All airgun powerplants have velocity limits. Pneumatics top out around 1,600 f.p.s. Spring piston guns can just reach 1,500 f.p.s. and CO2 guns never reach past 900 f.p.s. These limits all have to do with the expansion velocity of the gasses involved. That's why pneumatics and spring guns are so close — because both depend on the expension velocity of air. Run a PCP on helium and you can get it up over 1,800 f.p.s.
And here is where a knowledge of black powder comes in handy. Black powder also uses barrel length to develop velocity to a certain point, but after that limit is reached, there is no more velocity. Where that limit might be is the subject for much debate, but it's somewhere below 2,500 f.p.s. Velocities of around 1,800 f.p.s. are quoted a lot.
So what?
The reason I'm telling you this is so you will be able to spot when people say things about CO2 guns that cannot be. For example, they tell you they have a .22 caliber CO2 rifle that develops 50 foot pounds. To develop 50 foot pounds in ANY caliber at 750 f.p.s.(being generous here) you need a projectile that weighs 40 grains. Do 40-grain pellets exist in .22 caliber? The JSB Beast weighs 34 grains, so it has to go 814 f.p.s. Can that be done? Theoretically. Just be careful that what they tell you doesn't become your truth before you see the results. And, when they tell you they are doing it with a carbine that has a 14-inch barrel, walk away. That's too much supposition.
CO2 yes or no?
What is it going to be for you? If you want a lot of shots without doing anything except perhaps reloading ammo, CO2 is a good choice. If you want a lot of power without being affected by temperature, maybe CO2 isn't the way to go. If yoO2u have to know where you are as far as the fill goes, avoid CO2 or be prepared to waste some by replacing cartridges before you have to.