This report covers:
Airguns
Doesn't end
Bug-A-Salt's place
The specs
If you don't
Summary
Yesterday I mentioned that Pyramyd AIR is now carrying the Bug-A-Salt brand salt guns that I've been writing about for years and reader Roamin Greco said this, "B.B., when you wrote, "I realize all Bug-A-Salt guns are already shotguns by definition. What I want is one with more power to shoot more salt." It sounds to me like the current offerings are akin to a .410 with a full choke, but you want something akin to a 12 gauge with an improved cylinder choke.
Or, you may want to practice your "quick kill" techniques with the bug assault. That may make you more (like) Lucky. :o)
Airguns
This blog is about airguns and the Bug-A-Salt airguns offer us more chances to shoot safety indoors than any other gun except the Sharpshooter rubber band catapult guns. I acknowledge that Mrs. RidgeRunner has banned them from the inside of her house, but their utility doesn't stop at the door. If you have carpenter bees, and RidgeRunner does, they will fly in your face the moment you step outside. A Bug-A-Salt will blow holes in their thin wings, making them drop to the ground where they can be stomped. Job done!
Doesn't end
As I said yesterday, it doesn't have to end there. Bug-A-Salt, are you listening? You need another product in your lineup. You need a Bug-A-Salt shotgun! Yes, all your guns are already shotguns because they shoot salt crystals in patterns. That's how they work. But for wasps, carpenter bees, yellowjackets a salt gun is also needed. Yellowjackets are small pesky wasps that live in burrows in the ground and attack with little provocation. Don't mow your lawn while wearing shorts if you live on the east coast of the United States! For them, especially, you need a Bug-A-Salt shotgun or a Bug-Out-Salt, if you will.
I will give you the specifications, but before I do, listen to what Roamin Greco was talking about in his comment to yesterday's report. This is from my 2-part report on Instinct Shooting in October of 2006.
Instinct shooting has been around for a very long time, but those who practiced it most were exhibition shooters. There was no formal program to teach anyone who wanted to learn. Then. in 1954, a tobacco salesman from Georgia – Lucky McDaniel – started a program of instruction. He taught thousands of people through the 1980s and several of his students went into the teaching business on their own.
Initially Lucky did all of the teaching, but as time passed his fame grew and others took his place. By the 1960s word was getting around everywhere.
In the years that followed, the U.S. Army became interested in instinct shooting for Vietnam-bound soldiers. They had a regular training program given at Fort Benning, Georgia, not far from Lucky's home in Columbus. They called their program "Quick Kill," and tens of thousands of inductees went through it. There was also a program in Vietnam for those who hadn't been to Benning.
Initially Lucky modified his own BB guns by tearing off the sights. But once the Army got wind of it Daisy started making BB guns specially modified from the factory.
Daisy became interested, again, when grass roots inquiries tipped the scales, and they put together a new package. This time, Lucky's name was left off, and the program was called "Quick Skill." It lasted from the late 1960s through the end of the 20th century, coming and going as interest dictated. The Army sold many of their BB guns in the 1990s, so now there are hundreds and perhaps even thousands of sightless BB guns with the markings of Army training centers painted on their stocks or "U.S. Prop." stamped into the wood. Collectors eagerly snap them up. There have also been many special guns, such as one made with the Ducks Unlimited logo on a decal on the stock.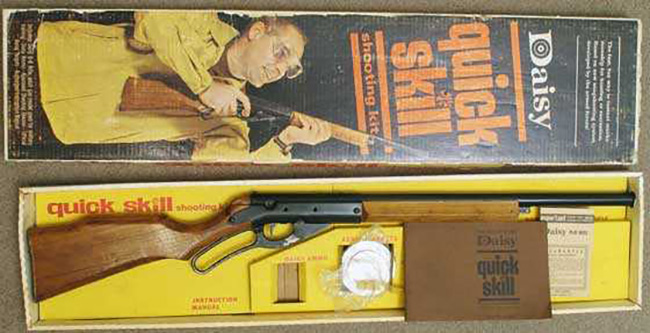 Daisy made and sold this outfit for parts of four decades — from Vietnam until sometime in the 1990s. The BB gun looks is very similar to the one in the Lucky McDaniel Shooting Trainer, but it's a model 95 instead of a 99.
Lucky trained over 100,000 shooters, including those at Fort Benning, but a list of his celebrity students is very revealing. There isn't room for a complete list, but it includes former President Eisenhower, Mickey Mantle, Audie Murphy, Mark Trail cartoonist Ed Dodd, Edsel and Henry Ford II, John Wayne, Grizzly Adams, members of the British Royal Family, the entire Chicago White Sox team (1959) and the entire Cincinnati Reds team (1961). But there was one celebrity student who stood out from even these notables.
Lucky trained World Heavyweight Boxing Champion Floyd Patterson to shoot his way. A major part of Mike Jennings' book (Instinct Shooting) is devoted to the training of this one student, whom Lucky considered to be one of his best. A skilled athlete, Patterson had perfect coordination and quick reflexes that made him a natural shooter. In return, Patterson said that he felt the training helped him focus on his target better than ever. Shortly after this training, Patterson met Amateur World Heavyweight Champion and Olympic Gold Medalist Pete Rademacher and dropped him in round six. Rademacher later came out with an instinct shooting set that featured Parris BB guns and a trap that threw plastic "clay" pigeons. The set didn't sell well, but Crosman's 1100 Trapmaster trap is an exact copy! So, somehow, Rademacher must have seen something of benefit in the training, as well.
Bug-A-Salt's place
Any reader of this blog knows that instinct shooting works. In fact BB is learning how to shoot a slingshot this way and he's doing it in front of all you readers. What if Bug-A-Salt were to make a shotgun-styled salt gun that launched a larger charge of salt, using CO2 for power?
The specs
Now for the specifications. By shotgun-style I mean a long gun with a stock that can be put to your shoulder. The Bug-A-Salt 2.0 and 3.0 models have no stock, making shotgun shooting impossible. And please don't just put on a wire collapsable stock on them. Shotguns aren't made that way. Instead of tacticool shotguns are sleek and svelt. If you want to see the finest air shotgun ever made, look no farther than the Crosman Model 1100 Trapmaster.


Crosman made a shotgun! The Trapmaster 1100 was a CO2 shotgun that copied Remington's popular 1100 autoloader.
What you make needn't look as slick as this. Make it from plastic. But follow the traditional style because those lines make the shotgun more natural to point. It's next to impossible to point a two-hand gun like your Black Fly 3.0 without using the sights.
I think you need to call this one Bug-Out-Salt, so guys will know this one is not for the living room or kitchen. This one is for the garage, the shed and the garden. It's your outside Bug-A-Salt. Make it shoot the same fine table salt that the other guns shoot and put that fact somewhere prominent in the package, so crazy guys like BB Pelletier don't think that if the salt crystals are bigger the gun is deadlier to insects. This salt gun has a 7-foot range!
Forget the sights. Give us a bead at the top front of the barrel for reference. That's all we need.
Take the time to learn about instinct shooting and incorporate it into your literature and marketing plans.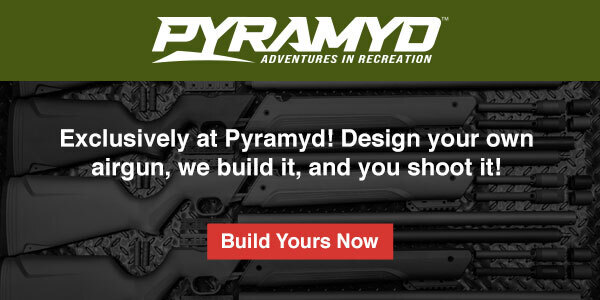 If you don't
This is a good idea. If Bug-A-Salt doesn't run with it someone else is sure to. I remember a few years ago when I wrote about the possibility of a one-hundred-dollar precharged pneumatic rifle, when the cheapest at the time sold for almost $400. Two years later Crosman surprised the world with the Benjamin Maximus that retailed for $200. And Umarex came out with their Gauntlet, that started the Price Point PCP race. What I'm saying is, the world is listening and paying attention.
Summary
I sense that we are on the precipice of a major thrust in insect killing salt guns. Don't forget that you heard it here first!