Benjamin Maximus: Part 7
by Tom Gaylord
Writing as B.B. Pelletier
Part 1
Part 2
Part 3
Part 4
Part 5
Part 6
This report covers:
JSB pellets are very uniform!
At the range
First test — JSB Exact 10.34-grain dome
Head-sized pellets
Air Arms Falcons
JSB RS
Predator Polymag
Last group
Final report
Today I take the Benjamin Maximus back to the 50-yard range to test a couple final things. I said last time that I wanted to sort JSB Exact 8.44-grain domes with the Pelletgage, to get the most consistent size from the tin. Then I wanted to see if 10 of those sorted pellets would shoot better than the 0.913-inch group shot with unsorted pellets in the last test. Since readers were still suggesting other pellets to try, I also wanted to test a few of them — just to say that the Maximus was given a thorough test. I have done all of that and here are the results.
JSB pellets are very uniform!
First, I sorted 12 JSB Exact 8.44-grain domes for the range. To my surprise, every one of them had a 4.51mm head, according to my Pelletgage. That is highly unusual. Usually in 12 pellets selected at random I will find at least 3 different head sizes if the pellets are uniform, and 5 or 6 different sizes if they aren't. Only when testing the top-quality 10-meter target pellets — the ones that sell for $35/500 and up — do I find consistency like this.
I stopped testing after 12 pellets. Maybe there are some pellets in the tin that are different, but I don't really care. Twelve pellets gives me enough for a group of 10 with a couple extra in case of an accident.
At the range
There was a slight breeze on this day at the range. It probably topped out at 5 m.p.h., so I waited for a lull before shooting each shot. I filled the rifle after each 10-shot string, just to give all the pellets the same chance.
First test — JSB Exact 10.34-grain dome
Before I tested the gaged pellets I thought it would be appropriate to warm up the gun and the shooter. This was done with 10 JSB Exact Jumbo 10.34-grain domes. Ten pellets went into 1.602-inches at 50 yards. That's not too good, based on what this rifle has done with other pellets.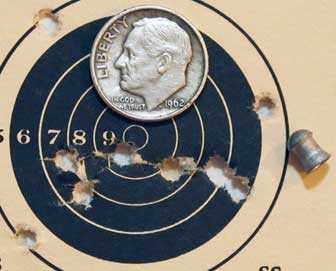 Ten JSB Exact 10.34-grain pellets went into 1.602-inches at 50 yards. This pellet is out.
Head-sorted pellets
Now it was time to test those JSB Exact 8.44-grain domes I had gaged. I was definitely in the groove by this time. Ten pellets went into 1.174-inches between centers at 50 yards. This group is 0.261-inches larger than that best group of unsorted pellets I shot in the last test. What I think it shows is that this pellet does not have to be gaged to shoot well and also that one inch is about what the rifle can do with 10 shots at 50 yards. That makes it possible to shoot 0.60-inch 5-shot groups from time to time.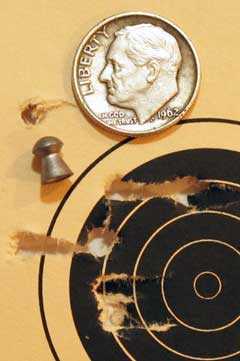 t
Ten JSB Exact 8.44-grain pellets with 4.51mm heads that were sorted with the Pelletgage went into 1.174-inches at 50 yards.
Air Arms Falcons
I tried Air Arms Falcon pellets next. When 5 of them went into 2.376-inches I stopped shooting. This was just wasting time, pellets and air.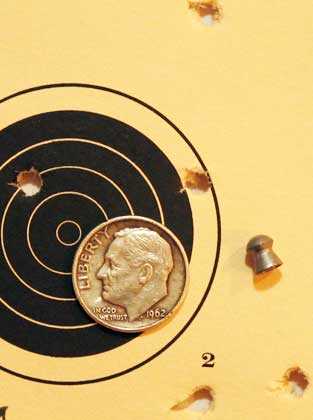 Five Falcon pellets from Air Arms went into 2.376-inches at 50 yards. They are out.
JSB RS
Next I tried JSB Exact RS pellets, at one reader's suggestion. They were even worse than the Falcons! Six of them went into 2.896-inches at 50 yards. I stopped at that point.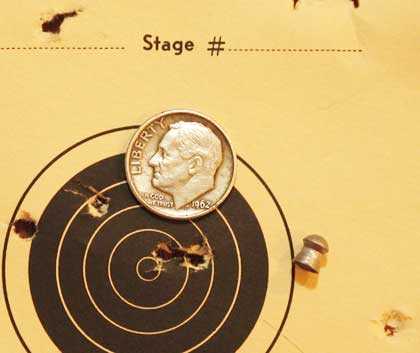 Six JSB Exact RS pellets from made this 2.896-inch group at 50 yards. I stopped right there.
Predator Polymag
Next I shot 10 Predator Polymag pellets. They grouped in 1.696-inches at 50 yards. While that isn't terrible, in light of what the 8.44-grain JSBs are doing, I think these Predator pellets aren't right for this rifle.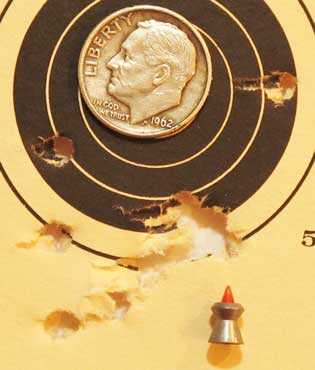 Ten Predator Polymag pellets made this 1.696-inch group at 50 yards. It's good, but not great. This picture illustrates why 5-shot groups are often misleading.
Last group
The last group I shot was 10 unsorted pellets from the tin of JSB Exact 8.44-grain pellets. These came straight from the tin. Ten of them went into 1.122-inches at 50 yards That's slightly tighter than the sorted-pellet group, but I wouldn't make too much out of that. Just know that this pellet is pretty regularly a one-inch 10-shot group pellet in this particular Maximus.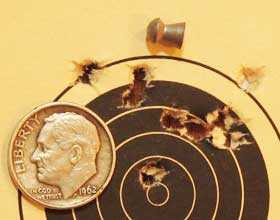 Ten unsorted JSB Exact 8.44-grain pellets made this 1.122-inch group at 50 yards. It's the best of this day's testing and second-best of the series. This is the pellet this rifle likes!
Final report
This is my final report on the Maximus. I think these 7 reports sum up the rifles's performance very well. The Maximus is an accurate PCP that's priced for the entry-level shooter. It has everything needed and nothing that's not needed to get the job done.
Tom Gaylord is known as The Godfather of Airguns™ and has been an airgunner for over a half-century, but it was the 
Beeman
 company in the 1970s that awoke a serious interest in airguns. Until then, all he knew were the inexpensive American airguns. Through the pages of the Beeman catalog, he learned about adult airguns for the first time. In 1994, Tom started
The Airgun Letter
 with his wife, Edith. This monthly newsletter was designed to bring serious reports about airguns to the American public. The newsletter and
Airgun Revue
, a sister magazine about collectible airguns, was published from 1994 until 2002, when Tom started
Airgun Illustrated
-- the first American newsstand magazine about airguns. Tom worked for three years as technical director at
AirForce Airguns
, the makers of the 
Talon, Condor, and Escape
 precharged air rifles. Today, he writes about airguns and firearms for various publications and websites. He also makes videos, and you'll find short clips embedded in some of his artices on Pyramyd Air's website. Tom is a consultant to Pyramyd Air and writes under the name of B.B. Pelletier.