Pyramyd AIR is now carrying the Bug-A-Salt brand!
SHRED-ER Part 1
Part 2
Part 3
Part 4
Part 5
Part 6
This report covers:
A cricket
Garage
A new Bug-A-Salt product
Used where?
May already have been tried
Pyramyd Air
Summary
Success at last! I have been lobbying, suggesting, whining and crying to Pyramyd AIR to carry the Bug-A-Salt products and now they are. Sometimes you eat the bear.
Today I want to talk about my experiences with my Bug-A-Salt products and to talk about a new product that doesn't yet exist. Perhaps I should say a product I want to exist. Let's get started.
A cricket
I should warn you, the images you are about to see are very graphic. They may not be appropriate for children.
Three months ago I had another cricket in my kitchen. I now have my three Bug-A-Salt guns placed strategically around my house for just such an occasion, and this one was about to experience it.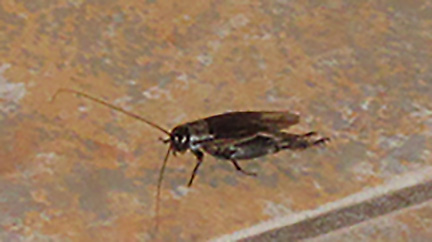 In April this guy dared to cross my kitchen floor. Too bad for him!
I keep my Shredder in the kitchen, because that's where I have seen two other crickets and a wolf spider. The flies mostly stay in the living room.
One shot from the Shredder and this guy went to cricket heaven. No, he was not singing When you wish upon a Star. If he had been I would have waited to shoot until he finished.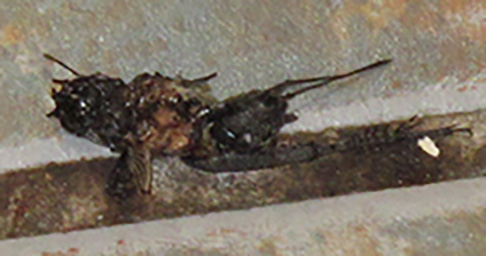 One shot from my Bug-A-Salt Shredder did this to mister cricket.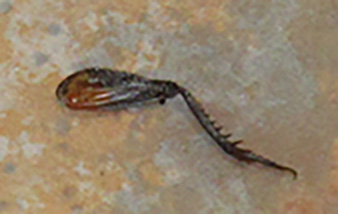 The Shredder separated a leg from the cricket.
On Sunday I shot a fly in my kitchen with the Shredder. The thing about the Shredder is it's barrel is aligned with the sights. The Bug-A-Salt 2.0 and the Bug-A-Salt Black Fly 3.0 are probably also aligned with the sights, but their sights are harder to see — at least for me. The Shredder is perfect, plus it is effective to at least twice the distance.
But it uses CO2. CO2 cartridges cost money and, as an airgunner, I am cheap. But the Shredder is so effective that it overrides the cost issue (can't believe I just said that). And, it gets even worse!
Garage
I was working on RidgeRunner's Diana 34 in my garage last week when a couple wasps decided to join me. They didn't have a project of their own so they wanted to work on mine and they kept getting in the way. I tried to shoot them with the Shredder but they were uncooperative; they refused to hover for me. I wasted about 8 shots with no success.
A new Bug-A-Salt product
To correct this problem I would like to see a Bug-A-Salt shotgun. I realize all Bug-A-Salt guns are already shotguns by definition. What I want is one with more power to shoot more salt. Carbon dioxide will work well for the power (velocity of the salt) because the Shredder is already powerful enough. I just want a wider pattern with the same salt crystal density. I would like a ten-inch pattern at 7 feet.
Used where?
This product would not be used indoors, or if it was it would be necessary to vacuum or sweep up after the shot. I know that good housekeepers already do that with the Bug-A-Salt guns that exist, but I'm a bachelor and something of a hobo.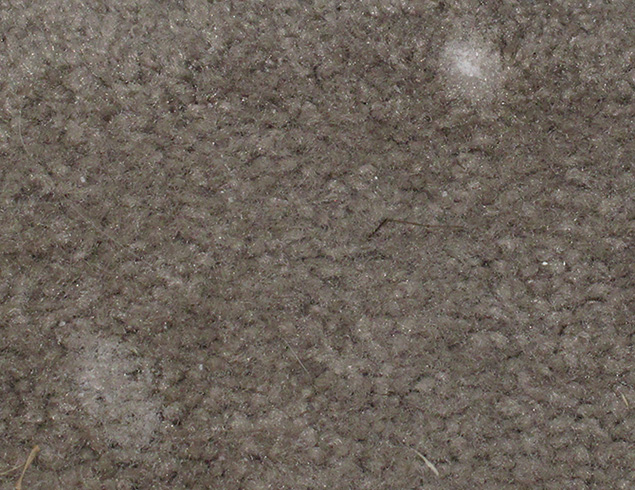 This is the result of shooting at a hard-shelled beetle from 7 inches (upper right) and 12 inches with a Shredder. I had to step on this beetle because his shell was too hard.
Wasps and other flying critters that want to fly in my face could be taken down with such a gun because the salt will poke holes in their wings. Then they will fall to the ground, allowing me to stomp them. I've done this with occasional lucky shots from the Shredder. What I want is a salt gun that has more luck.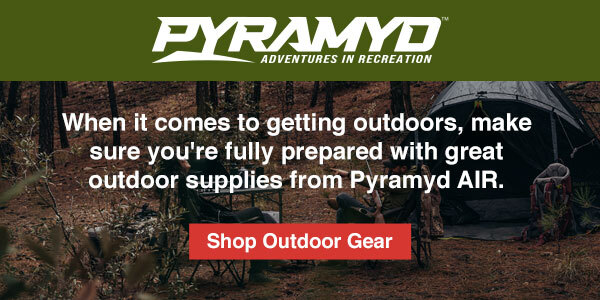 May already have been tried
The folks at Bug-A-Salt may have tried this already. It makes sense that they would have. I'm just putting it out there in case it hasn't been tried or perhaps the decision-makers can't see the applications. Anyone with wasps, yellowjackets, and carpenter bees certainly can. I left hornets off that list because it you have them it's best just to leave them alone. They are aggressive (I don't care what Wikipedia says) and they work in packs.
Just to be clear, I'm asking for a wider pattern with more salt — not higher velocity.
Pyramyd Air
Pyramyd AIR now carries Bug-A-Salt products. That's good news for those who haven't pulled the trigger just yet. I jest and I'm being serious at the same time. Of all the bug-getters I've tried, these are the best!
Summary
I probably won't write about Bug-A-Salt guns any more unless there is a good reason. A new product would be such a reason — hint, hint.