RAW HM-1000X precharged air rifle: Part 8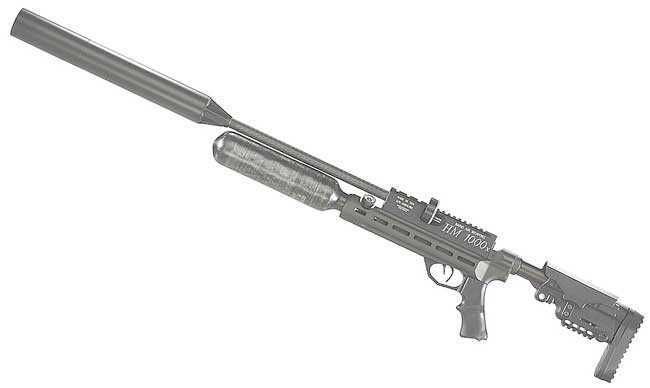 This is the new chassis system RAW HM-1000X.
Part 1
Part 2
Part 3
Part 4
Part 5
Part 6
Part 7
This report covers:
The test
JSB Jumbo Monster
JSB Jumbo Monster Redesigned
Finally!
Summary
Today we return to the 50-yard range with the RAW HM-1000X. As you recall, when BB went to the 50-yard range in Part 7, he messed up in every possible way. He left his sandbag rest at home. So he rested the rifle on a crushed cardboard tissue box. And he didn't even bring the most accurate pellets. So today is redemption day.
I shot the rifle at AirForce Airguns on their outdoor range that's somewhat protected from the wind. Reader Cloud9 shot next to me, though he wasn't shooting for accuracy. He had just had a RAW tuned up and he was testing shot stability and shot count. He wasn't even shooting at a target.
The test
I shot from a shooting bench at 50 yards with the rifle resting directly on a sandbag. I used the only two most accurate pellets — the ones I had forgotten to use in Part 7. Every group was a 10-shot group.
JSB Jumbo Monster
First up was the JSB Jumbo Monster pellet. I used the same sight setting as was used in Part 7 after one scope adjustment. The first group landed about an inch below and 1.5 inches to the right of the aim point. And the group was horrible. I put ten pellets into 2.248-inches between centers at 50 yards. There are two wide shots that landed off to the right and below the main group. They were not called pulls. The other 8 shots are in 1.088-inches. That still isn't a good 50-yard group for a RAW, but it's a lot better than all 10 shots.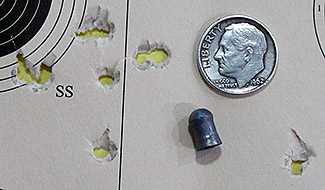 The first group of JSB Jumbo Monsters was disappointing. It measures 2.248-inches between the centers of the two holes farthest apart.
What was happening? I was doing everything right this time and still the groups were large. Yes, This is just the first group. Let's hope they get better.
JSB Jumbo Monster Redesigned
The second group I shot was with 10 JSB Jumbo Monster Redesigned pellets. Surely this group would be better!
It was better, but only a little — and don't call me Shirley. This time ten pellets went into 1.817-inches between centers at 50 yards. Was I blowing it?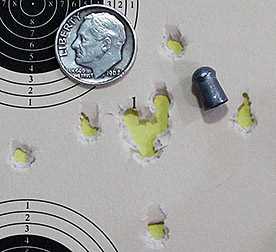 Ten JSB Monster Jumbo Redesigned pellets went into a 1.817-inch group at 50 yards.
Then I felt it. The wind had picked up since I started shooting this morning, but I was in a valley that seemed protected. Only down at the target the wind was swirling.
My first test on this day had been the Benjamin .457 Bulldog, and I had spent about an hour with that one. I only shot it at 25 yards, so I didn't pay attention to the wind, but now I needed to.
I adjusted the scope up and to the left a little and shot a third group. This one was with the regular Jumbo Monsters again. I waited out the wind this time and ten pellets went into 1.702-inches. I was getting better but still not that good. WHAT WAS GOING ON?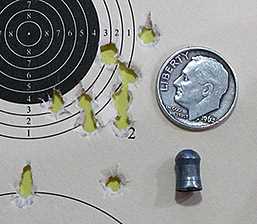 Ten JSB Monster Jumbo pellets went into 1.702-inches at 50 yards.
Finally!
The last group I shot was with the Monster Redesigned pellets once again and this time I got it right. When the first two pellets went into the same hole I relaxed because I knew I was on the right track. Then the breeze picked up and never stopped. So I shot the remaining 8 shots into a second group next to the first one. The 8 shots are in 0.572-inches at 50 yards, with the first two pellets opening it to 1.059-inches.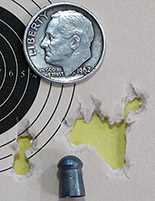 When I finally got my act together the RAW put 10 JSB Monster Jumbo pellets into 1.059-inches at 50 yards, with 8 in 0.572-inches.
Yes, the wind carried those 8 pellets over to the larger group on the right when it picked up after the first two shots were fired, but I didn't try to compensate. I wanted to see the potential to put them in the same place. I didn't really care where that place was — at least not at this time.
Summary
I think we are now ready to shoot the RAW at 100 yards. I haven't spent the time refining the hammer strike or the airflow, but that would make a very boring report. I'm trying to expose you to the rifle — not make this one a competition winner.
Tom Gaylord is known as The Godfather of Airguns™ and has been an airgunner for over a half-century, but it was the 
Beeman
 company in the 1970s that awoke a serious interest in airguns. Until then, all he knew were the inexpensive American airguns. Through the pages of the Beeman catalog, he learned about adult airguns for the first time. In 1994, Tom started
The Airgun Letter
 with his wife, Edith. This monthly newsletter was designed to bring serious reports about airguns to the American public. The newsletter and
Airgun Revue
, a sister magazine about collectible airguns, was published from 1994 until 2002, when Tom started
Airgun Illustrated
-- the first American newsstand magazine about airguns. Tom worked for three years as technical director at
AirForce Airguns
, the makers of the 
Talon, Condor, and Escape
 precharged air rifles. Today, he writes about airguns and firearms for various publications and websites. He also makes videos, and you'll find short clips embedded in some of his artices on Pyramyd Air's website. Tom is a consultant to Pyramyd Air and writes under the name of B.B. Pelletier.