by Tom Gaylord
Writing as B.B. Pelletier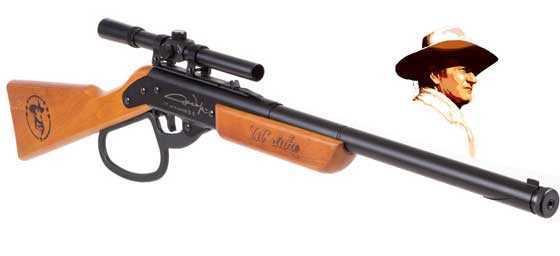 John Wayne Lil' Duke BB gun with scope.
This report covers:
What happened?
I thought I knew better
HOWEVER
Is it really tight?
The scope
The test
Air Venturi Steel BBs
Hornady Black Diamond BBs
Avanti Match Grade Precision Ground Shot
Smart Shot
Old Dust Devils
Dust Devil Mark 2
What have we learned?
Summary
I tested the John Wayne Lil' Duke BB gun with scope in Part 4, but if you read that report you'll see that the scope base was a little loose. Today's report clears that up.
What happened?
Reader Chris USA asked me if I read the instructions that came with the scope base, Of course I read them. The better question to ask was when did I read them? I read them as I was editing my report and wondering why Pyramyd Air would let a scope base this flimsy go out. That was the reason for the Oh, fudge! title at the end.
I thought I knew better
You see, I tested a BB-gun scope base like this back in 2016. You may remember the Brice scope base for the Red Ryder BB gun. That was years before this base hit the market and I thought I knew everything there was to know about BB gun scope bases.
And, by the way, Chris, that is the scope base Tyler shows in his video. He is mounting a scope to a Red Ryder — not the Lil' Duke. That base has the acorn nut. This one for the Lasso scope on the Lil' Duke does not. Nor does it have two screw holes in back for mounting the scope that are shown on the description page. Look at the picture I showed you in Part 4. That is the base I am testing. It has one screw hole and no acorn nut.


This is the scope base that comes with the Lil' Duke. It has a single screw hole.
HOWEVER
I told you the one screw that screws into the top of the pistol grip and holds the scope base tight is important. It's a machine screw — not a wood screw like you might assume. I had screwed it in many turns and it never got tight. I thought it was not long enough to grab the threads in the stock, but now that I was fiddling with the base again I turned it many more revolutions and it finally tightened. I just had not turned it in far enough! That's the difference between a wood screw with fast threads and a machine screw with finer threads. With the screw tight the scope base also got reasonably snug, though not what would call tight.
But there is more to it. I showed you a picture of the scope base installed without the rear sight elevator back in the sight. In the caption I said the elevator is supposed to be in the sight. When do you think I wrote that caption? That's right — after writing the Oh, fudge title for that paragraph! Yes — as difficult as it is to believe, even for me, old BB Pelletier messed up big time!
As it turns out, that elevator is very important to the mounting of this scope base. It raises the rear sight leaf, putting downward spring tension on the scope base. Voila — the scope base is now tight!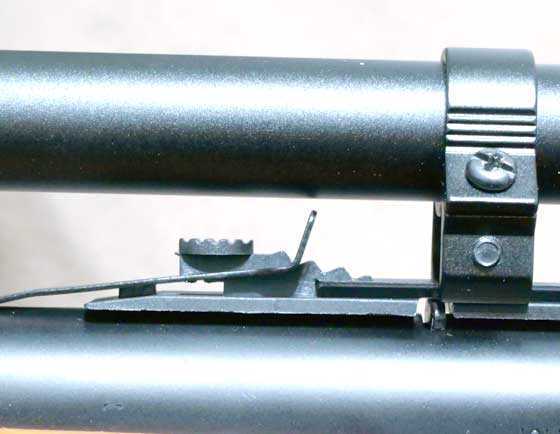 The rear sight elevator puts downward pressure on the scope base, tightening it when the rear mounting screw is tight.
Is it really tight?
Now that I have corrected the scope base, is it really tight? Yes and no. It's tight if no pressure is put on the scope tube. But it is still possible to wiggle the scope from side to side just a little. The base is plastic and I see no way around some movement because plastic flexes. But it seems to return to the same position after each wiggle. I think the accuracy test will determine whether it is solid or not.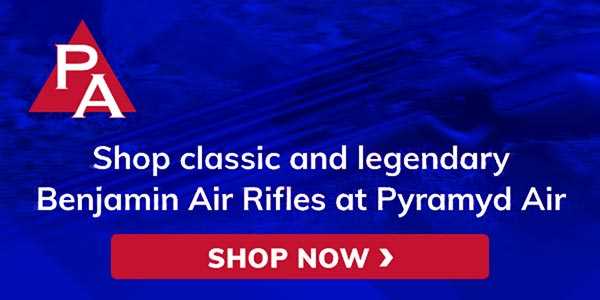 The scope
Since I was perfecting things I also spent time with the Lasso scope. I unscrewed the eyepiece close to a half inch and finally got the reticle lines sharp. The target is still not in focus, but that is a problem with the fixed parallax that I will live with. It isn't that bad.
The test
I ran another accuracy test from 5 meters, resting the BB gun on the UTG Monopod as before. I shot 10-shot groups as before and I shot the same BBs that were used in the first scope test in the same order, so we can compare groups.
Though the scope has been taken off the gun and the mount tightened, I still sighted in from 5 meters because that is very close. I shot the first group that landed low and right. I attempted to adjust the scope up, but it was already up as high as it would go. If I really wanted to use it I would put a thin washer under the base before screwing it tight. A shim under the rear might raise it up to the aim point.
Air Venturi Steel BBs
At 5 meters 10 Air Venturi Steel BBs went into a horizontal group that measured 1.905-inches between centers. In the previous test the group size was 2.385-inches, so this is 0.48-inches smaller. It's a good start.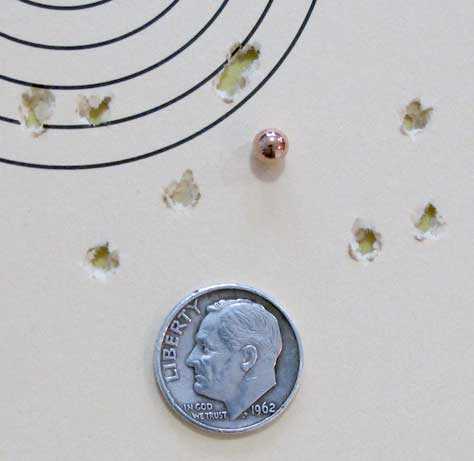 Ten Air Venturi Steel BBs made this 1.901-inch group at 5 meters.
Hornady Black Diamond BBs
Hornady Black Diamond BBs were next to be tested. In the previous test ten BBs went into 1.814-inches. This time ten went into 1.662-inches — a difference of 0.152-inches. That's really too close to call.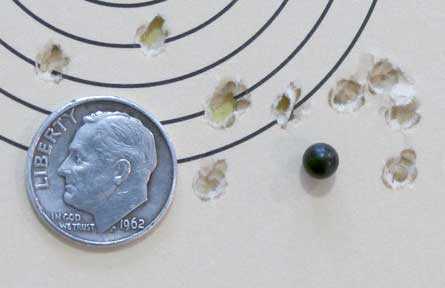 Ten Hornady Black Diamond BBs went into 1.658-inches at 5 meters.
Avanti Match Grade Precision Ground Shot
In the previous test ten Avanti Match Grade Precision Ground Shot made a 1.711-inch group at 5 meters. In this test another ten of the same BB went into 1.096-inches. That is 0.615-inches smaller, which is significant. It's less than half the size of the previous group.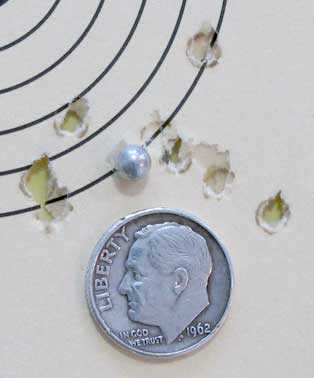 The scoped Lil' Duke put 10 Avanti Match Grade shot in 1.096-inches at 5 meters.
Smart Shot
Now we come to the BB that has proven itself to be the most accurate one in this gun — the lead H&N Smart Shot. In the previous test 10 made a 1.148-inch group with one shot that was a pull. This time 10 went into 1.327-inches at the same 5 meters. Yes, nine of them are in a much smaller 0.952-inches, but the shot that is out to the right was not a called pull, so it is a legitimate part of the group. In this case, the previous group was better than this one by 0.179-inches. That is almost enough of a difference to be meaningful.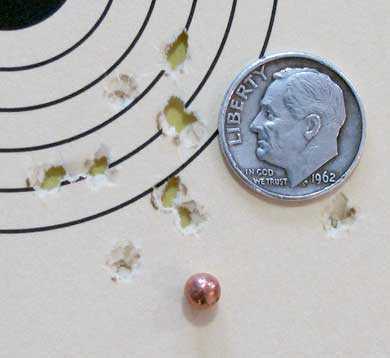 Ten Smart Shot lead BBs made this 1.327-inch group at 5 meters.
Old Dust Devils
Next to be tested were the Old Dust Devils that are no longer available. In the last test ten made a Ten of them made a 1.147-inch group at 5 meters. This time ten went into 2.128-inches at 5 meters. That is considerably larger by 0.981-inches! I cannot explain why this group is nearly twice as large as the one from the former test.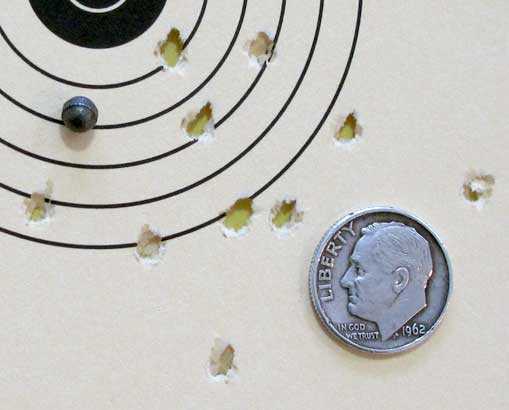 Ten of the old Dust Devils went into 2.128-inches at 5 meters.
Dust Devil Mark 2
The new Dust Devils did okay this time. In the previous test 10 went into 1.345-inches at 5 meters. In this test ten made a 1.469-inch group at 5 meters. That is a difference on 0.124-inches in favor of the previous test. Once again, not a very significant difference.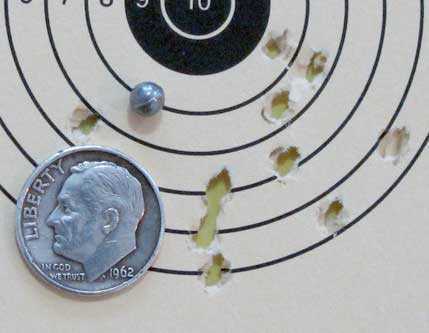 Ten new Dust Devils went into 1.469-inches at 5 meters.
What have we learned?
I hope the big lesson today is to both read the manual and also spend time with the gun as you mount the scope base and scope. I don't care for scopes on BB guns, yet this one seems to do okay except for being out of focus and shooting too low.
I think all the testing has proved beyond any doubt that the Smart Shot BB is the most accurate in this gun. It has also demonstrated that this little BB gun is remarkably accurate with many BBs, and should be on your short list as an ideal kid's BB gun.
Summary
The Lil' Duke is a winner! With the open sights it's the most accurate lever action spring piston  BB gun I have ever tested besides the Daisy 499. If you need a BB gun, this is the one to get.