Customer Reviews for Crosman 2300S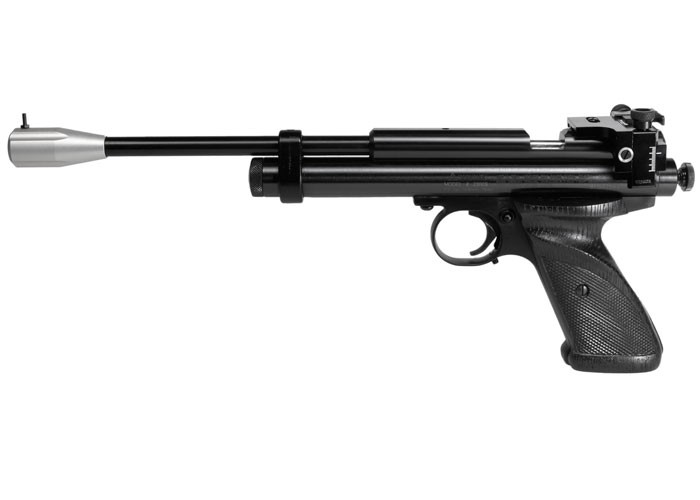 Create an online review   and share your thoughts with other customers
The most helpful favorable review
2 of 2 people found the following review helpful:
By G.Austin from USA on 2012-01-02 08:52:25
Things I liked: Balance is great. Trigger is pretty good for a single stage. Williams Notch sight is incredible - really good. Trigger blade is comfortable (wider than 2240). I like the trigger adjustment and power adjustment wheel.
Things I would have changed: Allow it to feed wad cutters. Provide wood grips as an option (but not a deal breaker).
What others should know: Wad cutters do NOT work... I had great results and accuracy with 10.2gn Beeman Kodiak Match pellets, available from Pyramyd Air. This gun is super accurate and a great tool for training hold and sight picture for all firearms. It reminds me of a Ruger mk III target 22LR with hold and balance. I shot ten pellets in to one ragged hole at 25 feet using a rest!!!! At 66F I get 70-80 shots at 420fps with an SD of 6fps!!!! using Kodiak 10.2gn for 4.0 ft/lbs of energy. That's exceptional for a CO2 gun and puts it at the same performance as a PCP. I used the Chronograph to adjust the power level to preserve CO2 without a drop in velocity. Don't forget a drop of Crosman Pellgun oil on each powerlet to preserve the seals. Also - don't leave a CO2 gun charged for extended periods, leave it empty in storage so that the seal gets a chance to relax. Buy this gun - you won't be disappointed!!!!!
The most helpful critical review
0 of 0 people found the following review helpful:
By xu from USA on 2014-02-01 15:53:52
Things I liked: Great accuracy as fixed barrel CO2 pistols should have. Surprisingly low noise level. The CO2 Power plant is very scope friendly compared to any springer pistols. You will be happy if you do not expect the same level of fine craftsmanship from RWS Diana LP8.
Things I would have changed: With the current price, it should come with a wood grip panels. The mechanical mechanism of the bolt should be fitted better, not as loose as it is now.
What others should know: No flat head ward cut pallet for this gun, because the pallet feeding mechanism.